Chamber music returns to BBC Four in January with two series that place the best of today's musicians alongside a trio of stars of the past. Presenter Petroc Trelawny introduces the programmes.
For decades filmmakers, playwrights and novelists have used chamber music as a sort of shorthand. Four people play a Beethoven quartet together in a gilded concert hall, while an appreciative audience listen intently, eyes shut as they absorb the rich music. The message is clear. If you appreciate the scene, pat yourself on the back; you too must be refined, urbane and cultured. Chamber music has, over time, been put in a box by certain quarters.
Thankfully that seems to be changing. In German chamber music is often referred to as 'Hausmusik' – perhaps a rather better title for an art form that was originally designed for the home. Admittedly often a rather grand home, a princely palace or ducal mansion, but a home nonetheless, not the formal environment of the concert hall. In Edwardian Britain, when half the population had a piano in the parlour, musical friends would gather to work their way through piles of quartets and trios. It didn't matter if the result wasn't perfect, it was the act of communal music making that mattered. It still happens today. Until recently a friend would bring his clarinet into the office for after-work sessions in an abandoned basement studio; a medic friend plays Mendelssohn, Elgar and Tippett with a group of colleagues, but there's no doubt that informal amateur music making is not as common as it was once.
Perhaps that's where television can help and the BBC can do what it does best, by building on a rich heritage of arts and music programming to spread word of the satisfaction of chamber music for those unable to attend performances at their local music club or concert hall .
Last summer, in addition to the annual live BBC Radio 3 broadcasts of the BBC Proms chamber concerts, for the first time we filmed the chamber concerts on Monday lunchtimes at Cadogan Hall. They were made available to view online immediately; now we've taken some of the performances to make a BBC Four series. Vilde Frang, the terrific Norwegian violinist plays Mozart and Ravel with her duo partner Michael Lifits; tenor James Gilchrist performs Britten with guitarist Christoph Denoth, and Ian Bostridge sings Dowland with accompaniment from a small ensemble of viol and lute. And there's a less often heard chamber ensemble – a band of brass players - the all female line up of Tine Thing Helseth's Ten Thing.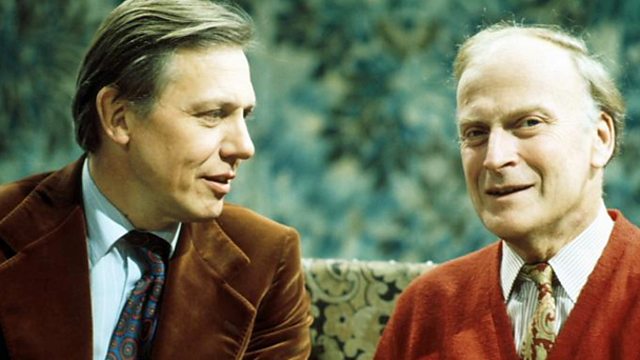 David Attenborough and violinist Yehudi Menuhin pictured in 1976.
We've also taken the opportunity to look back into the BBC archive – with three hour long programmes focusing on a trio of great artists – cellist Paul Tortelier, violinist Yehudi Menuhin, and guitarist Julian Bream. For several years now BBC Four has made programmes featuring great pop artists 'At the BBC'. Why shouldn't the idea work for classical musicians as well ?
Producer Andy King Dabbs and I have spent several happy months mining the BBC archives and we have found untold riches along the way. Menuhin performing with his sister Hephzibah in a Sunday concert from the early 1960s, Tortelier playing at home with his family; Julian Bream entrancing customers at a trendy Chelsea restaurant with solo Bach. Chamber Music is all about the relationship between players; Bream's partnership with fellow guitarist John Williams was extraordinary, as we see in a series of films made in the seventies. There are revealing moments where the musicians show off their skills as communicators; Menuhin discussing Bach with Valerie Singleton on Blue Peter; Tortelier on Pebble Mill at One unveiling his personal manifesto for music's power to change the world.
Menuhin, Bream and Tortelier were part of the first generation to realise how well the medium of television suited chamber music . Now Frang, Gilchrist, Helseth and friends are leading a second charge.
I hope you'll find time to watch these two series - they provide a wonderful chance to see great musicians of yesterday and today, all captured at the top of their game. For my colleagues and I putting them together was hugely enjoyable. I hope you enjoy them too.
The broadcast details for each programme are:

Friday 10th January 
Proms Chamber Music: Vilde Frang and Michail Lifits - 7.30pm
Yehudi Menuhin at the BBC -  8.00pm

Friday 17th January 
Proms Chamber Music: tenThing - 7.30pm
Paul Tortelier at the BBC – 8.00pm                                                  

Friday 24th January  
Proms Chamber Music: Britten and Dowland – 7.30pm 
Julian Bream at the BBC – 8.00pm
Petroc Trelawny is a presenter on BBC Radio 3 and at the BBC Proms.

Follow @PetrocTrelawny on Twitter.