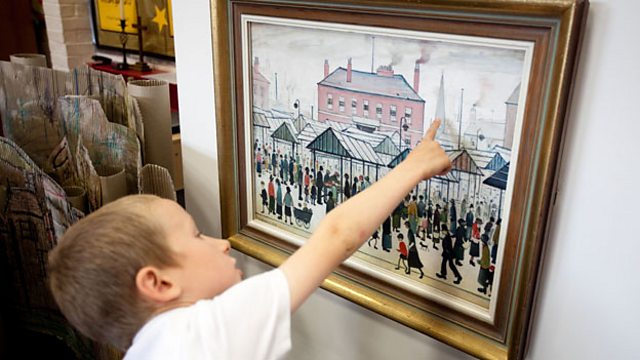 Your Paintings is a website which aims to show the entire UK national collection of oil paintings. Integrated into the project is Masterpieces in Schools, which saw 26 oil painting masterpieces by artists such as Gainsborough, Lowry, Monet and Turner lent by museums and other collections around the United Kingdom to a  nearby primary or secondary school for the day as inspiration for creative learning across the curriculum. Here, Producer Rachel Davies talks about the schools' reaction to the initiative.
I've just finished producing a BBC Learning project and of all the programmes and projects I've worked on in my 10 years at the BBC, it's the one I'm most proud of.
We took original paintings, masterpieces in fact, by renowned artists such as Monet, Turner, Gainsborough and LS Lowry and put them into schools.
27 schools across the UK, with over 16,000 pupils between them, got the chance to host a painting for the day and the outcome was a truly fantastic day of cross-circular learning at each school.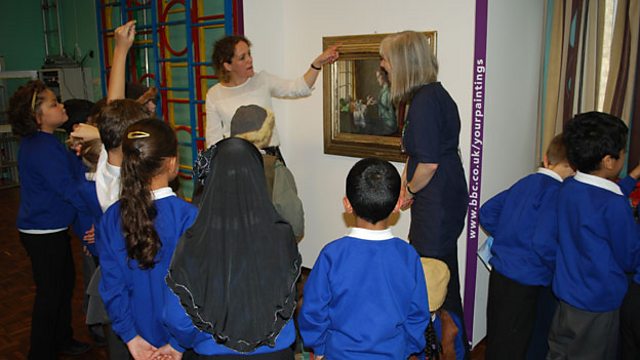 In conjunction with our partners, the Public Catalogue Foundation, we covered the whole country with loans from Aberdeen to Plymouth and many in between. Their expertise along with the skills and experience of our production team allowed us to deliver a truly unique and ambitious project.
We brought galleries and schools together in the weeks before the loan day. Both parties successfully developed lessons around the paintings that enhanced learning right across the curriculum;  from Art to ICT, to PE, to Modern Foreign languages and RE.
It was a risky project; taking £14 million worth of paintings on the road did cause us a few sleepless nights, but the three-week project ran smoothly. Schools embraced the opportunity with inspiring lessons from French cookery to graphic design.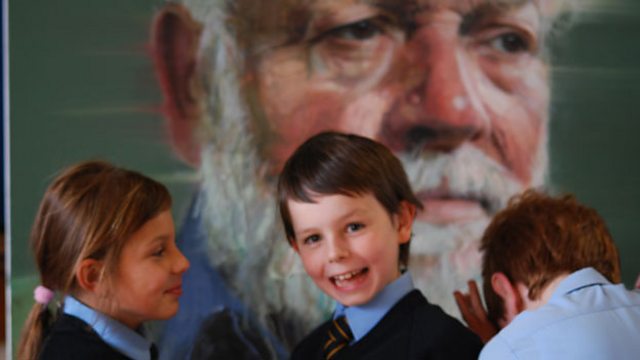 We invited celebrated artists to attend some of the loan day. British artist Patrick Brill, better known by his pseudonym Bob and Roberta Smith, was amazed at the excitement with which the children greeted the Monet at Onny Primary school in Shropshire. "When that painting was revealed this morning, there was an amazing Christmas morning gasp!"
The interest in this project was fantastic. Journalists attended each loan and were amazed at the buzz amongst the children and staff at the schools. Local TV and radio also covered the loans with interest. One of our Lowry paintings even got onto the Breakfast sofa accompanied by one of our project ambassadors. Mark Lawson from Radio 4's Front Row came along to our loan day in Luton.
You can see the impact in our short Masterpieces in Schools film below.
"Can I go into art galleries and see paintings whenever I like?" was the comment one student at The King's Academy, Middlesbrough, made in response to seeing the Lowry painting.
Actually seeing first-hand how these paintings inspired the children was extremely rewarding. We were amazing at how engaged in art the children became and how they were interested to see more, 97% said they would like to visit their local gallery.
We were overwhelmed by the positive feedback from children and teachers alike, here are a few things they said:
 "It taught me and gave me the courage to draw and if I'm good enough I might become a famous artist," – 11-year-old child from Glan Usk Primary School in Newport.
"I can't believe Lowry was from here and now we have one of his paintings here!" – 9-year-old child at St Matthews Primary in Stretford, Manchester.
"Can you bring more paintings in please?" – 8-year-old from Hounslow Town Primary School, London.
"It has been a fantastic experience, the children loved all of the activities and many of them intend to visit the gallery soon." – Teacher at Grangefield Primary School, Bishop's Cleeve, Gloucestershire.
"We thoroughly enjoyed the day and we certainly had a great buzz in school. We hope that the project continues and would love to be involved again." – Teacher, St Brides Primary School, Belfast.
 "We really can't express how much of a lasting memory this project has had on Trelai. We wish we could do it all over again and I know the children are still talking about it now!"—Teacher at Trelai primary school, Cardiff.
For the 27 schools and 26 galleries involved, this project marks the start of a journey in which visual arts are brought into the curriculum as a way of enhancing and enriching education across a number of subjects. The paintings might be back in the galleries but the legacy of this project lives on across the country.
Rosanne Pugh, Onny Primary School commented: "This work continues naturally after we have seen Monet, but with a realness and a deeper personal understanding. We will continue to exploit this day educationally."
Rachel Davies, Producer, BBC Learning