I've spent the majority of this week meeting colleagues in BBC Scotland at Pacific Quay in Glasgow, finding out how the organisation serves audiences in the country and watching programmes being made for the BBC's 'network' TV output.
It's been a great experience, but now I'm back in London I do find that this week's 'Ten Things' do display more than just a little bit of a Scottish bias.
1. A big day for the BBC and an even bigger one for the 15th Director-General George Entwistle on Monday (or 16th, if you count Mark Byford's stint as 'Acting Director-General' prior to Mark Thompson's start eight years ago). His first day was followed by an even bigger Tuesday, when George gave his first speech to staff across the UK.


2. Former BBC light entertainment producer Michael Hurll died on Tuesday. He was 75. Famed for producing a whole host of programmes including The Two Ronnies, Noel Edmond's Late, Late Breakfast Show and in the 1970s, Seaside Special and the 1974 Eurovision Song Contest in Brighton.


3. Up in Glasgow at Pacific Quay (five years to the day then Prime Minister Gordon Brown opened the BBC's new HQ in Scotland, fans of BBC Scotland's River City gathered to watch a special early showing of the first of two 10th anniversary episodes of the show.
After the screening, fans got to grill members of the cast who appeared on stage (pictured above). There was much excitement. A few people even donned party hats for the occasion. One fan – Margaret - I spoke to during the subsequent photo-opportunity was especially excited. 


4. Staying with BBC Scotland, a Blue Peter viewer from Glasgow Beth Gilmour surprised her school friends when she made her entrance down the central steps inside Pacific Quay with Olympic swimmer Rebecca Adlington at the unveiling of the Commonwealth Games 2014 mascot, a called Clyde Thistle.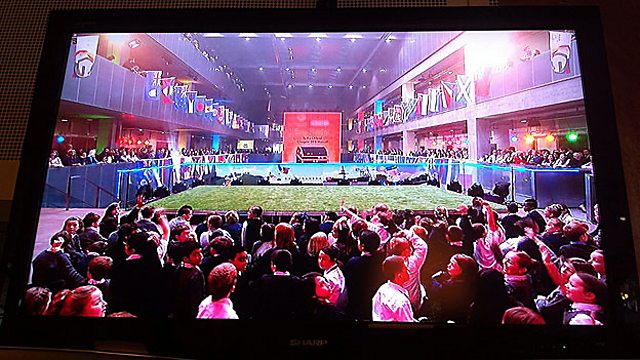 Commonwealth Games unveiling at Pacific Quay
Beth designed the mascot responding to the competition launched on Blue Peter (only drawings, painting or collages were allowed as competition entries).
Beth's school-friends believed she was off-sick and unable to attend and spent most of their time at the BBC texting Beth to say what a shame it was she couldn't be there. Little did they know. Needless to say, the children went wild when they saw her.


5. One final Glasgow mention has to go to two very special people I got to meet while I was up in Scotland. The first, actress Katrina Bryan who was filming the next series of Nina and the Neurons up in Studio B and who was kind enough to give me her autograph.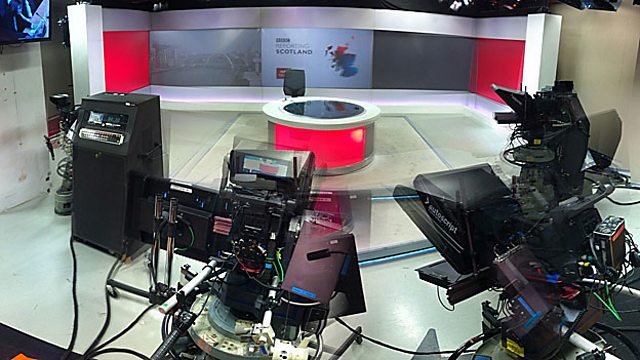 Studio C at BBC Scotland, Pacific Quay
The second, floor manager Evan Beaton whose hard (and lonely) work in the Reporting Scotland studio (pictured above) is matched by his sartorial elegance. Listen to his interview to find out more. 


6. From Birmingham, The Archers team announced of actress Rosalind Adams who steps down after 25 years playing the role of Clarrie Grundy.


7. Another departure announced on Wednesday. Journalist and World Tonight presenter Robin Lustig leaves the BBC at the end of the year. His editor Alistair Burnett penned a tribute over on The Editors blog.


8. From the blogs this week, Elisha Sessions provides another in a weekly series of round-ups covering the BBC's music output, the BBC Internet Blog announced a new BBC Media Player for Android devices, and Five Live published the line-up for OctoberFest 2012.


9. The BBC Media Centre has been publishing advance information for new drama Hunted, a 90 minute programme telling the story of TV icon Kenny Everett and a call-to-arms to listeners of BBC Local Radio for their Beatles memories.


10. And finally .. top marks to BBC Radio Jersey's Ryan Morrison who was awarded this week's Bob the Builder Prize by his news editor today. The plastic toy is given to any Jersey staff member who demonstrates a willingness to 'just getting on with it'.