Happy second birthday to us.  And Happy Christmas to South Yorkshire.
Loads of work to do yet – but as the editor of Broadcast magazine just reported – the place is 'buzzing'.
BBC North is now two years old.  And we have just announced our big CBeebies Panto A CBeebies Christmas Carol destined for Sheffield.  Oh yes it is...
It doesn't seem like two years ago since Radio 5 live's Tony Livesey Show was our first live BBC scheduled show from Media City, or since the first Blue Peter was broadcast via a dramatic helicopter landing in the piazza.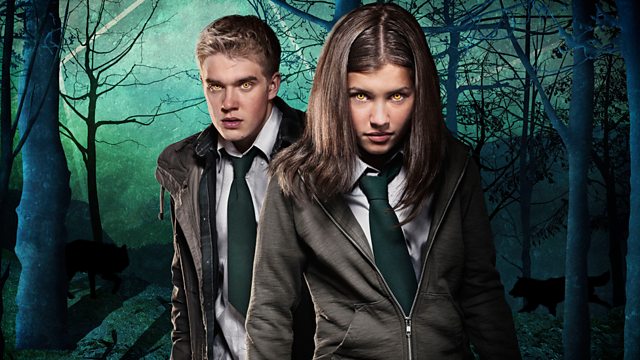 New CBBC Children's fantasy drama Wolfblood
We've had many strong broadcasting moments since then and long may they continue with your support; whether it's CBBC's Wolfblood from Tyneside; Radio 4's Reith Lecture from Liverpool or All At Sea from Scarborough for BBC Children's – never mind the upcoming BBC Sports Personality of the Year 2013 from Leeds.
There's a strong array of new, collaborative relationships, crossing all sorts of traditional lines.  It's the MediaCity effect – what we all hoped this place would become – trying to catalyse new content and creativity right across the region.
Independent producers are a big part of this new set of networks and we've got some fine neighbours doing good things.
True North, based in Leeds, also have premises in MediaCity now, supporting their big CBBC factual commissions here too.
Baby Cow have brought Hebburn back to the Pie Factory following North East location filming.
And Nicola Shindler's award-winning Red Production Company moved in to MCUK this week.
Alex Connock's expanding Shine North makes up one of the bigger 100+ SMEs (small and medium enterprises) that are part of the wider community here too – you can see why we're now buzzing. 
There is also a buzz about the new series of The Voice which has started production for BBC One in the Dock 10 studios next door to us.  We have welcomed pop royalty Kylie Minogue and Kaiser Chiefs frontman Ricky Wilson from Leeds as they debut in the spinning chairs.
It's crucial the BBC North mission isn't just about Salford.  So far in 2013 there have been 58 productions across Greater Manchester, Salford, Liverpool, Lancashire, the North East, Derbyshire and Yorkshire.
Drama is at the heart of it all. The second series of Sally Wainwright's BAFTA winning Last Tango in Halifax has just finished filming, while BBC One have just started on From There to Here, a family saga that begins on the morning of the Manchester bomb in June, 1996. 
Starring Phil Glenister and Bernard Hill, and penned by Stockport's Pete Bowker, the first scenes shot recreate the moment the bomb tore through the City Centre damaging buildings that had been in place for centuries.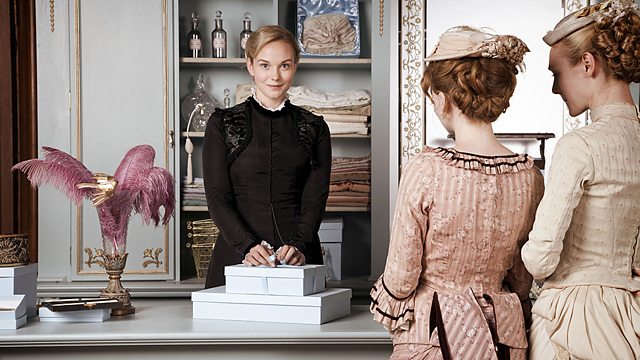 The Paradise returns to BBC One this October
From the North East, The Paradise will soon be back on our screens, a big BBC One costume drama made near Durham.  Also looking stunning is Staithes, on the North Yorkshire coast, the location for Old Jack's Boat, starring Bernard Cribbins as a magical CBeebies storyteller.
It's The Digital Age now of course – and this place is so much more than just radio and TV.  We've got over 400 engineers and technologists building content pipelines for the future – from mobiles to tablets to the interactive red button.  Two of our areas have launched apps this year for smartphones and the results have been stunning.  The BBC Sport app is a huge and the CBeebies Playtime app is hot on its heels with hundreds of thousands of new downloads in the month since it launched. 
Available now – both free – and full of Northern innovation.
Finally, talking of big new ideas, BBC Radio 3 have come up with a dramatic, musical twist to support Children in Need this year with the BBC Philharmonic and the Halle orchestras fighting it out in a classically-inspired girls v boys Battle of the Bands.
Fans can download the songs from Monday 14 October, remixed like they've never heard them before, and raise money for Children in Need.
Great fun, lovely idea and all going to a great charity that spends money right across the North of England too – from Newcastle to Hull, Cumbria to Cheshire.  I can't think of a better way to serve our audiences.
Peter Salmon is Director, BBC North.