Compelled to break the taboo around talking about suicide, Newsbeat reporter Dave Howard produced Monday night's 'Radio 1's Stories: Suicide Survivors with Professor Green'. Here he tells us how the documentary came about and discusses the overwhelming social media response.
I think it's great that the Sunday Times and the Sun have both written in glowing terms about Radio 1's 'Suicide Survivors with Professor Green'. It's brilliant that the Today Programme, Woman's Hour, the World Service, the News Channel, 5 Live (twice) and local BBC stations have run or re-versioned our content. It's also excellent that Newsbeat's material spent all day Monday among the 'most read' and 'most watched' items at BBC News online.

However, the very best thing about making 'Survivors' has been watching social media erupt with listeners' appreciation for it. All day Monday, and especially as the programme was on air at 9pm, heart-felt, grateful, often touching tweets spilled in faster than I could refresh my screen.

One said: "I lost my best friend to suicide 5 years ago & still miss him every day. Thank you for raising awareness like this x". For another, it was, "… making me realise I might need to give my mum another chance". A handful suggested our programme, "should be played in all schools - brilliant, non-dramatic, honest, sad and relevant - thank you". Many rightly hailed Professor Green's own bravery and intelligence in recounting his very personal story.

I can't imagine 'Suicide Survivors with Professor Green' coming about as anything other than a Radio 1's Stories/Newsbeat co-production. Months ago, I successfully pitched an idea to Radio 1's Commissioning Editor Piers Bradford about people who survive suicide attempts. After weeks of meetings, email exchanges and phone calls, I had recorded some very powerful material. Worryingly though, I still didn't really have a suitable presenter, or much of an idea about how it could all sustain an hour-long radio programme. Soon afterwards, an excited Piers came to see me at my desk. "Professor Green wants to make a documentary about suicide," he explained.

Last year, the rapper presented a Radio 1 'Teen Heroes' award to 17-year-old Khloe at her workplace in Burton on Trent. Khloe had won her award because, while dealing with her own suicidal feelings, she had intervened to stop a man jumping off a bridge. Without knowing that my documentary was already in production, the encounter persuaded Professor Green that he should do more with us about his own story. It's how Radio 1 brought the famous rapper into our programme's mix – and his involvement took it to a whole new level. Yes, his celebrity status attracted attention, but also because so many of our audience regard him as a role model, and because he spoke so clearly and honestly about his problems.

Newsbeat's offering, equally as important, was 19 year old suicide survivor 'Emma' from Bristol. I had met 'Emma' months before, recording a Newsbeat feature about life in an adolescent mental health unit in Bristol. Among her first words to me there were: "When I was 12, I was raped by a stranger in a park. When I was 16, I jumped off a motorway bridge, to try to end my life". I was blown away both by her story, and by her very sensible 'no frills' approach to telling it. I knew immediately that I wanted to make a programme about her and people like her.People who had picked themselves up after hitting absolute rock bottom.  'Suicide Survivors'.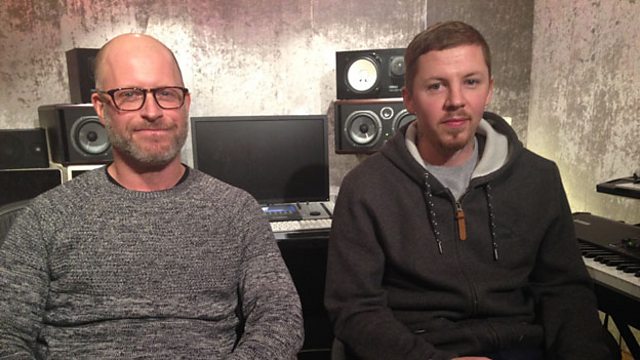 Psychotherapist Dr Aaron Balick and Professor Green discuss suicide for Radio 1 Stories
A month or so ago, co-producer Andy Taylor and I brought together Emma and Professor Green, flanked by Radio 1's brilliant on-air psychotherapist Dr Aaron Balick. The 5 of us hunkered down in Pro's East London recording studio. Andy and I quietly recorded as Emma and Pro traded stories, and quizzed each other about the different ways suicide and mental health problems have scarred their lives. They spoke honestly, simply and eloquently. Anyone who has heard the programme will know that they were brave and brilliant.

One reason suicide has been so little talked about in the media in the past is that people thought any discussion of the issue could promote the idea in people's minds, particularly if they were already vulnerable.While this may be a concern, most experts and survivors also fervently believe that suicide can only be tackled if it can be talked about openly (and of course responsibly) so that the stigma around it can begin to be dissipated. There are of course pitfalls, but these can be avoided with care and sensitivity, and by understanding both BBC Editorial Policy and Samaritans media guidelines.

Official statistics show that over 6,000 people over the age of 15 took their own lives in 2011. Not only that, UK suicide rates have been increasing year on year (official ONS figures for 2012 are expected in February). When you also consider that many survivors of suicide attempts report that they didn't know how to get help, or that they felt ashamed or alone in facing their problems, I believe suicide can no longer be ignored. Whether it's as BBC programme-makers, or more generally in life, we must no longer be scared of discussing suicide because it is challenging or 'taboo'. Instead, as Alice Newton from suicide prevention charity Papyrus urges in the documentary, "we need people to talk about suicide the way people now do about cancer." She adds, "there was a time when cancer used to be 'the C-word.' These days, suicide is the 'S-word'." In sharing their stories with the BBC, via Newsbeat and Radio 1's Stories, I believe Professor Green, 19 year old Emma, and our male survivor 25-year-old Chris Coombs, have gone a very long way towards tackling suicide stigma.

I couldn't be more grateful for what they have done, or more humbled by it.
Dave Howard is a Newsbeat reporter and producer of Radio 1's Stories: 'Suicide Survivors with Professor Green'.