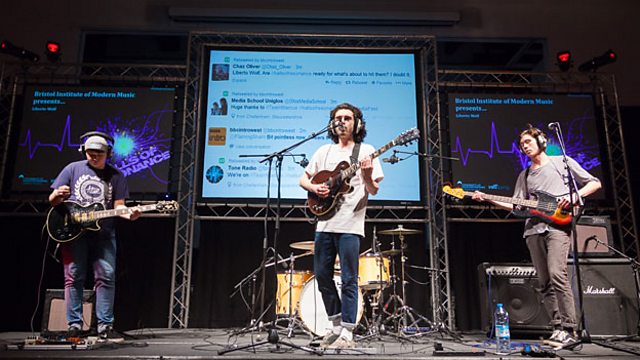 A fortnight ago
BBC Introducing
in the West produced an event celebrating music and radio at the University of Gloucestershire. "Halls of Resonance" took place over seven hours, across three stages, in front of an audience of 250 invited guests. Richard Pitt (my co-presenter) and I introduced special guest speakers, music industry panel discussions, workshops and a load of live music from new acts in the area. Everything on the day was recorded and highlights were squeezed into a two-hour radio programme, broadcast on BBC Radio Bristol, BBC Radio Gloucestershire, BBC Somerset and BBC Wiltshire (we'll be putting out more on future shows too).
BBC 6 Music's
Tom Robinson
kicked off the day by posing a question: Is guitar music dead? Following some of the changes to national radio playlists and discussions about the longlist for the
BBC's Sound of 2014
, it's a question that I've been asked a lot recently and it laid the foundations for a great day.
We invited 20 music industry professionals to speak on discussion panels throughout the day. Speakers included Jon Harper from the Cooper Temple Clause, Loki Lillistone from Bristol Live Magazine, James Scarlett from 2000 Trees Festival in the Cotswolds and Matt Jamison from Amazing Radio. My highlight for the day was a 20-minute rockin' guitar masterclass, as given by Wiltshire-based technician, Dan Steinhardt.
We also called on music colleges (Bristol Institute of Modern Music), festival promoters (The Swindon Shuffle) and video bloggers (Lost and Found Sessions) to curate live performances throughout the day. This was a great way of engaging a wide range of interested parties and profiling as much of the local music scene as possible. Not only that, but the music was great! Meadowlark were the standout act for me. They've got an EP release in May – watch this space...
The biggest draw of the event was Radiohead bassist, Colin Greenwood. He was great fun and spoke knowledgably about recording techniques, the importance of radio and live performance. "It is fantastic to hear all this great music" he said leaving the stage, "BBC Introducing is really, really brilliant".
And he's right. I genuinely love the work that BBC Introducing does, and for me this event embodied everything that is good about it.
There is no way that BBC Introducing in the West could have put this show together without the support of the University of Gloucestershire. The partnership with this institution was brilliant. BBC Introducing provided the content, the branding, the events management and the distribution, whilst the course leaders and team of students at the University supplied the space and considerable expertise to engineer and host the event.
We got as many musicians and music professionals across the area involved in the event. Broadcasting on four BBC Local Radio stations it can be tricky to stay "local" and events like Halls of Resonance provide us with an opportunity to not only meet musicians and music professionals in the area, but also bring them all together to share ideas and knowledge, as well as gain greater exposure for their work. Halls of Resonance was as much a networking event as anything else.
In this sense, the event provided a good public service to musicians and industry professionals, all of whom will have taken away a few nuggets of information from the speakers and panelists involved. Not only that, but working with the University, we also led a series of classroom workshops in parallel to the main event, with music industry professionals (including me!) taking short Q&A sessions with students.
As you'd expect, multimedia ran strongly throughout the event. Using the hashtag #hallsofresonance we engaged musicians and audience members during the event (the tweet wall behind the main stage remained a prominent feature in the room), as well as during the show's broadcast. The show was also covered in the local press too, giving those involved further profile.
I love working on projects like this. Halls of Resonance is the sixth event we've run in partnership with external groups in 15 months. The BBC has numerous strengths and these are celebrated widely, but I am a true believer that the BBC (and specifically BBC Introducing) can benefit from partnering with external organisations like the University of Gloucestershire.
Sam Bonham is a Producer and Presenter for BBC Introducing.
Find out more about BBC Introducing.
Read about how BBC Introducing also had a hand in this year's Eurovision entry.
Follow BBC Introducing West on Twitter, @bbcintrowest.