For years, William Lloyd's family didn't know what happened to him during World War One. They knew he was missing in action, but heard no more. All they had was a grainy black and white photo of William in his army uniform, sporting his big bushy moustache.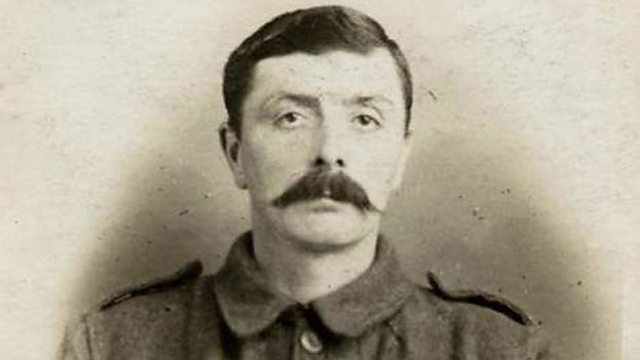 William Arthur Lloyd
He was only at the Somme in Northern France for six weeks before he was killed 80ft underground at La Boisselle in a network of secret tunnels. German tunnellers detonated their charges after hearing William and four of his comrades digging under No Man's Land. Their bodies have lain entombed there ever since.
More recently, William's great granddaughter, Lesley Woodbridge, asked for help online in finding out what happened to her great grandfather. Historian Simon Jones replied and confirmed William had died in the labryinth of chalk tunnels. Those very same tunnels were excavated by archaeologists two years ago. Then recently, they cleared a 50ft shaft down to the lower levels, to William's final resting place.
The series Under the Somme has been in the planning for over a year. Military historian Peter Barton and his team are still carrying out work on the tunnels, which stretch for several miles under the battlefields. Barton believes Lesley will be the first relative in history to accurately go to the very spot where their ancestor died.
I've brought both sides together and over the last few months managed to arrange this special trip. I'll be recording Lesley's journey from collecting soil from William's former colliery in New Broughton to the gallery where he died. The soil's been put in a specially commissioned urn, which will then be left in the tunnels forever.
Logistically it's been a difficult process. We've had to think how the radio interviews and the TV footage we record will be sent back from Northern France and which outlets across the BBC will need it. Hence we decided to take a prototype van equipped with satellite communications. Our on-site engineer will then be responsible for feeding back the material.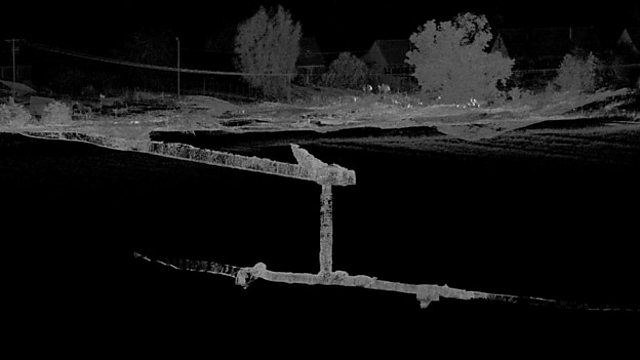 Laser scan of the tunnels 80ft underground that the team intend to broadcast from
It will also have live capability and this is where we get adventurous. We hope to do a live broadcast from the 80ft level under No Man's Land. How? Well with great difficulty, but it can be done. We're running a long, long cable underground with an extension for microphones and headphones. With fingers and toes crossed we'll then be dialling up Lesley's mother who will be looked after by our colleagues from BBC Wales at her home in Wrexham. Through their radio car and our satellite feed, we'll hear Lesley speaking live to William's granddaughter from his final resting place.
It's almost unheard of in radio and television history to broadcast from that depth. Moments like this don't come along too often - and it's my job to make sure we get it right. It's hard to believe we will be recording the very first time a relative from the millions killed in the war, from all sides, will see where their ancestor died. 
It's history in the making, and I'm proud to say BBC Radio Shropshire is leading the way.
Nick Southall is a reporter for BBC Radio Shropshire.