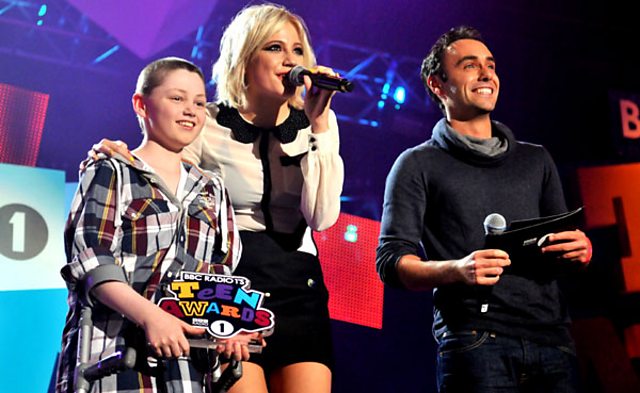 Editor's note: Journalist Jacqueline Eyewe is deputy editor of Live, an online and print magazine produced by and for young people. We asked her to write a review of the Radio 1 Teen Awards.
With performances from Cher Lloyd, Jason Derulo and, of course, the scream machine generators - One Direction, Radio 1's Teen Awards were back again last Sunday with an incredible line up and even more incredible 'Teen Heroes'.
Hosted by the energetic and entertaining Mollie King and Nick Grimshaw, this year's Teen Awards once again placed important emphasis on the triumphs and inspirational stories of the young heroes in our society.
16 year-old Charlie was one of the three well-deserved winners. He showed great bravery by rescuing a six year old girl who fell into a sea drain and who was swept away by the current. Charlie dived into 7 foot deep water to save the girl, brought her back to the surface and back into the arms of her terrified parents.
The second 'Teen Hero' award went to 13 year-old Alec, who suffers from dyspraxia and Asperger's. He's also been diagnosed with cancer but has managed to raise over £2500 for cancer research, and continues to fight his battle bravely to this day.
The last award went to the incredible Pippa, who has been caring for her disabled mother and extended family since the tender age of four. Despite all her responsibilities she has still managed to volunteer for different community projects and study for her A Levels.
Pippa, Charlie and Alec all walked out on to the stage to accept their awards from Radio 1 DJs and some of the performers. The crowd at Wembley Arena greeted them with a well deserved standing ovation, reminding us all of the exceptional people that contribute to our society everyday.
As well as awarding the Teen Heroes, actors, musicians and sportsmen were nominated by their 14-17 year old fans. Winners on the night included Olly Murs, Tom Daley, The Wanted, The Inbetweeners, Ed Sheeran and Rupert Grint, who all picked up awards in the celebrity categories.
"It was amazing to see all the young people in the crowd. It was so loud and crazy. Such a great event", said Rupert Grint, winner of the Best Actor award.
With Pixie Lott headlining the show, she closed with a performance of some of her most popular hits such as Mama Do and All The Boys, which had the whole auditorium jumping and screaming for more.
Radio 1's Teen Awards brought together teenagers' favourite celebrities as well as bringing to light the stories of some extraordinary young people who are overlooked in day to day life. It's events like these that allow the UK to connect and give back something to the young people that make a difference.