The books in my life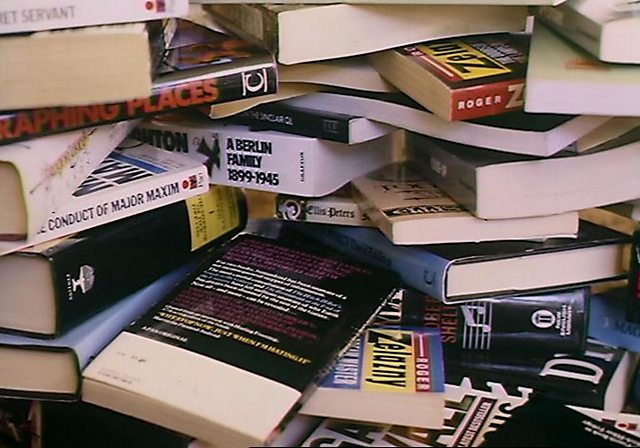 http://www.bbc.co.uk/blogs/aboutthebbc/books.jpg
Books have accompanied me round a lot of the turns my life has taken.
When I look back over the literary landmarks of my life as a reader I see a crowd of characters - James Bond, Humbert Humbert, Mr Micawber, Macon 'Milkman' Dead, Philip Marlowe, Nostromo, Becky Sharp, Jude the Obscure and Fernando Ariza. They stay in my memory as characters I have known, as vivid as real people and much more vividly than the plots or places they inhabit. Sebastian Faulks takes this as the central idea in his new BBC Two series, Faulks on Fiction , in which he looks at the way four character types - heroes, villains, lovers and snobs - evolve as the British novel develops. It is a simple idea, and a fresh and original insight into why novels work. Graham Greene meant a lot to me as a teenager - from Travels With My Aunt I moved on to the thrillers (Gun for Sale, Stamboul Train) before tackling A Burnt Out Case and The End of The Affair - Maurice Bendrix features in the series as a dreadful warning against self-absorption and jealousy. Alongside Humbert Humbert he is one of the great anti-lovers in 20th Century fiction.
My first real job was in a bookshop, selling bibles and history books in Piccadilly. The shop assistants were actively encouraged to borrow books from the shop floor (providing we wrapped the covers in paper to stop them getting scuffed on the bus) so as to be knowledgeable when it came to advising to the dauntingly grand and well-heeled customers. I confess that a lot of my borrowing was from the new fiction section, but noone seemed to mind. It was a stepping stone to a job in publishing, first as receptionist and reader of the 'slush pile' of unsolicited manuscripts in a literary agency then as a junior editor at Chatto & Windus. I was proud to be working at the place that published Mark Twain, Aldous Huxley and Proust, as well as A S Byatt and Toni Morrison (her books including Song of Solomon and Beloved had a profound effect on me) and I was there when Angela Carter published Wise Children, a hymn to South London and rackety lives. Later on I was privileged to help her put together her final collections of prose (she called me her amanuensis) during her last illness.
I got in to television because of books, as a publisher-turned-researcher on a teatime show called The Bookworm - in which Griff Rhys Jones went exploring Hardy's Wessex and Jemima Puddleduck's Lake District. I then went on to develop a series on BBC Two called An Awfully Big Adventure about the century of children's writers stretching from E Nesbit and Kenneth Grahame to Roald Dahl and Dr Seuss.
I am lucky enough to work around books - but they still provide the quickest place of escape. The first book to transport me and my imagination was Ferdinand - the life-affirming story of a peace-loving bull who as a result of an accident with a bumblebee ends up in the bullring in Madrid. Decades later I went on holiday to Spain and had a jolt when I recognised Ronda's gorge and bridge from the illustrations - I was actually in Ferdinand's hometown! I worked my way through Watership Down and the writings of Gerald Durrell and James Herriot, then James Bond, Daphne du Maurier and John Buchan. I was voracious and fairly undiscrimating reader and would find an author I liked and read everything of theirs that I could get hold of, be it PG Wodehouse, Damon Runyon, John le Carre or Wilbur Smith.
A great novel is like a present from a novelist to the reader's imagination - and the gift of a carefully-chosen book is something to be treasured which is why I am thrilled the BBC is partnering with World Book Night for the first ever event on March 5th. The BBC is the biggest producer of books programming across radio and television and this year I have been lucky enough to have been able to continue this tradition by adding to it with some exciting new commissions. Last night we launched a season Free your Imagination - Books on the BBC in a room in Bloomsbury which is suitably named after Virginia Woolf. For me this special year of Books on the BBC feels timely, amidst the debate about the rise of the e-book and the future of the book as physical object. It is really about what is in them. I really hope Books on the BBC will encourage everyone to enjoy books in all their forms; through adaptations, radio plays, documentaries, discussion, debate, recommendation and reading.
Books enrich my mind, load my luggage, and furnish my rooms, stairs and most available surfaces...
Mark Bell is Commissioning Editor, Arts
Modern Writers: interviews with remarkable authors - BBC Archive collection