As Senior Content Producer for CBeebies Apps, my role is to lead editorially on the development and delivery of CBeebies apps.
Today, I'm very excited to announce that our second app - CBeebies Storytime - has launched and is free to download from Apple iTunes, Google Play and Amazon app stores.
Following our success with CBeebies Playtime, which has seen almost 3 million downloads since launch, our second app builds on the BBC's long held tradition of storytelling, bringing it into the digital era in a safe and trusted environment for our youngest audience members. The app is free from advertisement, in-app purchases and features a parental passcode, so parents can feel safe to allow their children to read, play and explore Storytime.
The app is voiced by CBeebies Presenter Alex Winters, which helped to really reflect the CBeebies channel. It was significant for us to visually represent a book within the app, as our hope is to incite a genuine interest in reading, storytelling and to demonstrate that reading - both digital and 'normal' books - is fun!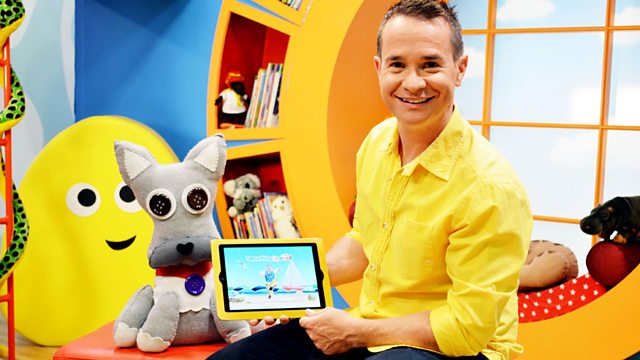 CBeebies presenter Alex Winters with the CBeebies App he voiced.
CBeebies Storytime is filled with playful and imaginative stories designed to help support early years reading and is a great way to enjoy reading books with your little ones. We felt that a pop-up book would be an engaging and tactile way to navigate to our content, as children experience turning the pages to see what is next. So simply turn the page and choose your favourite storybook from six CBeebies classics: Something Special, Charlie and Lola, The Octonauts, Old Jack's Boat, Show Me Show Me and Grandpa in My Pocket.
CBeebies Storytime aims to make reading fun for everyone, with entertaining things to touch, swipe and play with in each story. And we focused on making an app that lets you and your children enjoy reading, playing and learning together.
The learning element of the app is really important to us. We worked closely with educational consultant Dr Sarah McGeown, Lecturer in Developmental Psychology, School of Education, University of Edinburgh to create 'recall questions' at the end of each story. This is a fun way for children to develop their comprehension skills by; reflecting on what happened in the story, what their favourite part was or how they think or feel about a certain aspect of the story. We have also included a few handy hints for Parents/Carers at the bottom of the screen to help extend the learning benefit and to enrich the experience of this section.
We have squeezed lots of great features into the app, including an accessibility mode which helps children with a range of abilities to enjoy reading stories. Adults are able to activate this mode via the Grown Ups section of the app.
It's for Big Kids too: As with the CBeebies Playtime app, we have included a dedicated Grown Ups section to provide parents with useful information, tips and support on how to get the most out of the app and help encourage their child's reading development.
Safety: Making our apps safe is paramount for CBeebies and any external links are protected by a parental passcode to ensure that little fingers don't wander too far.
The CBeebies Storytime app is available on mobile and tablet devices and you can find more information here via our CBeebies Grown Ups site.
We're really excited to be sharing this content with you and I'd love to hear what you think about it! We are always interested in your thoughts, suggestions and ideas, so please do get in touch and leave a comment below.
Elizabeth Leadbetter is Senior Content Producer, BBC Childrens