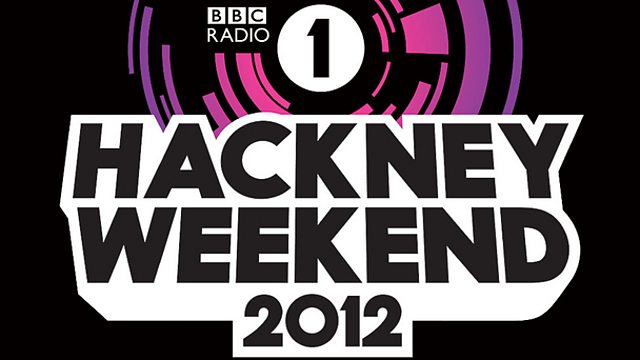 On 23rd and 24th June, Radio 1 will be presenting its biggest ever live music event: Radio 1's Hackney Weekend 2012. It's an extension of the station's annual Big Weekend festival, which lands in a different town every year, bringing the world's biggest music stars with it. As we all realise by now, 2012 is a pretty special year, so the Weekend is Bigger than ever and is landing in East London, in the shadow of the Olympic Stadium. It will be twice the size of a normal Big Weekend (which is already pretty big) and will see 100 acts perform on five stages to a 100,000 strong crowd.
Both Radio 1 and Radio 1Xtra will be broadcasting live from the event all weekend. BBC Three will be there live from 7pm on Saturday and Sunday, and you can press the red button on any digital TV channel all weekend to watch highlights of live music. My team look after the coverage online.
Since the event's earliest beginnings, the online coverage of this festival has been extensive, and every year we've tried to go one better, to get the rest of the UK population as close to being there as we can. This year is no exception, so I thought it would be worth outlining a few of the things we've got planned for this biggest of big weekends.
At the core of our offer is full coverage of every single artist performing on the bill. Since 2008 we've streamed live from Big Weekend, initially with some tentative webcams, but eventually with the full stream provided by our colleagues in TV. We present that using a multi-stream console, so you can zip around the stages at your leisure, picking and choosing from the bill to create your own festival from the comfort of your laptop. And in 2012, I'm pleased to say it won't just be from your laptop; we're going to be streaming on mobile for the first time. Users with iPhones or Androids will be able to watch along, wherever they are.
Once a band is off stage, our team of editors will work to clip their full set up and make it available on-demand for 30 days after the festival. So, if you miss Tinie Tempah because you're watching Gyptian, or need to catch Trey Songz because you were busy with Ed Sheeran, it'll all be there. Our Broadcasting House team (probably 20-strong at its peak, and drawn from across the BBC), usually fuelled by sweets and canteen sandwiches, will work throughout the night, to get that content up as quickly as possible. And yes, this year the on-demand content will all work on your mobile as well.
We're already busy at work in Hackney, working on content from the Radio 1 and 1Xtra Academy, a programme of practical workshops and Q&As based at the Hackney Picturehouse. The sessions in the Academy are providing up to 10,000 young East Londoners the chance to learn new skills and experiences, and our aim online is to bring that inspiration and practical advice to young people across the rest of the UK. As well as streaming some sessions live, we're doing loads of extra filming backstage to collect together all the best advice from the Academy's speakers and guests. We've also produced a number of short films working with local film-makers Tim & Barry, to showcase some of East London's brightest talents, and find out how they are starting their way in the world.
For that last few months, we've been working with Hackney's young community groups to harness their creativity in digital spaces. The work has already produced some entertaining and amusing results, so we're planning to have a team of young East Londoners working on site with us to cover the Hackney Weekend itself. A group of young journalists will work in third-party social spaces, delivering their angle on this monster event in their backyard, whilst a second group will be photographers at the BBC Introducing stage. What we gain in unique perspective, hopefully they gain in valuable creative skills from their BBC producer mentors.
Radio 1 will obviously be broadcasting for the whole weekend, and you'll be able to watch the radio station as well as hear it. We'll have roaming cameras following the DJs round as they do their shows from across the site and in their portable studio. Big Weekend is always an opportunity to try out new things; in the past we've had Frozen Indigo Angel, the Bluetooth Loo, and the Facebook Check-In experiment. This year, with the biggest crowd we've ever had, we've got a few new ideas to play with, but you'll have to wait to see what they are.
It's going to be big! Hopefully I won't be too busy over the weekend to update you from on-site in Hackney, with some backstage pics to show you our setup and introduce you to the team. Until then, enjoy the Hackney Weekend website (built on our new events content management system) and coverage of the Academy.
Sam Bailey, Interactive Editor, Music Events, Audio & Music Interactive
BBC Radio 1's Hackney Weekend runs from 23-24 June 2012 inclusive. Follow events on the Radio 1's Hackney Weekend 2012.