Presenter Petroc Trelawny sums up his experience of broadcasting his Radio 3 show from the Royal Festival Hall as part of the station's two week residency at the Southbank Centre.
Alongside Bach, Vivaldi and Ravel, my Radio 3 Breakfast show on Friday morning will include a favourite number by Stephen Sondheim. 'Another hundred people just got off of the train/And came up through the ground' sings Marta in Company. The song tells of commuters rushing to work in a busy city, and seems more than appropriate for the last weekday of BBC Radio 3's Southbank Centre residency. When we go on air each day at 6.30am from our studio just inside the front foyer of the Royal Festival Hall, the first commuters are slowly making their way from Waterloo, across the Hungerford footbridge towards jobs in Charing Cross, Strand, Soho and Covent Garden. By 8 o'clock the footfall is enormous; hundreds of people passing en route to work. And for the minute or so that it takes each person to pass by, they see multiple Radio 3 logos, and hear our output carried on half a dozen loudspeakers.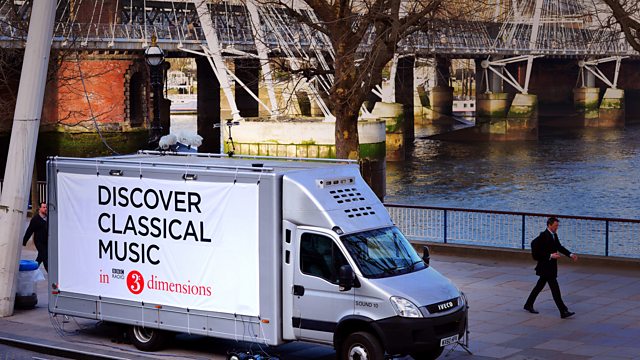 BBC Radio 3 broadcasting within sight of the Hungerford Bridge
It's a brilliant chance for our regular audience to get behind-the-scenes of Radio 3 as well as to share what we do with tens of thousands of potential listeners. When our Southbank residency was first mooted, I was a little sceptical. Sean Rafferty introducing live music on In Tune as concert audiences assembled; that made perfect sense. Ditto CD Review, The Early Music Show and Essential Classics live on a sunny Saturday, as Londoners and visitors queued for a coffee or beer on the terrace. Breakfast seemed a harder sell – especially as the Festival Hall wouldn't be opening its doors to the public until 8.30. How wrong I was.
The view of London waking up has inspired us all. Normally we're used to a windowless control room deep inside Broadcasting House. 'Lets call it the Radio 3 road-show', laughed Simon from Outside Broadcasts as he handed me microphone and headphones for an al fresco link from the terrace. And what sights to describe to radio listeners – the gilding of the Palace of Westminster glinting in the early sun; the 0630 from Gravesend making an on time arrival at Charing Cross. Big Benzine, as the clock on the Shell Mex Tower used to be commonly known, proved as reliable as any BBC timepiece. 'It's like Test Match Special' tweeted one listener, after I'd mentioned five non-moving buses on Waterloo Bridge.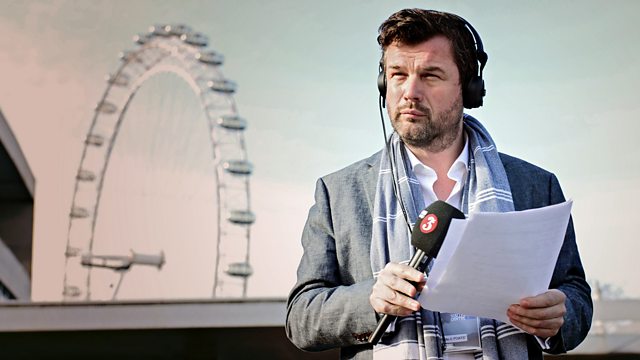 Petroc Trelawny presents the Breakfast show, live from the Southbank
This sort of thing can soon begin to grate for listeners in Truro or Scunthorpe. But our UK wide audience has risen to the occasion, supplying us with anecdotes about visits to Southbank concerts on school-trips or weekend breaks, and showering us with organ requests. Pull Out All The Stops, the celebration of the restoration of the Festival Hall organ, was a key reason for our residency. It's sounding magnificent, as we've heard in a series of concert broadcasts. And on Breakfast we've featured other organs, in locations from Dallas to Beverley to Buckingham Palace, all suggested by listeners.
Some have come to say hello in person. The violinist Tasmin Little dropped in after the school run and remembered her first RFH visit aged 5 (to hear Rite of Spring). A London florist told us how the Southbank inspired his first career, as a ballet dancer. And Simon Russell Beale popped by for a coffee on his way to meetings at the National Theatre. Next to the studio an information desk has been giving listeners the chance to share their views about what we're doing - or find out more if Radio 3 is new to them. Some spend a few minutes watching and then move on; others have made use of our headphones-on-loan service to linger and literally listen close-up. It's going to seem a little lonely back in Studio 30C on Monday morning. The walls of our pop-up Festival Hall home are all made of clear perspex – never before has Radio 3 been more visible. How terrific it's been, being on public display in the heart of one of our nation's great cultural palaces.
Petroc Trelawny is a presenter on Radio 3.