Asian Network's London Mela

The video above shows Imran Khan performing 'Amplifier' on stage
BBC Asian Network has reached more than 500,000 British-Asians in the past 12 weeks as part of our 'A Summer Of Melas' season.
I'm pleased at those figures. That's a significant proportion of the entire British-Asian population reached by BBC Asian Network - and we still hope to build on last year's Red Button TV audience of 810,000 with a second programme starting this Monday.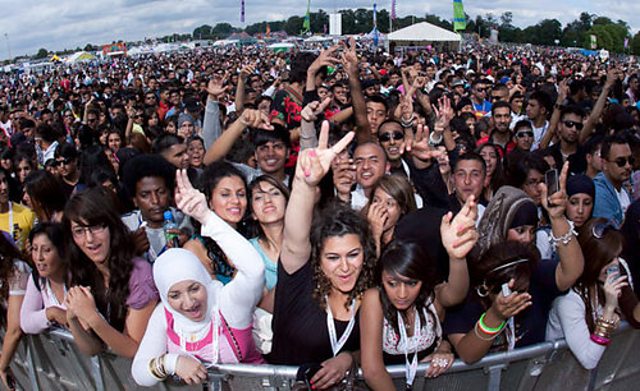 http://www.bbc.co.uk/blogs/aboutthebbc/crowd_shot.jpg
This special season showcasing the very best in Asian music reached its grand finale last Sunday evening at the London Mela in Gunnersbury Park, Ealing, with Asian Network playing host to a record audience of 92,000. I was backstage late on Sunday evening with Sonia Deol as our Live Broadcast team fired up the audio highlights of an amazing day from the studio of Outside Broadcast vehicle Sound 4, whilst across to my left the Tommy Sandhu hosted Asian Network Main Stage was illuminated by the glow of a West London sunset and a memorable closing performance from The Raghu Dixit Project.

Watch a performance of 'Hey Bhagwan' from The Raghu Dixit Project below

I'm often surprised that London Mela ('Mela' is an ancient Sanskrit word for 'gathering' or 'fair') doesn't register more loudly on the Summer Festival radar. 2010 marks the 8th year (and 5th year of BBC involvement) for what is undoubtedly the biggest Asian cultural event in Britain.


There is nothing else quite like it.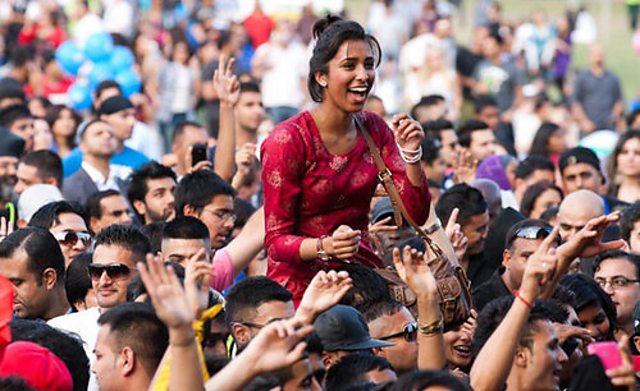 http://www.bbc.co.uk/blogs/aboutthebbc/crowd_shot2.jpg
London Mela is an annual event where British-Asians of Indian, Pakistani, Bangladeshi, Sri Lankan, Afghani and Nepali origin celebrate shared heritage and cultural DNA through music, arts, discussion and cuisine alongside a sizeable non-Asian audience interested in discovering more about a community that three-generations on is deeply woven into the fabric of Britain.
And the thread of commonality that runs through this audience is plain to see.
Since May we have taken BBC Asian Network out on the frontline to meet audiences that the BBC can find hard to reach, from our biggest Mela (105,000 Bengali's at the Baishakhi Mela in Tower Hamlets) to the smallest (15,000 predominantly Pakistani audience in Oldham). We have seen Sikh bagpipers in Glasgow and met Gujarati community groups in Leicester. We know this audience.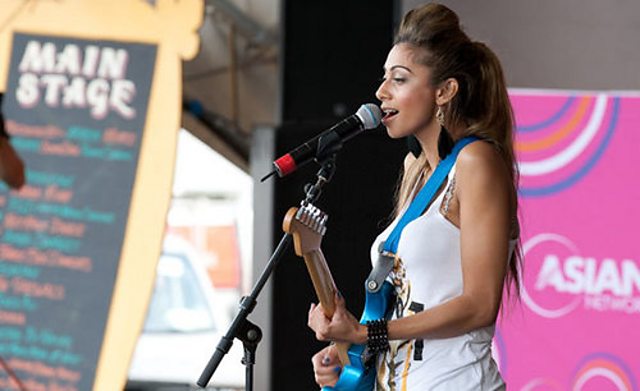 http://www.bbc.co.uk/blogs/aboutthebbc/sonna_rehle.jpg
But it's London Mela which really embodies the purpose of the BBC Asian Network more than any other, and it's a truly stand-out event for the station and the BBC.
The idea behind our London Mela activity is a simple one. BBC Asian Network hosts and programmes a distinct zone in each quadrant across the site. The Main Stage features the best in popular Asian artists for a broad family audience (from Mumzy to Bollywood star Javed Ali) hosted by presenters including Murtz and Noreen Khan while the legendary Asian Network Mix Tent plays host to Nihal and our Specialist DJ line-up.

Asian Network's Mix Tent is a powerful magnet for young Asians and their non-Asian peers.
I watched from the sides as DJ Kayper and Panjabi Hit Squad cut-up Bhangra with Tinie Tempah's 'Pass Out' and was reminded of the importance of the BBC staying connected with this hardest to reach of audiences. We are the only radio station in the UK with a commitment to British-Asian music. And we do it so well that even Tim Westwood and Grime MC JME arrived to pay their respects alongside Panjabi MC in blessing our stage and the Asian audience.

I always take time to scan You Tube after an event to see our BBC activity as viewed from the smart-phone perspective of an audience member or DJ. This is a raw but incredible piece of footage showing the audience in a hot and rammed to capacity Mix Tent. I think it's a sight to behold.

But that's not all we do.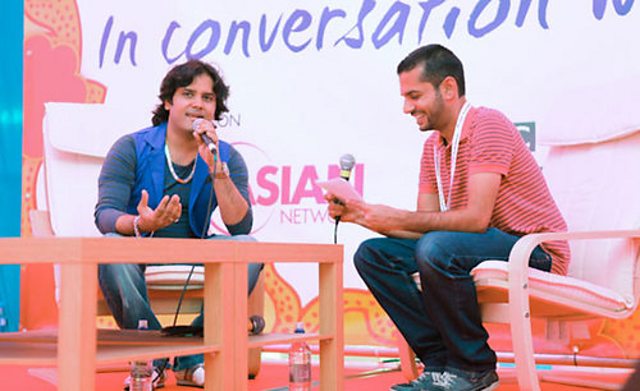 http://www.bbc.co.uk/blogs/aboutthebbc/in_conv.jpg
We raise the quality of BBC involvement through collaboration, teaming up with BBC London on the 'In Conversation Tent' featuring in depth interviews with musicians and politicians, and with the inaugural BBC Introducing stage. Bobby Friction hosted the first platform dedicated to new British-Asian talent, including several Artists pulled up through our Sony Award winning Friction show. Here's the evidence in action - by providing these platforms and spaces the BBC acts as a creative catalyst for young Asian talent.
We are also reminded that BBC Asian Network connects a national Asian community by our Planes, Trains & Rickshaws challenge. Our presenter Wax managed to attend three Melas in less than 12 hours as he joined London with station activity in Cardiff and Edinburgh (both Mela's happened on the same day) and our Live Broadcast tracked his journey throughout the day.

Almost every inch of this sophisticated platform is supported by our Interactive team - with a live webcast of the main stage, photo galleries updated and a #bbcasiannetwork twitter feed following the day as it happened. Highlights in all areas are filmed for next week's 'A Summer Of Melas' Red Button programme. Asian Network News are out in the field with the audience and backstage with the stars.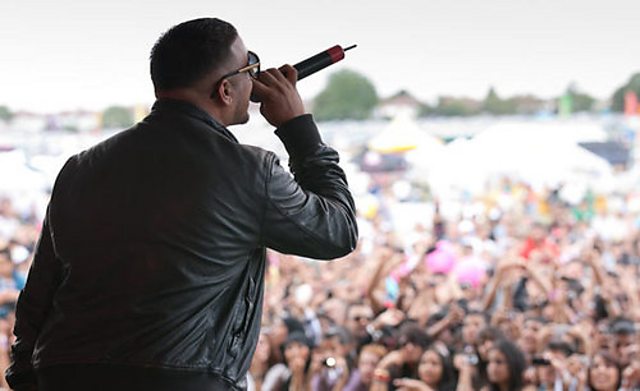 http://www.bbc.co.uk/blogs/aboutthebbc/imran_khan_on_stage.jpg
Rewind back to Sunday evening. I'm by the mixing desks at front of house as our nine-hour Live Broadcast comes to a close backstage and watch the crowds filter through the ranks of Samosa-walleh and Kulfi ice cream vendors towards the car park, hopefully switching on in-car DAB radios to catch BBC highlights of their day. I'm mindful of the fact that the majority of the 92,000 audience won't be able to listen.
British-Asians are less likely to own a DAB Radio than the rest of the UK population. And more than half of the British-Asian population live in London. Re-tuning analogue Asians into digital desis has been a major challenge since Asian Network launched as a digital station in 2002.
I reflect on the reality that this amazing day sits against a backdrop of strategic transition for BBC Asian Network which aims to tackle these platform issues. But I am incredibly encouraged by what I have witnessed this summer.

Watch live performances from Asian Network's London Mela and the rest of our 'A Summer Of Melas'.

Mark Strippel is Head of Music & Events, BBC Asian Network