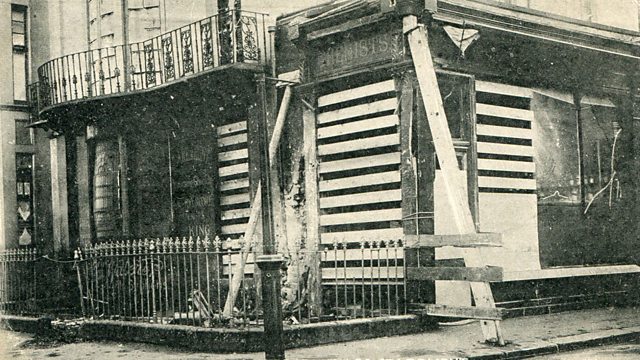 Scarborough bombardment
To coincide with the online launch of the BBC's World War One at Home project, BBC Yorkshire broadcast co-ordinator Anneli Shearsmith introduces some of the stories she has been working on with her colleagues.
Can you imagine what it must have been like for the residents of Scarborough in 1914 on the day the German navy bombarded the town? The bombing took place in the early morning of 16 December. People would have been getting dressed, eating their breakfast, or heading out to school or work when their town was hit by hundreds of shells, smashing homes, hotels, schools and shops.
I am one of 12 broadcast co-ordinators working in English Regions and BBC Learning who, for the past five months, have been working intensively on World War One-related stories like the 1914 bombardment of Scarborough, for the BBC's nationwide World War One at Home project, which launched on radio, TV and online on Monday 24 February. Our job as broadcast co-ordinators is to gather and collate stories from our own broadcast areas – in my case Yorkshire – which will illustrate the home experience during the Great War.
The harrowing scenes of how soldiers suffered in the battlefields of Europe and across the world are all too familiar. What perhaps is not as well reported is what life was like here at home in our cities, towns and villages in every part of the United Kingdom - on my doorstep and yours.
It's been a fascinating journey for me. I didn't particularly enjoy history at school, so to be working on a project that would reflect one of the most formative events in world history was, in the first instance, a little daunting.
Working for BBC Yorkshire as I do, I've always been aware of how diverse Yorkshire is. The large industrial cities interspersed with beautiful countryside and coastline make the county a wonderful place in which to live and work, and the stories we have unearthed for the World War One at Home project are as diverse as the place.
The learning experience was inevitable, perhaps. I have learnt for example that Scarborough was an undefended town on the day the of the Germans bombardment. The tourist destination, known as 'the Brighton of the North', was the first British town to be attacked during World War One resulting in many injuries and death. Most of the residents didn't have a clue what was happening to their seaside town on that foggy morning. A truly horrifying event for everyone who lived there. Keep an eye out for a special series of news features on BBC Radio York and BBC Look North Yorkshire in which we we'll look back on the event and its consequences.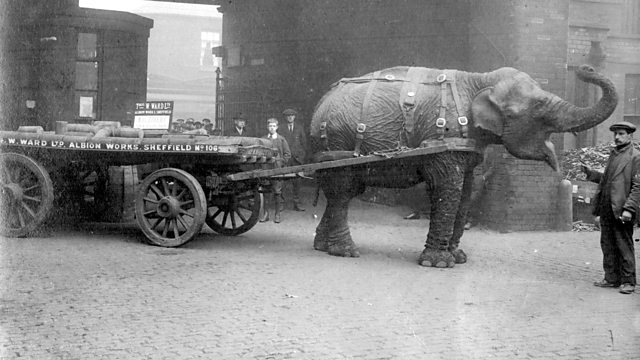 From 1916 an elephant called Lizzie was employed to haul steel through Sheffield.
While researching stories in Sheffield we discovered something which really took me by surprise. In Sheffield – known as 'the steel city' - production of this precious metal during World War One was vital for the supply of weapons and munitions. But many of the horses that would have previously been relied upon in the transportation of scrap metal necessary for production had been taken for operations in the battlefield. The transportation challenge was overcome by something unexpected: Lizzie, a former circus elephant whose performing skills were no longer needed, was in 1914 still perfectly able to pull the kind of weights that had previously taken three horses to move. You'll be able to hear more about Lizzie's wonderful story on BBC Radio Sheffield.
And in Halifax a little boy, George Bentley, aged three-and-a-half, headed out to the streets with a money box round his neck. Dressed up in a specially made officer's uniform, George collected money for the war effort, was known as 'Little Khaki George' and quickly became a 'mini' local hero. We're really pleased we've succeeded in unearthing his memoirs. They will be heard for the very first time on BBC Radio Leeds.
For the past few months I have been working with three very talented journalists; Kate Linderholm at BBC Radio Sheffield, Anna Evans at BBC Radio York and Jane Chesworth at BBC Radio Leeds. All of whom have unearthed many more wonderful stories like these. Some have never been told before and some are stories that may have been forgotten, until now.
Making sure that our stories are accurate is vital. For that we are indebted to Dr Kate Vigurs and Dr Jessica Meyer from the University of Leeds, Dr Robb Robinson from the University of Hull, who in connection with the Arts and Humanities Research Council, have been wonderfully supportive, as have their colleagues across the country assisting all of us working on the World War One at Home project. We have also had unprecedented access and research from Imperial War Museum and received a massive amount of assistance locally by the many archive, local studies libraries, museums, universities and film archives from across Yorkshire.
World War One at Home is about bearing witness to the men, women and children across the nation whose lives were touched by World War One. It is a tribute to everyone who lost loved ones, who soldiered on despite great hardship, and who helped to shape the world as we know it today.
Personally, I've found this project fascinating and I really hope that's reflected in the programming we've made. So far, it's been the best history lesson I've ever had!
Anneli Shearsmith is Broadcast Co-ordinator, BBC Yorkshire