It's nearly the end of an eventful year for everyone at the BBC - certainly those in production and broadcasting here at MediaCityUK. We all finished moving in this summer to support a brilliant London Olympics across television, radio and online as well as continuing to make content for the whole UK.
But the great programmes aren't over yet.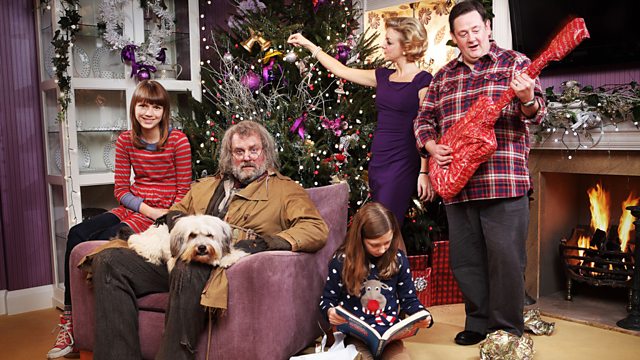 The cast of Mr Stink (credit BBC/Gary Moyes)
This weekend sees the ultimate celebration of a dramatic sporting year with BBC Sport's Personality of the Year 2012. On Sunday 16 December, Sue Barker, Gary Lineker and Clare Balding will host the greatest sporting show on earth on BBC One, BBC One HD and BBC Radio 5 live. A panel selected 12 nominees and the public will vote for the overall winner on the night. And let's not forget that BBC Sport will also crown BBC Young Sports Personality of the Year on Sunday night as well, with the help of MCUK neighbours BBC Children's.
One week later, the BBC unwraps its festive offering across television, radio and online with a selection of goodies for everyone.
If you missed the first episode, you can still catch the first of the three-part behind-the-scenes series on Westminster Abbey as told by those who work in this famous old building. Naturally Christmas is a busy time for the Religion and Ethics team based here in Salford. As well as Westminster Abbey they have also produced David Suchet: In the Footsteps of Saint Paul and our worship line-up includes the annual Carols From King's as well as Midnight Mass live from St Anne's Cathedral in Leeds plus Christmas Morning Eucharist from St Mary Redcliffe in Bristol.
Over the rest of the festive period there's much uplifting content. In terms of comedy the North East's very own Sarah Millican is back with her BBC Two chat show and there's another Christmas Day slice of wonderful Wythenshawe life with The Royle Family. Miranda also returns with a new job and further inevitable misunderstandings and misadventures.
Drama has stories to suit all tastes. Doctor Who roars back in from the cold and Bury's finest, Victoria Wood, has penned a touching portrait of pianist Joyce Hatto and the controversial recordings that made her famous late in life, starring Francesca Annis and Alfred Molina. East London in the 1950s is lovingly recreated again when Call The Midwife returns for a Christmas special seeing Miranda Hart reprise her role as Chummy alongside a lovely cast including Jessica Raine, Jenny Agutter, Judy Parfitt and Pam Ferris.
Christmas wouldn't be Christmas without Children's BBC and this year they have outdone themselves. For the younger children there's the CBeebies' Christmas panto, Jack And The Beanstalk plus a heart-warming animated version of Peter Rabbit and a special Christmas edition of Mr Bloom's Garden entitled Hoe, Hoe, Hoe. And for those who are that little bit older, BBC One has adapted David Walliams' award-winning book Mr Stink starring Sheridan Smith and Johnny Vegas.
I defy anyone not to enjoy the range of what's on for all ages this year  - much of it like Celebrity Mastermind and Dragon's Den, Racing Demons and BBC Radio 5 live from Lapland, made by our teams based at BBC North, to cap a successful first full year of operation.
Finally, I am pleased to say that Last Tango In Halifax starring Anne Reid and Derek Jacobi will return for a second series, joining a host of other Northern drama recommissions including The Paradise, The Syndicate and Prisoners' Wives on BBC One. 
We have laid strong foundations in 2012 - we look forward to building on them with you in 2013.
Peter Salmon is Director, BBC North