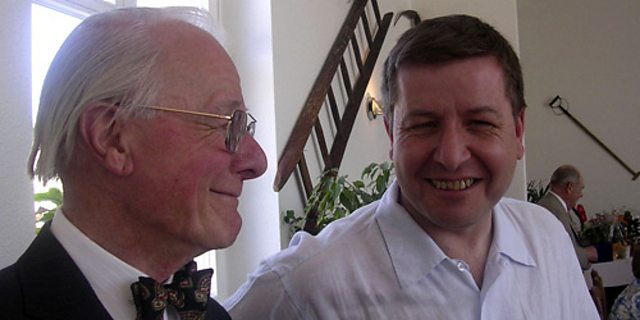 http://www.bbc.co.uk/blogs/aboutthebbc/julian_hendy_and_father.jpg
Julian Hendry and his father from Why Did You Kill My Dad?
There has been much debate recently about the effect that compliance procedures within the TV industry are having on film-making. Some film-makers have suggested that the BBC in particular has become risk averse, which seems an odd perspective to a dedicated commissioning team trying to bring challenging projects to the screen.
Before rushing to judgment, we should recognise how much more complex the compliance universe has become for everyone in recent years, with fast-evolving media law, increasingly empowered contributors and audiences, and the ever-increasing level of debate online.
In the face of this, the only way for the BBC to safeguard the future of quality documentaries is to ensure we can justify and defend every film we broadcast against the criticisms, complaints and legal actions that are increasingly common.
Earlier this year, I helped to bring to BBC Two a documentary called Why Did You Kill My Dad?, in which film-maker Julian Hendy explored the true scale of violence by the seriously mentally ill in Britain today. This was a deeply controversial film which challenged received opinion, and faced many serious challenges during production, including strong legal action. It was only the film-maker's level of journalistic skill combined with the expertise of the BBC Editorial Policy and Legal departments that allowed it to reach the screen.
Some film-makers appear to believe that it is the BBC which creates unnecessary compliance dilemmas. In fact, we are simply deploying the appropriate level of expertise to deal with an increasingly challenging landscape. However experienced you are, it is always good to ask whether you have got everything right and whether everyone in your film is being treated as carefully as they should be - and if in doubt, to get on the phone. The wealth of expertise and experience offered by the BBC's executive producers, and the advisory teams who support them, is there to help you - we want you to draw on it.
Adam Barker is Commissioning Executive, BBC Knowledge
Adam Barker will be appearing in the compliance debate, Age Of Consent, at Sheffield International Documentary Festival on November 6.
The festival runs from 3-7 November with BBC delegates in attendance including Controller of BBC One, Danny Cohen and Controller of BBC4, Richard Klein.
Read Director of Editorial Policy, David Jordan's blog post on the new edition of the BBC Editorial Guidelines.