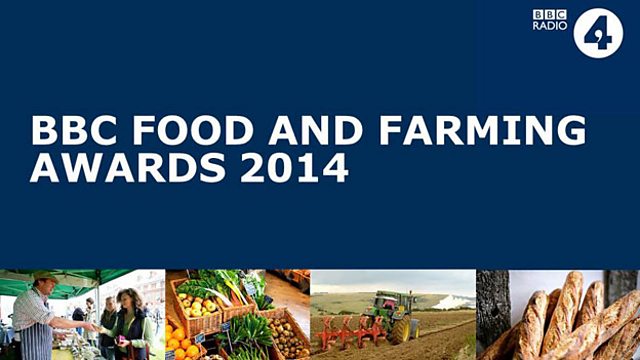 On Monday at 3pm Radio 4 will broadcast a special hour-long edition of The Food Programme, including excerpts from the BBC Food and Farming Awards. In this post, Sheila Dillon explains how the awards were established 14 years ago. 
On the train to Highgrove (Paddington to Tetbury-if you get an invite and live around the capital), Derek said, "We're agreed, no servility?" We were agreed. Derek Cooper was a life-long republican, but he had no animosity to any royal as a person. He was an admirer of Prince Charles' support for farmers and quality food producers and of the way he'd remained steady in the face of unrelenting hostility from the big farm media. Derek also knew from programmes we'd made that without Charles' active support, farmhouse cheesemakers would be a tiny and threatened breed instead of a thriving part of the economy as they are today.
Derek and I weren't actually going to Prince Charles' house as his guests; we're not in that league. We'd been invited to lunch in the dining room in the Highgrove grounds that Prince Charles lends out to groups he supports. That day in 1999 it was an event put on by the Soil Association. Neither of us would have gone in the normal run of things - that wasn't how we spent our time - but we'd accepted because Prince Charles was going to be present for part of the occasion and we needed to nobble him.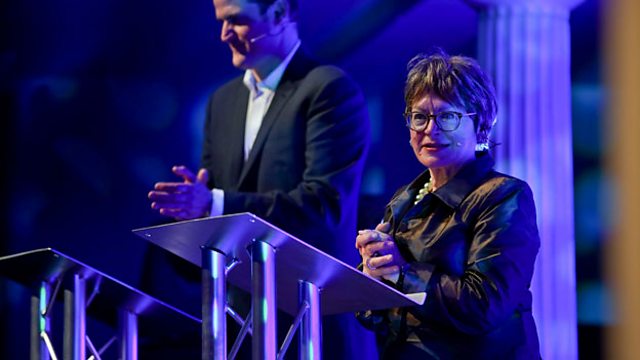 Sheila Dillon co-hosting the 2014 BBC Food and Farming Awards with Valentine Warner.
A few weeks before, The Food Programme's editor, Graham Ellis (now deputy director of BBC Radio) had come to us with an idea. We should set up some awards that would reach out to a wider audience, awards that would celebrate people who were changing the country for the better through food.
It was a great idea. Derek and I were both enthusiastic but we knew there was no way it would happen without some high-profile support. So, without servility and bypassing the BBC's red tape when dealing with the Royal Household, we'd set off on our unauthorised mission to nobble the Prince of Wales.    
And it worked - to truncate a long, complicated story - mostly because Prince Charles employs very smart people. One of the smartest back then was his private secretary Elizabeth Buchanan, who, I learned later, came from a farming family. We introduced ourselves to Elizabeth, Elizabeth listened (seduced, in part I'm certain, by the rich tone of Derek's voice and his equally rich - and real - charm) and she in turn   introduced us to Charles. They were both interested. We were off... on a year of negotiations, arrangements, discussions, meetings, and then, finally, calls to BBC audiences for nominations for the first BBC Food and Farming Awards.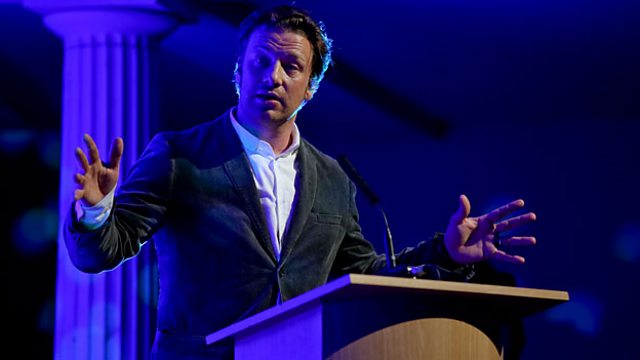 Jamie Oliver at this year's 'food Oscars'.
So in April 2000, St James's Palace: Prince Charles made a speech, the conventionally great and good met the normally unacclaimed great, Stephen Fry was our host (he'd written a fan letter to Derek the year before and I'd saved his address) and happiness was written on all our faces. BBC audiences had responded in their hundreds to our call for nominations. And those nominations were a document of the change that was taking place in the way we in the UK produced, sold, shopped for and cooked our food.
On that memorable night, butchers, public caterers, cheesemakers, campaigners, farmers... all had their place in the glorious glow of a palace that all of us pay for but rarely get to see. And the glow that comes, even to republicans, from the attention of  the man who would be king, a thoughtful man who showed that night that he understood how important good food is to all of us.
Sheila Dillon is a food journalist and presenter of BBC Radio 4's The Food Programme.
Radio 4's The Food Programme will reflect the most successful awards to date with an hour-long edition on Monday 5 May at 3pm.