I'm writing this on a train and apart from the odd lurch of the carriage the words come quickly. Before I began writing, I read emails and skimmed some papers without having to make any particular effort to decode letters and words.
It's very easy to take all this for granted but for many people across the UK reading and writing is a struggle. Often they try hard to hide it but experts estimate that as many as one in six adults in England have difficulty with reading and writing in everyday life.
I find that profoundly shocking and hope that Secrets and Words, a week of dramas for BBC One, commissioned by BBC Learning with Daytime, will help raise awareness of the experiences of people with low levels of literacy and give some of them the confidence to seek help.
BBC Learning has a vision to inspire a life full of learning for all our audiences and we work across the BBC to help create powerful opportunities for learning.
This year, for example, we've collaborated with BBC Two's Stargazing LIVE to inspire people to look up at the night sky and find out more; with BBC Three we co-commissioned the new debate programme Free Speech and, with CBeebies, we've just launched The Lingo Show, which aims to give very young audiences fun with words in different languages. In June, BBC Learning is collaborating with Radio 1 and 1xtra, to create a unique academy for 16-19 year olds in Hackney in the run up to Radio 1's Hackney Weekend.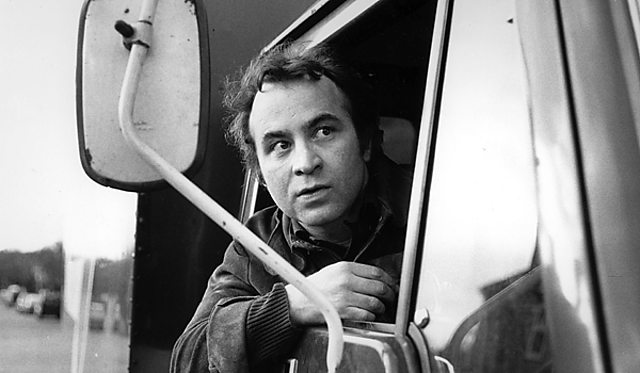 Bob Hoskins as removal man Alf Hunt, who has difficulty reading and writing in 'On the Move', an adult literacy TV programme from the 1970s.
Whilst we range widely across many different areas of learning, one of our key commitments is to literacy. Here the BBC has a significant track record. In the late Seventies, the series On The Move, starring a young Bob Hoskins, was a catalyst in an extremely effective literacy campaign which helped tens of thousands of people. Before commissioning Secrets and Words I watched some of it again and found myself laughing out loud and unable to get the theme tune out of my head for days - here goes - I'm humming it again!
But the world of broadcasting has moved on and though some of the sketches are as fresh as ever, the formal teaching on screen seemed very dated. For Secrets and Words we've been able to create a range of online specialist resources to complement the series.
It was important to BBC Learning and Daytime that the dramas would stand alone as powerful stories and appeal to the widest possible audience. They are about parenting, friendship, bereavement, or getting a new job, and not just literacy. We wanted to avoid some of the stereotypes and show lives in the round, how people from different backgrounds and for different reasons may need help with reading and writing.
We had terrific support from NIACE, The National Institute of Adult Continuing Education, and Sue Southwood of NIACE was series consultant. Sue would offer advice and correct misconceptions but rather wonderfully understood the dramas had to work as television and not a public information campaign.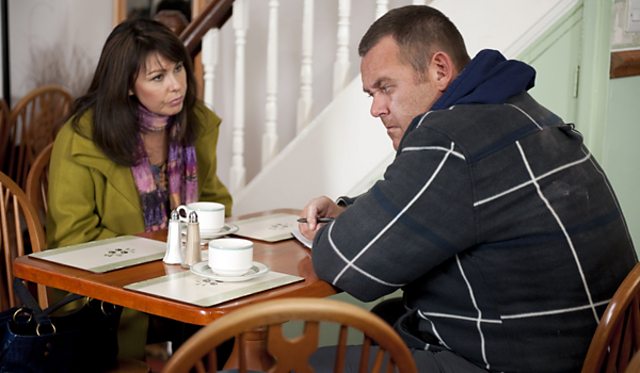 Tony Maudsley and Julie Graham in 'Love Letters' from the five part series Secrets and Words.
Secrets and Words is part of a much wider strategy to enhance the reading and writing skills of different audiences in different ways. With CBeebies we've been thinking about the foundations of good literacy and developed The Rhyme Rocket to inspire very young children around poetry and nursery rhymes. And we're working with The Book Trust and other partners to encourage learning around this new series. But I'm still on the lookout for fresh ideas.
Commissioning should be focused on the interests and needs of our audiences but it's not a science and, for me, the literacy project is also very personal.
When I started school I struggled with reading and, at seven, still could not recognise all the letters of the alphabet. I was put in a special group and remember being jeered at in the playground. Luckily my problems were shortlived, family circumstances changed, in the end my little brother taught me the alphabet, and I thrived.
Now I find it hard to imagine a life without all the pleasure and enrichment, let alone the practical benefits, of reading but this early experience has given me some understanding of the embarrassment and shame so many adults face today and I'm mindful how easily my own story might have turned out differently.
I hope Secrets and Words will show people they are far from alone, there's lots of help out there, and no need to keep difficulties with reading and writing a secret.
Abigail Appleton is Head of Commissioning, BBC Learning. Hear more about work in the interview below.
Secrets and Words is a series of stand-alone dramas on the theme of adult literacy and broadcasts daily on BBC One at 2.15pm from Monday 26 to Friday 29 March 2012.
More information about Secrets and Words, The Lingo Show and The Rhyme Rocket can be found on the Media Centre website.
An telephone advice line is available for anyone looking to improve their reading and writing skills. The number is 08000 150 950, or you can text WORDS to 81010.