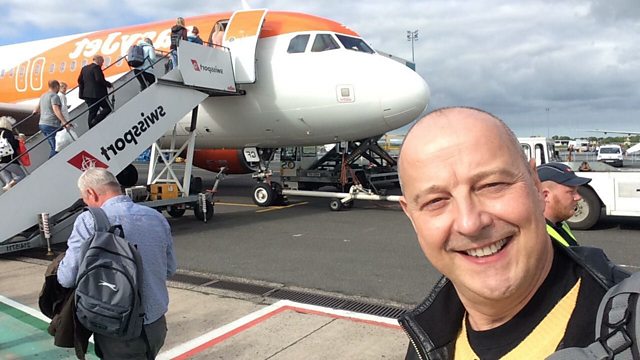 Inside Out North East and Cumbria presenter Chris Jackson had to fly via Belfast
BBC Inside Out examined what travelling around the north is like for passengers, devoting a programme to discussing problems and holding to account those responsible for running railways and transport policy.
All our three intrepid Inside Out presenters were told was they had to meet us at Radio Merseyside, and from there they would be travelling to BBC Newcastle. What they didn't know was what mode of transport they would use to get from Liverpool to Newcastle.
Live on BBC Radio Merseyside's Roger Phillips Show, Keeley Donovan (Yorkshire and Lincolnshire) learned she would be driving and Dianne Oxberry (North West) would be going by train. Chris Jackson (North East and Cumbria) found out that he was flying to Newcastle, but in a journey with a twist. As there's no direct flight between Liverpool and Newcastle, he had to take two flights, with a stopover in Belfast!
Chris's journey started badly. His taxi initially got stuck in Liverpool traffic. Eventually, he arrived at the airport with just 30 minutes to go before his flight. Somehow he made it through security and managed to board his flight to Belfast.
Meanwhile Dianne's train left from Liverpool Lime Street. All was going well for Di until her train passed Manchester. An announcement on the tannoy said her train had to be diverted because of an incident further up the line.
Keeley initially made good time driving on the M62 but that situation was too good to last. After stopping for a comfort break, Keeley found herself in the middle of a huge traffic jam near Bradford, as a result of an earlier accident. The traffic delay ended up costing Keeley over an hour.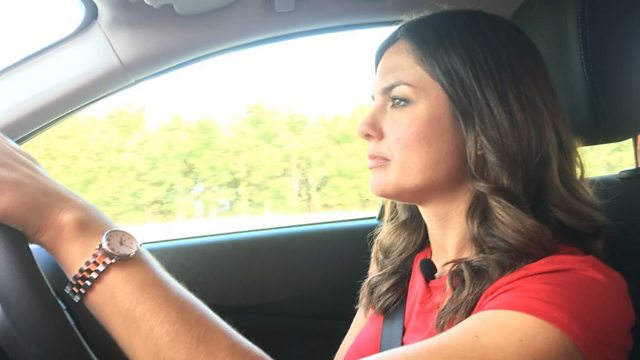 Inside Out Yorkshire and Lincolnshire presenter Keeley Donovan inevitably got caught in traffic
Meanwhile, Chris had time for a spot of dinner at Belfast Airport before boarding his Newcastle bound flight on time.
Dianne's train's diversion meant she was now playing catch up with her two Inside Out rivals. By the time her train reached York, it was 40 minutes late. Her connecting train to Newcastle was heaving, meaning Dianne had no seat for over an hour and had to stand in an overcrowded carriage.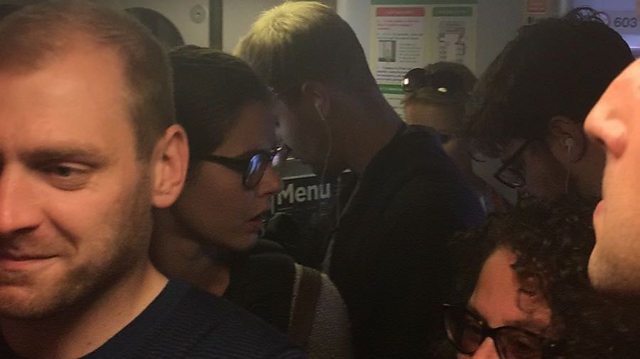 Inside Out North West presenter Dianne Oxberry faced a packed train from York
Keeley had hoped to make up the lost time, but the A1(M) in North Yorkshire was very busy so she was still struggling to keep up.
Just under four hours after leaving BBC Radio Merseyside, Chris's second flight landed at Newcastle Airport and he jumped straight into a taxi.
Dianne also took a taxi from Newcastle railway station to the BBC, which is two miles north of Newcastle city centre. Keeley was finally making better progress than before and had also reached the outskirts of Newcastle.
But who would get to BBC Newcastle in the fastest time? Incredibly, despite travelling around 180 miles in three different modes of transport, the times taken for all three journeys were within five minutes of each other.
Chris, using taxis and aeroplanes, took four hours, 31 minutes; Dianne, by taxi and train, took four hours, 35 minutes; and Keeley, by car, was the slowest at four hours and 36 minutes.
As for the cost, Keeley's petrol was about £25, but if you use Inland Revenue figures, the true total cost was more like £81. Chris's flights and taxis cost £88. And Dianne's return rail ticket cost her £93, though she could have bought a single at the same time for £70. Her taxi cost £8.
The episode is available to watch on the BBC iPlayer here.