A recent BBC survey commissioned for the BBC's Share Take Care campaign suggests that only 40% of young people are aware that personal information shared online stays online forever. Now think of the reported 250 million tweets generated everyday and combine it with what the 800 million Facebook users are sharing and you get an awful lot of personal information floating around the internet - and potentially staying there forever...
Sometimes in our rush to get to grips with the latest bit of online kit or app we forget to apply the common sense that we live by in the offline world with potentially embarrassing or even damaging results.
As part of BBC Learning's commitment to media literacy and in partnership with The UK Safer Internet Centre, the BBC's Share Take Care campaign is about helping everybody, from the CBeebies audience to the over 55s, giving them the skills and knowledge to make their online activity safer and protect their reputation on the web.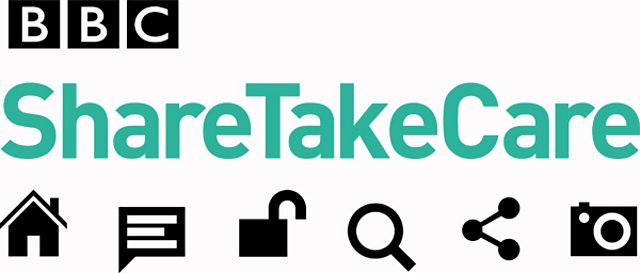 Throughout the week, programmes across the BBC will be prompting conversations about the unintended consequences of over-sharing online and raising awareness about the little things you can do to manage your online reputation and help others manage theirs.
Inside Out kicked off the campaign by highlighting stories from around the UK on Monday while Panorama looked at the issue of cyberbullying.
On Tuesday, Safer Internet Day itself, Radio 5 Live, BBC local radio and BBC News Online will be carrying stories and features. BBC Radio 1 and Radio 1Xtra presenters Scott Mills, Fearne Cotton, Greg James, Gemma Cairney and Tim Westwood will all be supporting the campaign during their shows with special features, including Westwood doing a 'safety rap' to a Biggie Smalls track. Listeners will also be able to play a new online game in which their choices affect the presenters' online reputations throughout the day. BBC News School Report students will be interviewing Richard Allan, Facebook's Head of Policy in Europe.
Don't miss the four special online episodes of the award-winning Horrible Histories on the CBBC website. Using their own distinctive brand of humour, the Horrible Histories team will raise a smile as well as awareness of the potential risks around over-sharing online while over on the CBeebies website the grown-ups blog will also feature information on internet safety. The ShareTakeCare website has a dedicated support section providing top tips and video clips to help you better understand and manage the risks - including a video from Meera Syal (below) who has seen firsthand her own child being bullied online.
In the online world the rules of engagement change as quickly as the technology. Therefore we must stay alert to the possible consequences of how we use technology and take a common sense approach to what we do online and how we help other people in our lives do the same. That is easier said than done and we can all do with a little guidance from time to time, so this week you can put a question to the 'ask an expert' panel on the http://www.bbc.co.uk/webwise/guides/parents-film.
BBC Learning is committed to helping people on their learning journeys to develop the skills and knowledge to fully participate in, and make the most of, this exciting and ever-changing online world.
So go on, use it, enjoy it and have fun with it. Share, but do take care.
Martin Wilson is Head of Media Literacy at the BBC
Submit your questions about how to keep your children safe online via the BBC Webwise blog.
Find out more about the BBC Share Take Care project via the Webwise website.
The wider Safer Internet Centre project has more information on using the internet safely and responsibly.