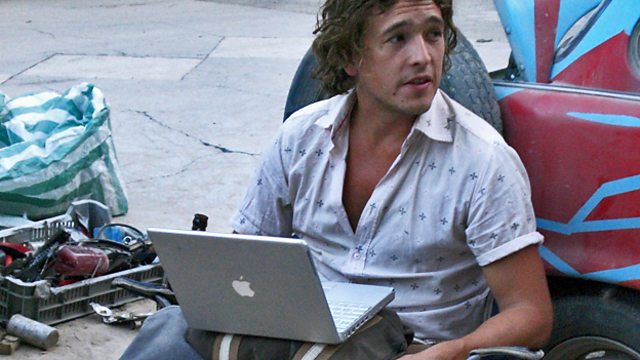 Dan Murdoch during filming for Trabant Trek
Editor's Note - Dan Murdoch's documentary Transexual Teen, Beauty Queen is one of three commissions awarded to documentary makers as part of the BBC Three Fresh competition. In this post he describes his career to date, including time spent working on some famous BBC TV shows ...
"From now on you never go out without a pen and some paper in your pocket," she said, in broad Yorkshire, "Keep your eyes and ears open, write notes about everything you hear and see. What interests you and me interests everybody, always remember that."
A mother's advice to a son, a father's to a daughter, a grandmother's to a grandson.
And so it began.
I had the misfortune of being the latest born in a long line of journalists. Mostly print – my great grandfathers were the rival reporters Harry Procter of The Sunday Pictorial and Victor Lewis of The Daily Sketch; great uncle Bill White was at The Evening Standard, half a dozen other extended family were in the trade, four of them at the News of the World at one point or other. And there was the odd crossover into broadcast as the technology proliferated– my grandfather Lynn Lewis (The Sunday Mirror, then Nationwide), and my father John Clare (Yorkshire Post, Daily Mail then ITN).
Being raised on a steady diet of madcap tales of journalistic derring-do, always told over dinner and often in the presence of another old hack, is, I imagine, like being raised by a pack of grounded pirates. Always adventure. Always bounty. Always embellishment.
I never thought to ask why the rest of our lot were either dead (Procter aged 47, White aged 29) or had abandoned their beloved profession by their 40s (Lynn Lewis now in retail, John Clare now in PR).
And so it was with romantic innocence that I gained my post-grad NCTJ with100 words/min shorthand, and thorough knowledge of Defamation, Contempt and the Rehabilitation of Offenders Act.
Of course these old storytellers did little to prepare me for the day-to-day drudgery of being an actual newspaper reporter.
I was lucky enough to turn a week's work experience at The Times into three months of paid jobbing on the Business Desk (proudly declaring to Patience Wheatcroft that I was worth £350 a week). My email address nestled neatly on the global contact list between James and Rupert. Announcing myself over the phone as a Murdoch from The Times certainly got people's attention, and when they probed I just said I preferred not to talk about it (I'm no relation). But I threw that opportunity away (for a girl, now long forgotten) to develop my skills at the local rag – The Surrey Herald – on a princely trainee sum of £14k a year.
Any grandiose ambitions fostered by my hindsight-driven family, or my fast track experience at The Times - where they once sent me to Riyhad, Saudi Arabia to interview a prince (what a trip for a 23-year-old utterly out of his depth - my story was spiked) - were soon to be dismissed.
The stark reality of generating news could never have been more apparent than the truth of a trainee's lot at The Surrey Herald. Fast turnaround village fetes. Quick copy on the new traffic lights on Weybridge high street. The latest updates on the long-mooted replacement of Walton bridge. Late night council planning meetings to discuss whether a Hersham conservatory conformed to the architecture of the local area. The dreaded vox pop - what do five random know nothing's think about Elmbridge Council's decision to allow a private company to run the new sports centre? I couldn't give a…
After 15 months service, and two days of Trinity Mirror exams in Newcastle (turn this press release into a news story in 40 minutes – GO!) I was invited into the editor's office and named a Senior Reporter. I resigned on the spot and, in an effort to exorcise my local news daemons, spent the next seven months driving a battered '73 Trabant from Germany to Cambodia, writing a book about it, while filming the experience and piquing an interest in tele. Well it can't be worse than print, I thought.
Work experience at the Beeb was surprisingly fun (BBC Four The Real Life on Mars- I'm sure you remember it). I was stunned to learn that all the skills I'd picked up at The Times and The Herald were massively in demand. I could phone bash scores of people in an hour, thought nothing of knocking on doors for days at a time, and could happily spend a day nose deep in official papers, be they Acts of Parliament, Hansard, or the agenda of the Bristol City Council Overview And Scrutiny Committee Inquiry Day into Drug Policy Impacts: Final Report.
My god - despite my reservations - I had become a journalist, smoked at the coalface by Goolistan Cooper (chief reporter: Walton-on-Thames), Steve Bax (pun master: Spelthorne) and Mike Hawkins (editor: Surrey Herald). For a year it was the greatest gig of my life- months to investigate a story I'd have had a day on at The Times (for the record – BBC Two Who's Watching You? And BBC Three Can I Get High Legally? – t'was a time of question marks in titles).
But it slowly became clear that a career in the hyper-modern broadcast arena could not be forged by a man with a notepad and a phone. The real movers and shakers knew how to make films. They could direct. They could do sound. By god they could wield a camera. Some of those b****rds had even been to film school.
As a simpleton who thought shorthand was the cutting edge of technical ability these realisations were dark and foreboding. But I had to act.
The answer was Watchdog, and Lisa Ausden's Consumer Unit. In exchange for a reduction in pay and prestige, bumped down from assistant producer to researcher, I demanded camera training and they obliged.
The 'Dog was a funny place. Incredible camaraderie with some absurdly talented people who I'll never forget. But it was my misfortune to work there at a time when a hugely successful 30-min consumer affairs show was being turned into a 60-min celeb/ent fest.
We were cancelled half way through the run (I could have done more – sorry Rob Unsworth).
Relocated to Rogue Traders I had some of the strangest experiences of my life, from staking out the homes of illegal pesticide distributors, to covert meetings with the police to rustle dodgy clamping firms. I learned how to conduct secret filming, to wear hidden cameras, and I was introduced to a veritable Q's workshop, filled with bag cams, shirt cams, button cams, can cams, car alarm cams – you name it they could try put a camera in it.
Of course the digital video recorders tended to overheat when strapped to your body (as I discovered on a long assignment in the Canary Islands), could only run for 40mins, and if the burning sensation didn't force you to scream and blow your cover then the inevitable death of the battery would often dispose of your incredibly fallible digital rushes. Oh Watchdog, Oh Rogue, I shall never forget you. But never again (?).
Leaving the BBC and going freelance was an eye opener. Spells on The Secret Tourist (no I don't expect you to remember it), and then Jamie's Dream School (I'm still trying to forget it) followed before finally finding a spiritual home at Renegade Pictures, where I produced Drugs Live (which will always be filed under character building).
The wonderful development team found the Jackie Green story – the world's youngest transsexual taking on the Miss England beauty pageant. It piqued my interest and the paternal Alan Hayling suggested I enter it into the BBC's Fresh competition for first time directors.
Jackie Green tackles the interview round of the Nottingham heat of Miss England
I spent a day with Jackie. Made a taster. Sent it in. I was invited to a day of pitching and talks – introduce yourself, pitch your story, show your taster, Q&A from the floor, wriggle in your chair as you compare yourself to all the other tasters. A lovely time had by all.
I'll be honest- I felt I'd won one of the three commissions on offer by the end of the session, but it took a week for the BBC to come to the same conclusion.
I'm happy with the result - Transsexual Teen, Beauty Queen. It's not earth changing, Pulitzer/BAFTA/film festival fair, but merely a good story, well told. Spending a prolonged period with a family is a giddy honour that creates a sense of duty far stronger than with the contacts I had occasionally burned in my print days. Showing the result to Jackie and her mum was one of the most nerve-wracking moments of my career – far worse than my first viewing (the 2nd most nerve wracking moment of my career). I'm pleased to say they laughed and cried throughout, and, in a strange way, their approval meant more to me than the sweet congratulatory message from BBC Three controller Zai Bennett. But perhaps I'm getting soft.
On Nov 20th a bunch of old hacks from my family clan will watch the result of my endeavors. I imagine they will criticise the music (too loud), the story telling (what's going on?), the speed of the cuts (where are we now?). They'll remind me of the day great-grandpa Harry christened an American trooper GI Joe – and it stuck - or when he revealed Bentley's immortal line "Let him have it." Grandpa Lynn will remind me that he broke the Profuma Affair but was forced to drop it by Harold Wilson – only to hand it to Tom Mangold.
Of course, I'll take it all on board, remind myself that they never produced, directed, filmed and narrated a one hour ob-doc for a youth channel.
Then I'll fumble and tap the creased notepad and stolen pen in my coat pocket, remember the lines of my great-great-grandmother, whose name I've never known but whose words I'll pass on: "Keep your eyes and ears open, write notes about everything you hear and see. What interests you and me, interests everybody."
It's wonderful advice.
Dan Murdoch is a journalist, director and producer. His documentary Transexual Teen, Beauty Queen airs on BBC Three on Tuesday 20 November at 9pm.