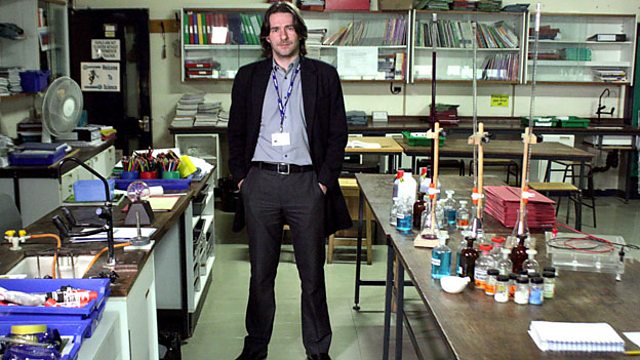 On 3 September a new documentary starts on CBBC. Our School follows a group of students as they leave Year 6 and begin secondary school. Here Our School Science teacher Jonathan Thoburn (pictured above) describes what it was like to take part in the series.
It seemed like a very strange thing to volunteer for at first– to have everything that goes on where you go to school (or work) recorded and broadcast on CBBC. To have cameras installed for months at a time, recording all the big days and little days of people's lives. It seems strange, until you put yourself back there. Day one of 'big school'. What would you tell 11-year-old you? Probably to get that geography homework done. Revise for that French test, and for goodness sake do something with your hair.
Or would you tell yourself to stop panicking? That everybody is in the same boat and it is going to be fine. You will make new friends. The teachers aren't scary. Okay, fine, most of the teachers aren't scary. I saw Our School as an opportunity to do just that.
The school where I work first became involved when the production company sent letters to many schools up and down the country, detailing what the programme was about. The executive team at the school replied, and the process of choosing began. After several visits, and as I understand it, much deliberation, our school was chosen.
And it was a little strange at first. Week one especially, as the crew were in using mobile cameras rather than the static ones that had been fixed into my science lab. Quite a squeeze then to get 30 excited boys and girls, as well as camera operators, boom mic operator (see how I can use the lingo now - 'microphone-on-a-stick-man' was getting pretty tough to say), and other associated TV crew inside a regular-sized lab, but we managed, and because science is the most exciting of all the subjects, we even managed to get some learning in at the same time.
After the initial week, and especially when the fixed cameras were being used, you just sort of forgot they were there. Not entirely of course, picking your nose was still out, but they became more like part of the furniture, and life basically continued as normal.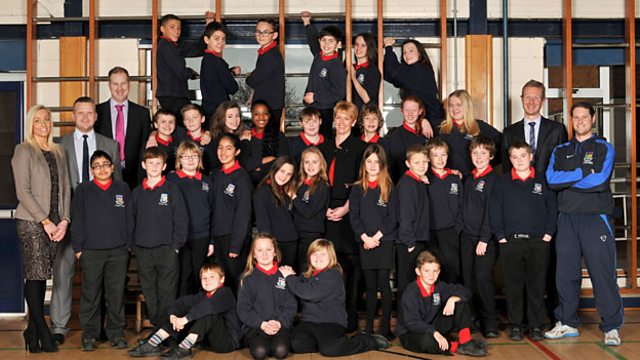 What you see in the programme Our School is an accurate representation of secondary school life from the perspective of the people who are just starting to live it. And that, in a nutshell, was the point, I think. The pupils who took part in the programme went through exactly the same emotions as any other 10 or 11-year-old starting secondary school. And they learned (in front of the nation) that it really isn't that scary at all. I think knowing that they are helping others who might be feeling a little pensive at school, is a very positive, rewarding thing for the pupils in Our School.
So as filming is starting to come to a close and the staff and pupils are starting to come to terms with the rather alien idea of being broadcast to the nation at large, the series producer, Richard Marson, then asked if I'd consider auditioning for the voiceover. After I picked myself up off the floor, I said I'd certainly give it a go.
And so, after a five-lesson day I recorded a piece to camera and then some reading out so the powers that be at CBBC could decide if I was right for the role. They must have liked what they saw and heard. The upshot was that I then spent four days in a box in London. Like David Blaine only with reading out. And as a result you'll be able to hear me as well as see me in Our School.
Jonathan Thoburn is a teacher on CBBC's Our School
Our School starts at 8.25am on 3 September on CBBC