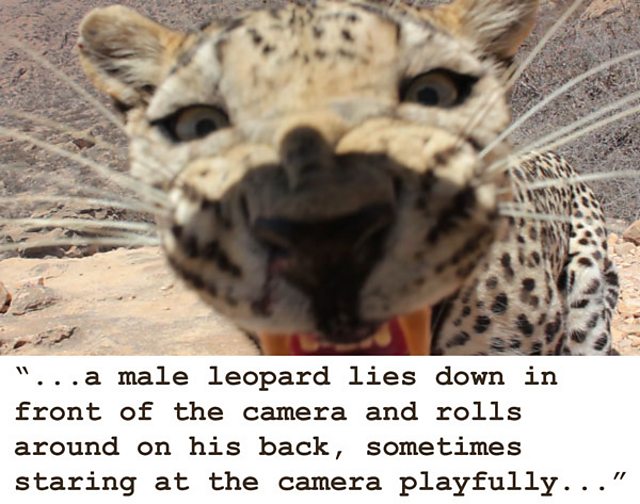 Chadden Hunter, an Australian wildlife biologist and film-maker who works as a producer in the BBC Natural History Unit in Bristol, wrote these words in an email about the quite amazing shots of the Arabian Leopard captured using specially-built camera traps for a new BBC2 series called Wild Arabia. The first HD footage ever captured of this extremely rare creature. He goes on to say:
The camera traps have been in place since January 2011. In the Dhofar Mountains of southern Oman. They have been specially built by a BBC cameraman Mateo Willis who, with his father David Willis, has spent over 10 years trying to capture the Arabian leopard on photo and video camera traps. Arabian leopards are so rare (possibly less than 100 in the world, maximum 150) that in ten years of working in southern Oman David & Mateo Willis have never seen a wild Arabian leopard! But they have been able to use their extensive knowledge of where the leopards go to put Wild Arabia's new bespoke HD camera traps in prime leopard 'cat-walks'.
On the BBC Press Office web
site you'll find a feature about this and other wildlife programming due to air in the coming months. There's a fascinating 10-minute showreel, pictures and details of other series: Africa, Frozen Planet and Survival. Well worth a visit.
Steve Bowbrick is editor of About the BBC