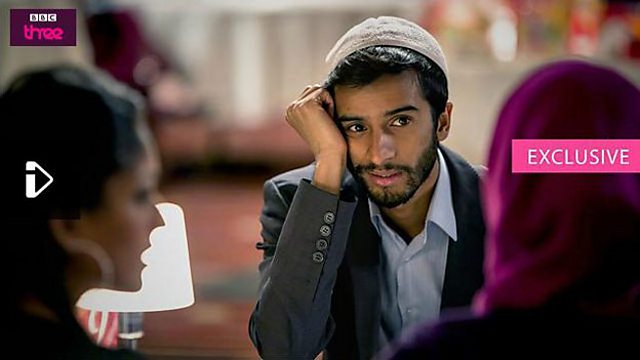 About the BBC Producer Hannah Khalil rounds up her BBC week.
I have a theory – it's probably not very original but it seems to hold true: my viewing pleasure is directly linked to screen size. Yes, size matters. I reckon I could watch Battlefield Earth (or any of the other 50 worst films as voted by Empire viewers) and enjoy it if played on an IMAX size screen. Big is beautiful, or is it?
I've also always felt the reverse to be true: even films I really, really love, (The Hudsucker Proxy, Princess Bride, A Place in the Sun) would fail to engage me on a small screen (on a plane for example). So when I caught myself watching catch up TV on my iPhone I was surprised. Yes. Me. Enjoying TV on a teeny tiny screen.
Granted I've only been watching good stuff – series two of Line of Duty, Inside No. 9 and Salamander are my current BBC addictions – but this is a huge step for me. And it's well timed because this week saw the launch of new look iPlayer. If you are interested in all of the technical developments you can read about them on the Internet blog, but far and away the most exciting from my point of view as a writer is that masses of new content has been commissioned specifically for iPlayer.
There's lots of comedy planned – as outlined in our blog from Victoria Jaye – but what I was really excited about was the new drama commissions. Initially there are three, by up-and-coming writers selected through the wonderful open door that is the BBC Writersroom.
One of the defining things about programmes made specifically for iPlayer is they don't have a set time slot (or TX) – something that might help define the programme's content (for example if it's pre or post watershed etc.) and length.
So what, as a viewer, do you lose with dramas like these that don't have a TX? If there really is something lost I suppose you lose the sense of 'event' and being able to social media your way through it (chatting along on Twitter with other viewers). But the pay-off is that you can watch and share whenever you want, not just for seven days.
As a writer of drama myself, the idea that drama is available for more than 7 days is a real pull for me because it gives me more time to consume the new material. But there's also something really brave and frightening about the freedom that the 'non-slot' element of the medium offers. I'm a hearty believer in the idea that rules and limitations can be freeing for a writer, they act as flotsam and jetsam to hang on to in a sea of imagination. So to be told to write to any length, and any genre – wow that's bold and brave – both from the writers' and commissioners' perspective. And to my mind that courage has paid off here.
I've now watched all three – and on a small screen too – and I'm excited and impressed. The writing and directing, by new talent, is really encouraging and really, properly original. What's more, the acting – largely by young actors who I didn't recognise, is excellent.
My personal favourite, My Jihad, is a touching, simple tale of a young Muslim man looking for love. The title itself is courageous, a statement of intent: the word 'Jihad' has come to have the negative connotation of 'holy war' in the Western media, but in fact in Arabic it means 'struggle'; so this is about one man's personal struggle to find love. What's special about it, for me, is the way it takes a recognised genre – the RomCom and places it in a world many viewers won't know very well – the Muslim community. Then it gives us two engaging characters, one of whom is a feisty and intelligent young woman (hallelujah) – and sets them against one another - his idealistic, somewhat naïve perspective versus her more realistic, hard-won view of the world. It's simply told, but engaging and funny.
The other two are similarly ambitious, Flea being masterfully and boldly written in verse and Tag making the mundane, epic, through an inflated game between two teachers. All three short films have left me thinking what an incredible amount of talent there is out there, and how wonderful an aspiration for BBC iPlayer to become a testing ground for stars of the future – much like the old Play for Today series was. I'll certainly be watching to see what comes next – most likely on my iPhone – forget size matters. Small is most definitely beautiful when the quality is this good.
 Hannah Khalil is Digital Content Producer, About the BBC Website and Blog.