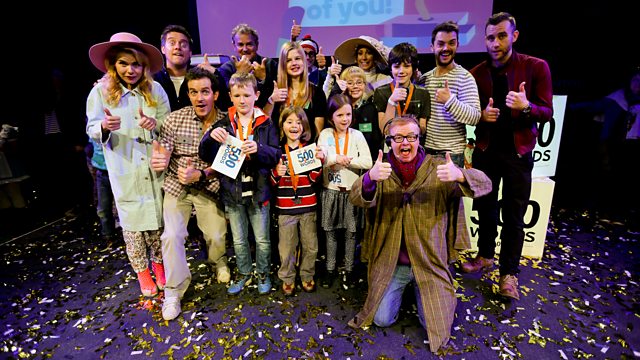 500 WORDS Final, Live from Hay, Friday 30 May 2014
Something magical happens when the BBC goes on the road. When members of the public come to an outside broadcast, eyes light up and warm smiles are readily exchanged whenever they engage with members of BBC staff. I've experienced it a few times now. The exchange tempts further analysis:
audience member (adult) is excited to be in attendance at a BBC event;
staffer (me) is pleased to see audience member excited to be in attendance;
warm sensation of pride envelopes the staffer;
both parties beam at one another with mutual respect.
Point 4 can go on for some time, it has to be said. The sight of a colleague running around frantically somewhere in the periphery usually reminds the staffer in question that he or she is really there to work, not beam inanely at a member of the public. After all, as we all know, beaming can sometimes be interpreted as staring. And staring, like pointing, is quite rude.
I experienced the same thing (sort of) again yesterday morning when parents and their children stepped excitedly into the BBC Tent at Hay Festival poised to take part in the 500 WORDS Final. Broadcast during Chris Evans' Breakfast Show on Radio 2 today, the final marked the culmination of 6 months work for the 500 WORDS team. The four year old creative writing competition for youngsters launched in 2011. This year's youngest competitor was 7 years old. Yes, 7 years old.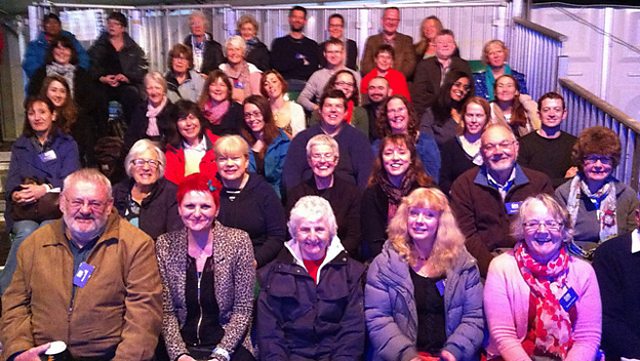 Some of the 500 WORDS volunteer readers, bright-eyed and bushy-tailed at the Final
50 young writers swayed, clapped, cheered and stared during the songs played throughout the programme. All of them, joined by the army of Hay Festival attendants and selection of volunteer judges, were all up for a good time. A testament to the unfailing energy of Chris Evans' producer Lisa, ever insistent that all present should forget the ungodly hour, and stand up and jig about. No one faked it. No-one was there reluctantly. This was a big deal for all concerned, not least for the finalists and their parents. Just like the
500 WORDS Masterclass
 where Frank Cottrell Boyce advised young writers to '
dive in, make it your own and have fun
' a few months back, the atmosphere in the Tent was infectious.
Only six of them would be medal winners - take a read or a listen to the final 50 in Radio 2's special podcast and see who you pick out as the winner; decision-making is difficult.
I admit it. I did wonder whether I might feel a tiny bit envious of their talents. I've long had a 'book on the go' - one I've been meaning to write for the past twelve years. Would their talent be precocious? Would their abilities play on my deep-seated insecurities? Would I leave Hay feeling bitter and resentful, tear up my drafts and trample on any remaining creative aspirations in the process?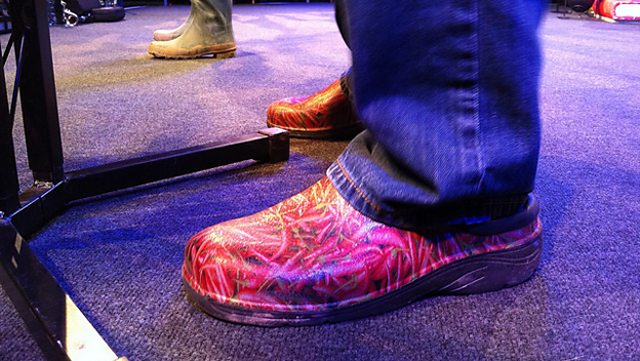 Chris' wellie boots. Practical and stylish.
No. I didn't. How could I when the writer in question has the face of an angel, an infectious enthusiasm or adorable inquisitiveness for everything going on around him or her? When that reaction is reflected in the faces of the presenters and production team those writers interact with, then it's not going to be long before you get a sense of how powerful an experience 'radio on the road' can be. It's not a cast on stage entertaining the audience sat in front of them, it's a group of people bringing a multitude of talents into the same space, all bouncing off one another and producing something compelling to listen to. All of this before 7.30am – at this hour I'm normally on my second mug of tea when I'm at home.
So imagine, with all of this loveliness going on, out of nowhere, a familiar face suddenly appears. "I won't tell you who we've managed to get for the show," said Alison, the 500 Words producer on the phone to me, the night before, "I don't want to ruin the surprise for you." I'm glad she didn't. Surprises are the key to any good story.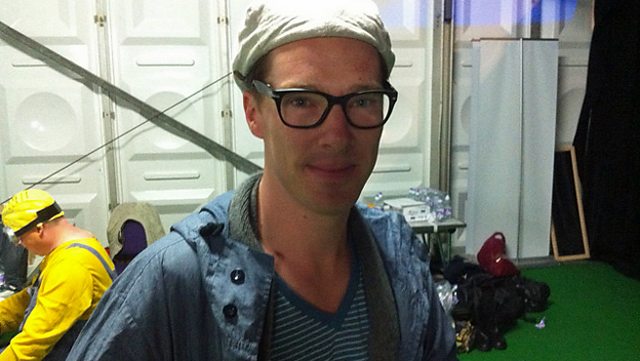 The Cumberbatch. In the BBC Tent at Hay.
Benedict Cumberbatch had rocked up for his appearance on the show. Cool and calm, he could have easily passed without note backstage, were it not for a live blogger with a weakness for spotting celebrities. I did what any normal adult would do: I texted my nearest and dearest, desperate to share my exciting news. (As it happens, he was in the middle of his cup of tea before he made his journey to work, listening to Radio 2.) "Oh my God. It's actually Benedict Cumberbatch. He's standing on the other side of the table from me. I have to get a picture."
To his credit, The Cumberbatch was utterly professional, if a little bemused. He had it easy. When Hugh Bonneville subsequently made an appearance, I was forced to pull out all the stops. Needs must. "Maybe I could get two pictures of you Mr Bonneville, sir? One for the blog … and one for my mother?" The tactic paid off.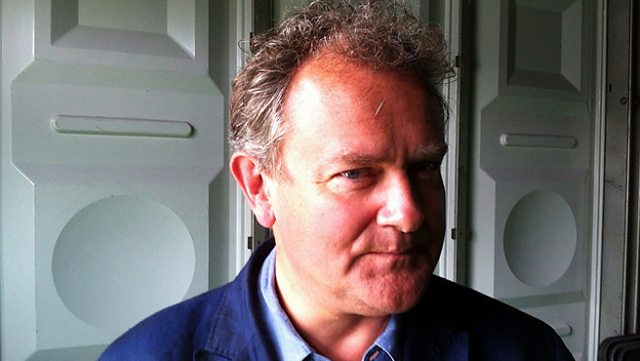 Their appearances, alongside that of Paloma Faith, Dick and Dom, Barney Harwood and actor Matthew Lewis reminded me of the extra special prize every writer loves (but usually forgets about): the prize of hearing another voice bringing your story to life. It is an electrifying experience and one affirming one, one which has the potential to fuel future creativity.
That I can experience all of this running a live blog during a live radio programme, sculpted by an experienced production team who have been up since 5am, isn't a testament to me, nor the crew (although their accomplishments shouldn't in any way be played down). Rather, it's because the work of talented youngsters who have committed to a creative endeavour shines through.
Years ago, I embarked on the same thing, entering all sorts of writing competitions (many of them staged by BBC Learning). Winning wasn't important. Embarking on the creative endeavour was. The 500 WORDS Final reminded me of that early lesson today. As a staffer I am unashamedly proud that the BBC has been and continues to be a part of that.
Jon Jacob is Editor, About the BBC Blog and Inside the BBC website.