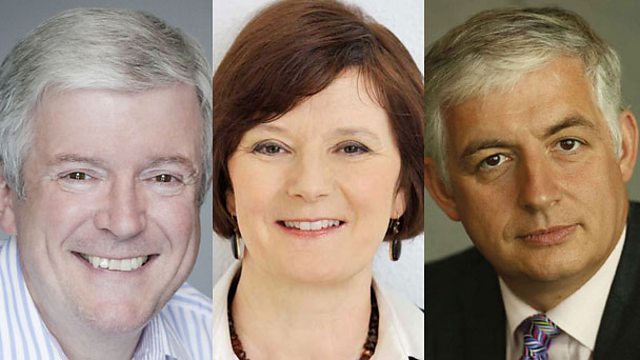 Tony Hall, Helen Boaden, Roger Wright
BBC executives have been busy over the last week. Director-General Tony Hall unveiled his vision for the BBC last Tuesday, after which he spoke this week at the Technology Innovator's Forum on Monday 14 October at Broadcasting House, explaining why creative industries matter to Britain:
"The creative economy accounts for around one-tenth of the whole UK economy and employs around 2.5 million people. In other words, it employs more people than the financial services industry, more people than the construction industry. And in recent years, this creative workforce has grown four times faster than the workforce as a whole."
Tony Hall's full speech at the Technology Innovator's Forum is available to read on the Media Centre website. Tim Davie, CEO, BBC Worldwide also spoke at the Forum.
Also on Monday 14 October, Director, BBC Radio Helen Boaden spoke at the Radio Festival 2013 in Salford:
"I was on the tube travelling through London the other day and as I idly took in the passengers around me it dawned on me that there had been a subtle but significant change to their commuting behaviour. We've all become used to our fellow passengers being lost in music or podcasts through headphones - indeed, often generously sharing it with those around them - but I noticed something that I'd not really spotted before. A lot of my fellow commuters were not listening but watching. Led by the young, that's the impact that tablets and smartphones are having on our lives."
Helen Boaden's full Radio Festival speech is also available on the Media Centre website.
Elsewhere, Roger Wright, Controller, BBC Radio 3 and Director, BBC Proms, gave the Royal Philharmonic Society Annual Lecture 2013 at the Lincoln Center, New York, entitled 'The Future of Classical Music – We're all In This Together'.
"I find it impossible to imagine a world without for example Monteverdi, Bach, Mozart, Beethoven, Schubert, Brahms, Mahler, Debussy, Stravinsky, Boulez and Sondheim. How lucky, however, we are that all these composers came before us. How can we keep alive that spirit of excitement as if we were hearing those composers' music for the first time? - and perhaps even more importantly, how do we make our day to day orchestral music making as exciting as those occasional orchestras who seem to play with such energy and commitment? Abbado's Lucerne Festival Orchestra, Barenboim's West-Eastern Divan Orchestra and all those fine youth orchestras, not least the newly formed National Youth Orchestra of the United States which made such a triumphant debut at the BBC Proms this summer?"
Read Roger Wright's full RPS speech here.
Finally, Director, BBC Television, Danny Cohen was interviewed at the Royal Television Society on Sunday 13 October. You can read highlights on the RTS website.
Hannah Khalil is Digital Content Producer, About the BBC Website and Blog.