"Even though you wear your dresses short, you too will grow old" says Elizabeth Koinange, possibly the oldest woman in Africa, as we started the Life Stories season. A series of reports about how our relationship with nature is changing through science, demographic changes, the internet, our knowledge of the natural world and our knowledge of ourselves as human beings. Of course, as Elizabeth remarked some things don't change.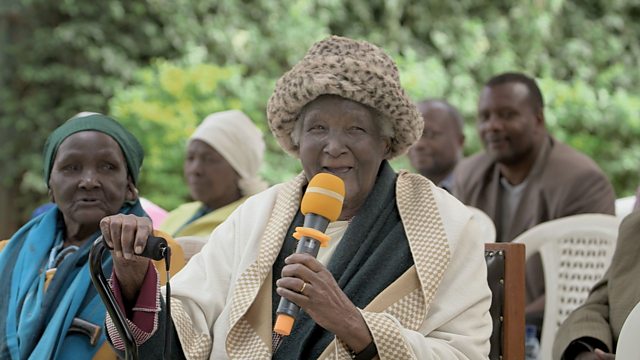 Elizabeth Koinange in BBC World Service documentary 'Celebrating Life at 117'
We look at our relationship with death, with aging, with each other and with the natural world. We do it through radio documentaries, and through social media, debates and some incredible films both in short form and some pretty long versions too. This was a subject we felt demanded some real space for story telling on a big scale – hence the title Life Stories.
We report from Indonesia where villagers live with the corpses of the deceased for years and discuss the French idea of café mortal where strangers can meet to share some comfort when experiencing loss. We link social media stars to their Grandma's to test who knows best for young people, and we look at what it is to be banished during periods for young girls in Nepal. That's just over the coming weeks. In the autumn we will be back for more, with films that follow the harvest in rural Pakistan and look at life after incarceration in US jails.
There are many BBC seasons, initiatives and series; what makes this one a little different is the way it's made, or more particularly who makes it.
Every year the BBC World Service runs the Creative Challenge. Anyone who works within the BBC World Service group can enter. There are five or six judges corralled into helping go through the hundreds of entries, and 10 to a dozen selected regardless of the experience, or current jobs of the entrants – all that matters is not who they are, but the quality of the idea. Every winner invariably turns out to be enthusiastic, brilliant, and driven to make this chance work for them. There is also that curious BBC phenomenon of others being prepared to help them and these ideas become a reality.
So we have Sahar Zand – a young British Iranian journalist making Living with the Dead in Indonesia; Journalists Simon Maybin from Current Affairs, Tse Yin Lee from BBC Monitoring and Emre Azizlerli from BBC Turkish are together making #Granny Wisdom; Nirmala Limbu and Divya Shrestha are from BBC Media Action in Nepal; and London based Journalist Priscilla Ng'ethe making the film about her great grandmother - who just turned out to be the 117 year old Elizabeth. The Season Editor, George Mann has been making it possible for them to have their work aired on as many outputs as possible from BBC Breakfast to Newsbeat.
This is the 6th outing for the Creative Challenge – last year it produced the Identity season - best exemplified by the series of award winning three minute films made in hair salons around the world. Three minutes can be considered a bit too long to be "shareable" on social media but we felt really strongly that they should be shared in full– we took the risk and it worked.
This year, we'd like films to be at least half an hour and perhaps more – why? Well partly this year it's the quality of the extraordinary stories that have been proposed. And if there is one thing that shines through much of the revolution in media is that a good story told well continues to captivate – given a chance.
Steve Titherington is Senior Commissioning Editor for BBC World Service.