When I was a boy summer holidays were characterised by long car journeys with only a well-thumbed copy of iSpy for company; rainy days constructing the biggest ever Lego town; and a television show that would entreat you to 'go and do something less boring instead'. The closest I ever got to a tablet of my own was my trusty Etch a Sketch.
Children today have a dazzling array of media choices at their disposal to keep them entertained over the long summer months. But, for parents, navigating their way through the 30+ dedicated television channels; multiple websites and numerous gaming options can be quite a daunting – not to mention expensive – task.
Here at BBC Children's HQ we want to help parents navigate the new multi-media world. To provide safe choices that will help their children grow and develop. Programmes that will help them make sense of the world, tickle their curiosity and make them want to go out and explore new ideas and interests. And online activities that will educate as well as entertain.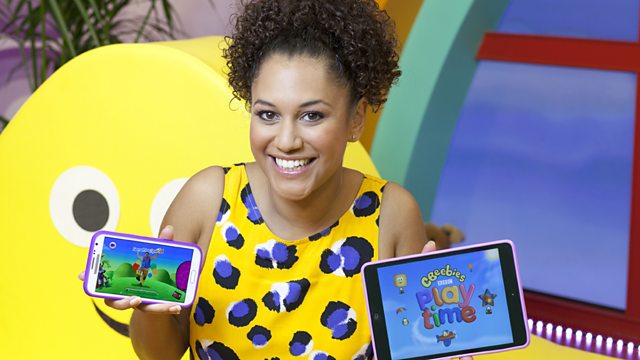 CBeebies Playtime App
Today we've added to their choice with our very first App – CBeebies Playtime. We know mobile content for children is increasingly popular and an incredibly useful tool for parents. Children's programmes are the first genre of programmes in the BBC where a higher proportion of iPlayer viewing comes from mobile and tablets rather than computers or TVs.
Almost double the number of households with children have tablets (35%) compared to households without kids (18%). And, similarly, 70% of all adults with children have smart phones compared to a national average of just over 50%.
So we know there is an appetite out there for content that parents and children can use when they're on the go. Content that is free (and has no in-app purchases to run up bills) and that will help aid child development. It's also safe and secure, and doesn't connect online, so there won't be any data charges.
CBeebies Playtime is the perfect companion for long journeys and rainy days allowing children to play along with their favourite characters including the Alphablocks, Octonauts, Tree Fu Tom and Something Special's Mr Tumble. The app has been designed for parents to play with their children including a dedicated 'Grown Ups' area where they can record special messages for their little ones; find out more about the games' learning benefits and access useful tips. It's also designed with all children in mind – including Mr Tumble's friends with learning disabilities.
This is the latest tool in our battle to both beat boredom and inspire small minds. But it doesn't stop there; an increasing number of our CBeebies web games are now mobile-enabled and available to play on the go. This summer we are launching more brand new content which includes a new 2-D animated series Tee and Mo, designed especially for online to help young children and their grown ups play together.
And it's not just CBeebies TV you can carry with you on your travels - CBeebies radio is a huge hit online. We launched a new radio player last year that makes it much easier to find content and there is a new podcast to download there every day. You can also find CBeebies Radio on the grown up iPlayer Radio app. If you've not tried it I'd urge you to download a podcast and try it on your next car journey. Along with the CBeebies Playtime app, it may just delay the inevitable cries of "are we nearly there yet?!?"
Joe Godwin is Director, BBC Childrens