Following his Television Centre blog, Matt Verrill shares some more treasures from BBC past with an overview of the BBC Handbook from 85 years ago.
The oldest item in my collection of BBC memorabilia is a copy of the 1928 BBC Handbook, covering the previous 12 months (the first year of the Corporation's existence). These books were sold annually until 1987 and served as an audience-friendly annual report on the Corporation's activities, an account of how Licence Fee money was collected and spent, and as a general "this is what we do" advertisement to both the existing audience and those who hadn't yet experienced the BBC's service.
If you've even a passing interest in modern history these books are like a window back to the past, giving a great insight beyond the workings of the Corporation and right into people's living rooms. This first edition sold in the region of 100,000 copies (as did the second edition the following year).
The 1928 BBC Handbook
There's an enormous amount of information spread across 380 pages, impossible to summarise in full. I've picked out some of my highlights, to give you a flavour of what the BBC was saying at the time.
Analysis of Programming
August 1927 had seen the introduction of a new high-powered radio transmitter at Daventry which allowed the BBC to provide a national service (the BBC National Programme) for the majority of the population, in addition to the pre-existing local stations. This would remain the only national network (although Scotland had its own Scottish National Programme from Glasgow) until 1939 when the services were combined to make the BBC Home Service. The number of Wireless Licences issued by the Post Office had grown from 200,000 in 1923 to 2.2 million by the end of 1927, and demand was increasing exponentially.
Analysing the content of a typical winter month's programming, 62% of content was made up of music (only 1.2% of which consisted of gramophone records). 1.7% of time was devoted to drama, in fact no other content type took up more than 8% of available time, with the exception of "instructional" subject matter (following Lord Reith's desire to inform and educate, as well as entertain), which was allocated 14.5%.
Breakdown Time
How much 'down' time did the BBC service experience in 1927? 0.07% (or 46 out of 65,800 hours), as illustrated in this diagram (itself showing how the art of infographics has improved in the past 80 years):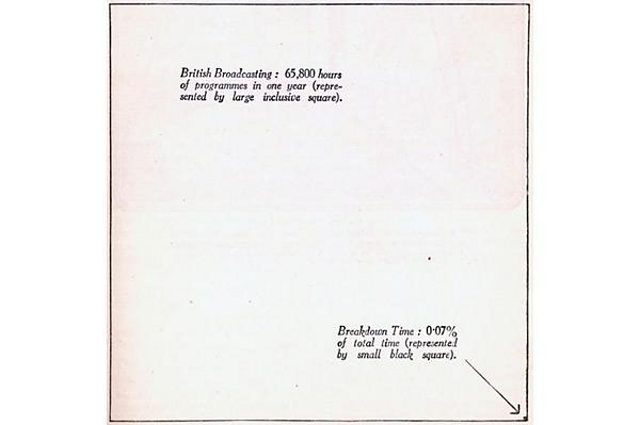 "Listeners' Criticisms"
This article examines the contents of the BBC postbag, focused on some common criticisms of the service and the characteristics of the people who make them:
"Some misguided person once originated a rumour that the Programme Correspondence Section of the B.B.C. is a home of lost illusions, inhabited by dreary people of suicidal tendencies, professing a peculiar cult of Pure Pessimism. To this is returned a complete denial."
"Hardly ever does a critic admit in so many words that he is expressing his own views only. One will speak on behalf of his whole circle of Wireless friends; another for the overwhelming majority of listeners in his vicinity; others-yet more confident-voice the views of anything from 90 to 99 per cent of the entire audience."
"There is, again, the impression that anything particularly disliked invariably predominates. To those to whom dance music is anathema it appears to be broadcast in every programme."
"The aunt who was almost sure that she heard one of her clan say 'Botheration!' in the Children's Hour 'one day last week' has doubtless already carried out her intention of demanding the return of her licence money."
"Let such listeners present their problems, and they may be certain that they will receive sympathetic individual attention, and, moreover, that the opinions they may express will be definitely recorded in that register which is so helpful in the appraisement of the public taste."
"Outside Broadcast Features"
Outside Broadcasts ("O.B.'s") really came into their own in 1927. Up to that point, a contract with the newspapers had prevented the BBC (then a limited company) from broadcasting descriptions of events as they happened. Enthusiastic descriptions of the coverage of the Derby and the Oxford-Cambridge Boat Race (from a launch on the Thames - see photo below) are given, but perhaps the most notable example is the live broadcast of the unveiling of the Menin Gate war memorial to British and Commonwealth soldiers with unknown graves, from Ypres in Belgium on 24th July. Given the First World War itself was less than a decade old, it's hard to imagine the impact that this event would have had on the British public, and it's noted that special arrangements were made for people without radio sets to listen in churches and open spaces across the country.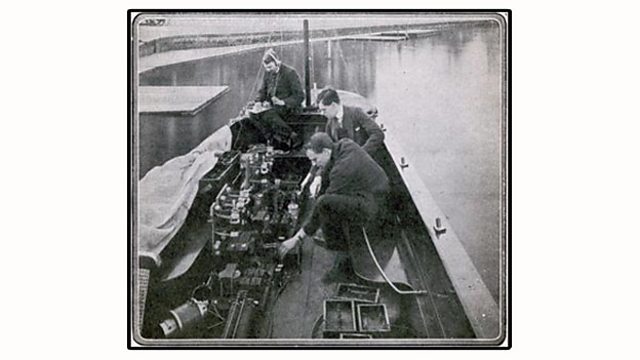 BBC engineers install apparatus, from which a description of the 1927 Boat Race was broadcast
"The Broadcast Receiving Set"
Nowadays, DAB stations turn on and tune in at the touch of a button. Even going back 50 years, operating a radio was as simple as flicking a switch and turning a dial. Back in the 1920s, wireless sets were much more complicated and temperamental devices which required specialist installation and maintenance. A brief guide to the key components of a receiver gives purchasing tips and pointers on how to get the best reception. There are some key points under the title "Twelve Don'ts For Listeners" which can be best summarised as "don't fiddle with it". Incorrect tuning of a wireless set could result in the receiver turning into a transmitter, causing interference with not only your own set but also those of your neighbours. This was down to oscillation, which was such a problem that the BBC issued free pamphlets advising listeners on how best to avoid it ("don't fiddle..."), and reminding them that the Postmaster General could cancel their Wireless Licence if they were found to be causing a nuisance.
"Listening Without Fear"
An article devoted to an (understandably) popular subject of the BBC postbag: whether listeners ran any risk of electric shock whilst listening to their wireless set using headphones. Many listeners were powering their radios using special attachments connected into the mains lighting circuits and, even with the use of standalone batteries, were potentially plugging in to voltages of up to 300v. The article goes to great lengths to describe the general safety features of such sets, but the best advice they can give to concerned listeners is "take your headphones off before you touch a lightswitch", which is hardly comforting.
Advertising
Perhaps the most immediately striking thing about the Handbooks is that earlier editions contain adverts. Even though consumer radio technology was still relatively in its infancy, the discerning wireless owner/listener has no shortage of valves, high- and low-tension batteries, condensers, loudspeakers and headphones to choose from.
A favourite of mine is shown below, for the "Electone Automatic Programme Selector". The iPlayer of its day, it promises that this "wonder machine of radio" will "make your set almost human in service". It is, of course, a rudimentary version of the simple timer switch that you might use on lights when you're on holiday. Not the most impressive feature today perhaps, but in an age when the radio itself was something of a marvel, the house which owned one of these would have been the talk of the neighbourhood.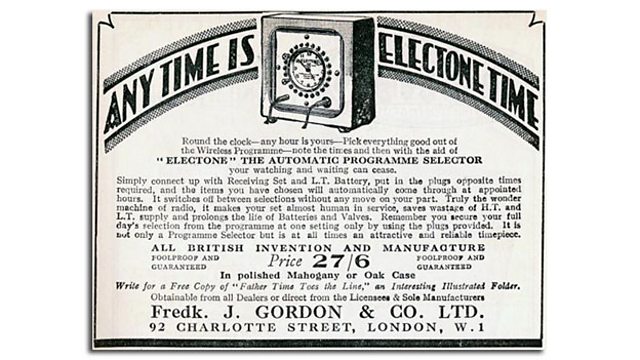 Matt Verrill is Technical Project Manager, BBC Children's Interactive.
You can find out more about the history of the corporation on The BBC Story website.