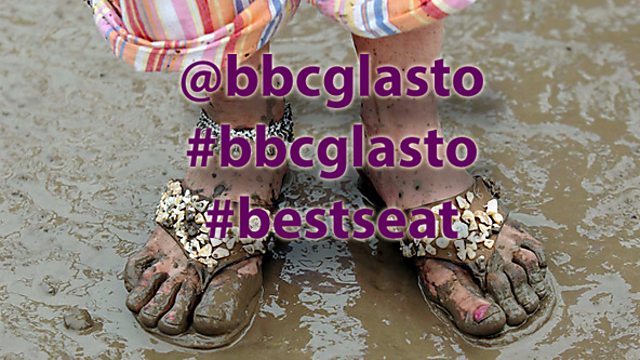 One early evening last summer I walked through Hyde Park on my commute back to Victoria. Occasionally I'd look up to make sure I didn't bump into anyone but my eyes were mostly focused on my Twitter timeline which for 2 glorious weeks had been mostly #teamGB this and #london2012 that. A few minutes later I was watching bikes whizz around the Velodrome on a screen in my hand and the voice of Hugh Porter was describing yet another gold medal. On a phone. In a park.
12 months on and that brief Olympics anecdote will hopefully be repeated but for Seasick Steve or Public Enemy or Chic or Elvis Costello as the BBC returns to a small farm in Somerset for what you probably have heard is the biggest, most digital and we hope the BBC's best Glastonbury coverage yet.  
My role at the BBC has been to help plan more comprehensive and closer social media coverage than ever before from our journalists, presenters, radio networks, and TV channels. 
Our aim is to help audiences, that aren't in Pilton for the weekend, get closer to artists, find coverage of their favourite music and make them aware of the breadth and depth of the weekend. Most viewers expect headliners and top of the bill acts like Arctic Monkeys, Mumford & Sons and Dizzee Rascal to be covered but viewers are delighted to be also told how to find Public Image Ltd, Rufus Wainright and Dinosaur Jnr and 100+ other artists online or on TV and radio.   
A dedicated Twitter account @bbcglasto will be answering questions throughout the weekend fielding such audience queries, selecting the best tweets from artists and sharing links to the best reviews, live blogs and commentary from UK newspapers and media. 100s of Real time images from the main stages will be shared to key social media platforms; (Facebook, Instagram, Tumblr, Twitter) and the best artist, fan and media commentary will be curated by editors on a daily live blog. For real social media geeks we will also be sharing live Twitter stats, facts and figures in partnership with UK start-up Second Sync. 
As with other live music events selected performance tracks from 100+ artists are also syndicated to YouTube, media partners and bloggers. And on air listeners and viewers will be encouraged to request a #glastoshout. On set guitars, DJs and BBC Three's treehouse studio will gradually adapt over time to reflect the Twitter usernames of audiences that have joined in. Keep an eye on the presenters mugs.
It's going to be quite a weekend. Quite a long weekend. Monday, for example, is just as big a day for traffic as users at work, or back from the festival itself catch up on performances they've missed. Most of our coverage will stay online for up to 30 days. 
Please say hi on Twitter. Oh and if I look up for the next four days then I'll be hoping Bobby Womack will finish Sunday night with a moving "Across 110th Street…". It's a "Hell of a tester" says Bobby in the chorus. Well exactly.
Jem Stone is Editor, Social Media and Syndication, BBC Radio.