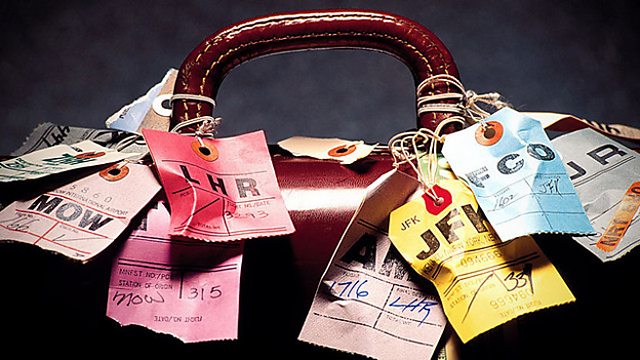 Excess Baggage features in the schedule for Chasing New Year
For 90 years BBC radio has been broadcasting to the nation. While many of those earlier programmes are not available to hear, a vast treasure trove is. Technology met broadcast ambition ten years ago when the BBC set up Radio 7, which last year became Radio 4 Extra. The proposition is simple – to allow listeners to hear the best speech programmes from as far back as possible. For 24 hours a day we broadcast drama, entertainment, and increasingly, arts features and readings for those who love speech radio. In the past few months alone we have broadcast a mini Hancock's Half Hour that had not been heard since 1958 and Arthur Askey reading from his autobiography, last heard thirty seven years ago.
One of the editorial challenges is how to present and curate this vast wealth of material, and with little commissioning budget, rustle up treats for special days. 
For the seasonal holidays this year we are giving listeners a Christmas day of programmes to celebrate the life and work of Eric Sykes with new contributions from Eddie Izzard; Izzard and Sykes had huge mutual appreciation of each other's work. For New Year we had a grand mad idea that we think we have actually made work. 
As the clock strikes midnight around the globe, listeners can hear the results of our work raiding the BBC archives for programmes from, about, or set in a different part of the world, scheduled for broadcast at the time that country celebrates the New Year. That is 25.5 hours of programming from around the world. 
Clearing the schedule from 10am on New Year's Eve with 17 hours of programming never heard before on BBC Radio 4 Extra and drawn from several of the BBC's radio stations, the unique line-up will cross all genres. It will also feature writers, presenters and performers that include Paul Merton, Dan Cruickshank, Johnny Morris, PD James, Ross Noble, Benedict Cumberbatch, Graham Fellows, Sandi Toksvig, Carlos Acosta, Annie Proulx, David Aaronovitch, Lynne Truss, Steve Coogan and Marcus Brigstocke. Listeners can toast the arrival of 2013 while listening to the breadth of the BBC's audio output with this distinct celebration.
Apart from the challenge of clearing rights in time (the BBC does not own all the rights in many of these programmes) there was an unforeseen and surprising hurdle in putting this together. Naively we rather assumed that time was time. If it was such and such an hour here in the UK you just counted backwards or forwards to find the time somewhere else. Oh no. 
A country can determine its own time zone. China, which should by its size span five zones, in fact only observes one while a much smaller landmass can decide it wants several. 
To most of the world Antarctica would appear to be a time-free zone. However, each research station has determined its own zone, either based on its home country or supply base.
In 2007 President Hugo Chavez of Venezuela declared that his country would have its own unique time zone (GMT – 4.5).
St Pierre and Miquelon (a French territory off the coast of Canada) is in the same time zone as Argentina plus parts of Brazil and Greenland – but not the rest of Canada.
Samoa "crossed" the International Date Line westwards in December 2011, in order to align it more closely with Australasia. It lost a day in the process. American Samoa remains east of the line.
There are a number of cities around the world that are in a different zone to the rest of their state or local administrative area. For example, Broken Hill in New South Wales, Australia, is in the same zone as South Australia and the Northern Territory (but not the rest of New South Wales).
Arizona, USA does not observe Daylight Saving Time. Within Arizona is part of the territory of the Navajo Nation which does observe DST. Within those Navajo lands is a Hopi Reservation which does not …
Having tried his best to sort out such national idiosyncrasies the producer, Nick St. George, then had to match the time zones with what we had in our archives with the editorial strategy of the network and our desire to give listeners an engaging mix of genres throughout the transmission. Who would not want to provide a jolly listen as we head towards the chimes of midnight?
Highlights from the 25.5 hours include:
10.00am – Distant Chords : Kiribati – one of the islands in the Micronesian series of atolls known as Kiribati (pron. Kiri-bass) is almost certainly the first place in the world to celebrate New Year, 14 hours ahead of GMT. In this episode of the 2003 Radio 4 series, Distant Chords, Reema Kelani meets women from Kiribati now resident in the UK. They reveal how they feel about their homeland, how they keep their traditions alive and how they are blending their pasts and their futures in a new country.
10.30am - Around The World in 25 Years : Hurricane in Tonga – a rare chance to hear the late and much loved Johnny 'Animal Magic' Morris relate tales of his Pacific jaunt, visiting Samoa (GMT +14) and Tonga (GMT +13). Not broadcast since its debut on Radio 4 in 1983. Samoa (formerly Western Samoa) "moved" to the west of the International Date Line in December 2011, losing a day in the process. 
12.45pm – A Week In The Pitt Rivers : The Novelist – PD James included a Fijian whale tooth necklace in her novel, Children of Man. In this 1999 Radio 4 series, the crime writer returns to the Oxford museum to find out more about the inspirational object.
4.00pm – Lifestyles of the Trapped and Cabbaged – two British tourists are locked in a Shanghai warehouse in Roy Boulter's 'comedy of delusion'.  Boulter is an ex-member of the band, The Farm, and has also written for Brookside, The Bill, Eastenders and The Street. For such a vast country, China unusually has only one time zone: GMT +8.
6.30pm – Just A Minute – a special edition to mark 45 years of the programme recorded in Mumbai earlier this year. Paul Merton and Marcus Brigstocke are joined by two of India's foremost comedians Anuvab Pal and Cyrus Broacha.
8.00pm – Lewis Carroll's Adventures In Russia – Michael Bakewell's 2002 play follows Charles Dodgson on his only trip abroad as he crosses Europe by train. Michael was Head of BBC Plays in the 1960s and was married to Joan Bakewell. Young Dodgson is played by Julian Rhind-Tutt, currently to be seen as Angus McCain in The Hour.
9.15pm – On The Field - Craig has joined the army to get away from football, but somehow the game has followed him to Basra. Dark comedy by Annie Caulfield, first heard on Radio 4 in 2007. Cast includes the BBC's chief football correspondent, Mike Ingham. Annie Caulfield is one of Lenny Henry's regular writers.
New Year's Day
3.00am – Viva Musica Latina: Tango - Richard Allison takes a trip into tango – once the preserve of the brothels of Buenos Aires. It is a dance that has never lost it's air of danger, of being 'the vertical expression of a horizontal desire'.  Not to mention one that has led a dancer to store 500 shoes in a bath.  First broadcast on Radio 2 in 2002.
3.30am – The Fisheries Broadcast – In this 2005 Radio 4 feature, Sean Street travels to Canada to investigate a radio programme that has broadcast the news and views of fishermen since 1951. A programme which, at the same time, has helped to forge a cultural identity.
8.30am – Knowing Me, Knowing You – Alan Partridge is "live from Las Vegas" where he introduces himself to the locals as "a sort of English Johnny Carson".  Alan's guests include professional gambler Jack "The Black Cat" Colson. Starring Steve Coogan and first heard on Radio 4 in 1992.
10.00am – Pacific Dreams – Godfrey Hamilton's play traces a young man's quest for a new life as he moves from the granite streets of Glasgow to the azure oceans of Hawaii. A road movie of epic proportions.  Hamilton is writer-in residence for the Anglo-American Starving Artists Theatre Company which was established in Hawaii in 1983. Starring Mark Bonner as Hugh. First broadcast on Radio 4 in 1997.
Chasing New Year on Radio 4 Extra – some facts & figures
Of the 25hrs 30mins of output, 17hrs 45mins have not been heard on Radio 4 Extra before.
There are 39 individual programmes making their Radio 4 Extra debut.
Originating networks:  Radio 2, 3 and 4.
The line-up includes drama, comedy, readings, music, entertainment and factual.

Caroline Raphael is Commissioning Editor of Radio 4 and Radio 4 Extra.
'Chasing New Year' will be broadcast on Radio 4 Extra from 10am on New Year's Eve, through until 11.30am on New Year's Day.