Didn't get tickets for BBC Radio 6's inaugural music festival? Tune in to the Red Button from Saturday, as we bring you an amazing line-up of artists including Kelis, Brit nominee Jake Bugg, Damon Albarn and more.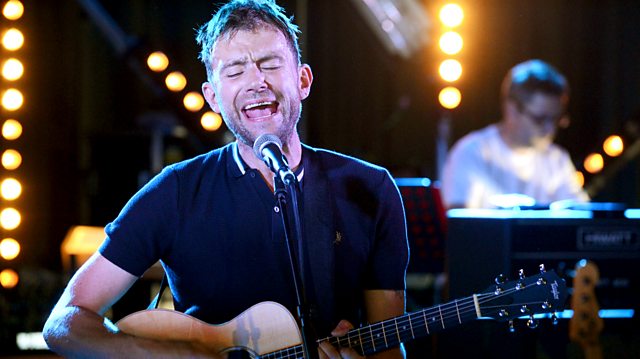 .
6 Music Festival
For the first time ever, BBC Radio 6 Music is hosting its own festival. With more than 30 artists and DJs across three stages in Manchester, the BBC Radio 6 Music Festival brings together an inspiring line-up of artists with an alternative spirit. Catch up with highlights of the festival at the weekend, and from Monday we'll bring you features on various acts at the event.

Sat 1 March, 9.45pm-11.20pm
Sun 2 March, 4pm-7pm
Mon 3 March, 1.45am-7am, 6.30pm-7.25pm, 9pm-6am
Tue 4 March, 6am-7am, 6.30pm-6am
Wed 5 March, 6am-7am, 6.30pm-6am
Thu 6 March, 6am-7am, 6.30pm-6am
Fri 7 March, 6am-7am, 7pm-8.30pm, 9pm-6am
Sat 8 March, 6am-2.30pm, 6pm-6.50pm, 7.30pm-1.05am
Folk Awards Highlights
Mark Radcliffe and Julie Fowlis present highlights of the 15th annual BBC Radio 2 Folk Awards at London's Royal Albert Hall, with performances from New York singer-songwriter Suzanne Vega, folk big band Bellowhead and lifetime contribution award recipient Martin Carthy with his daughter Eliza Carthy. 
Sat 1 March, 6am-7am
Eurovision 2014 - The UK Launch
An exclusive first performance of this year's Eurovision entry. Scott Mills meets the act representing the UK in Copenhagen for 2014. #Eurovision
Mon 3 March, 7.25pm-9pm
Tue 4 March, 7am-12 noon
Darcey Bussell on Ballerinas
Prima ballerina Darcey Bussell talks about her life at the top. From tears at ballet school and forgetting the steps to becoming the Royal Ballet's youngest-ever principal and her favourite roles.
Sat 1 March, 9.10pm-9.45pm
Fri 7 March, 7am-11.55am, 1pm-5pm
4 O'Clock Club Extra
Attention class! If you're a fan of 4 O'Clock Club then press red for a whole bunch of exclusives. Hacker teams up with Mr Bell to try and get the gossip on Miss O'Brien in a one off mini drama, Khalil who plays Josh Carter talks about his love of music and there's a sneak peek at the next episode. So make sure you're a star pupil and catch 4 O Clock Club Extra on the Red Button.
Sat 1 March, 7am-1pm
Sun 2 March, 12 noon-12.55pm
Mon 3 March, 7am-6.30pm
Tue 4 March, 12 noon-6.30pm
Wed 5 March, 7am-2.30pm
Wed 5 March, 4pm-6.30pm
Thu 6 March, 7am-6.30pm
Sport Highlights
Coming up this week we've got Welsh Open Snooker coverage plus World Track Cycling Championship action and the ever-popular Final Score. Find out more about times at BBC Sport Online - remember that live sport timings are subject to change.
Victoria Sorzano is Editor, Red Button