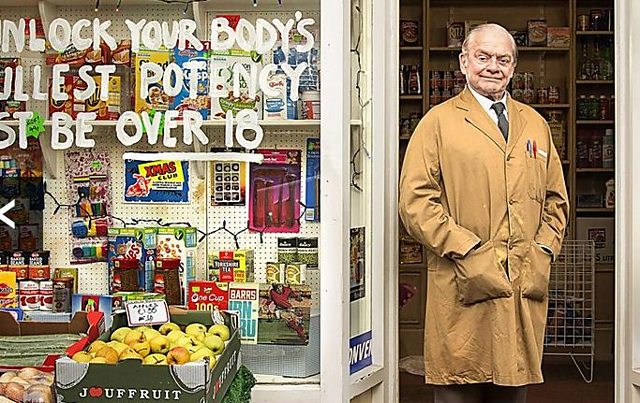 David Jason starred in Still Open All Hours.
In my first post for 2014, I wanted to look back on what has been a strong festive period here – and look forward to a packed and challenging 2014 for the BBC across the North of England.
We produced the most watched show over Christmas – Doncaster and MediaCity's Still Open All Hours, Sir David Jason joyfully reviving the classic sitcom for more than 12m BBC One viewers; Last Tango in Halifax recorded the highest audience appreciation score of any Christmas show – 92 out of a possible 100; and A CBeebies Christmas Carol from The Sheffield Crucible was a UK kids' festive favourite – with a third of a million views on the BBC iPlayer alone.
What I was particularly proud of was our journalism, sports and religion over the period. In foul weather our teams provided a vital service for towns, cities, football clubs and churches in a hugely busy period. From local radio to regional telly, websites to BBC Breakfast, Radio 5 live to Songs of Praise, the BBC's north based programme teams were stretched hard but rose to the challenge.
Now we have set out our stall for 2014 with some strong new year resolutions.
We want to work with partners to produce a series of big events across our towns and cities from Liverpool to Wearside, Yorkshire to the North West that range from World War One commemoration to worship, BBC Children's gatherings to documentary celebration. A real highlight will be September's millionth runner taking place in Newcastle-Gateshead's Great North Run – live on BBC One.
North-based writers and drama producers have got a strong portfolio lined up including Kay Mellor's In The Club series from Leeds; Dominic Mitchell's zombie thriller In The Flesh for BBC Three made in Lancashire; Pete Bowker's From There to Here serial and Victoria Wood's Tubby and Enid film both from Manchester; Jimmy McGovern's Common, set in Liverpool; Sally Wainwright's Happy Valleys from the old West Yorkshire mill towns; and Our Zoo, BBC One's account of the early years of Chester Zoo.
Our children's output will once again be key, dominated by our two biggest series – both made in the North East – The Dumping Ground and Wolfblood; Salford based BBC Sport will be working across the globe on some massive events – the Winter Olympics from Russia, Football World Cup from Brazil, and Glasgow's Commonwealth Games included; and Radio 5 live celebrates its 20th birthday with several treats in store.
Though there is always something of a spotlight on goings on in around our MediaCity base – this week was a 'house price bubble' in Manchester that some of the press pinned on the BBC move. What we do take full responsibility for is the 'content bubble' we have definitely helped create across the region: putting more of the North's talent, skills, towns, cities and countryside on air supported by latest digital technologies – from apps to mobile devices.
With plans already in the pipeline to support the International Business Festival and the Liverpool Biennale later this year, Yorkshire's opening stages of the Tour De France, Hull's winning 2017 City of Culture bid plus the BBC Salford Comedy Showcase, it's great to be open all hours again in 2014 – for the whole of the North of England.
Peter Salmon is Director, BBC North