Graham Stewart is a broadcaster and journalist with BBC Scotland and has been extensively researching the history of Scottish broadcasting for a forthcoming book.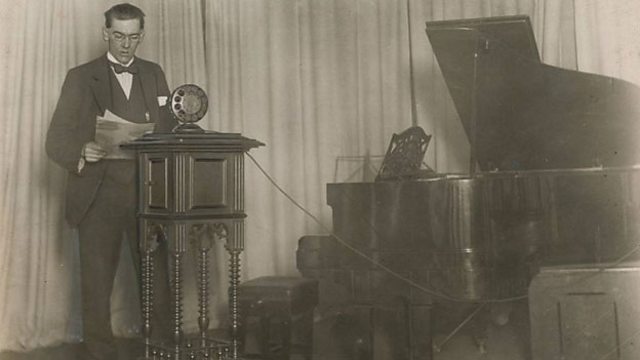 5SC's first station director, Herbert Carruthers, addressing the microphone
During the speeches which marked the opening of the BBC's first Scottish radio station on 6 March 1923, The Lord Provost of Glasgow, Sir Thomas Paxton, expressed his surprise that the Company had been so long in realising a station for the city.  The BBC had launched nearly four months earlier in November 1922 with 2LO in London, 5IT in Birmingham and 2ZY in Manchester; though, to be fair, these stations were inherited from the electrical manufacturers which had already been operating them on an experimental basis.
5SC had to be built mainly from scratch, with a transmitter site secured in January 1923 at the local council's Port Dundas electricity station.  Studio premises were acquired a few weeks later in the city's music hall and theatre district at 202 Bath Street, benefitting from the new BBC policy of establishing studios in central locations near to railway stations (Birmingham and Manchester, by comparison, were initially based at far less salubrious factory works on the outskirts).  Within just the space of a fortnight 5SC was ready to broadcast.
Three things have struck me most during my research: the speed with which early broadcasting developed; the amateurish, yet highly ambitious nature of it; and how, 90 years later, so much of what we now recognise of radio was in place right from the start.
Due to the technical limitations of the time, output was entirely live and local — not only in the sense of not being pre-recorded, but in employing local talent to perform every piece of music and read every script live into the microphone.
The voracious appetite for musical performance was reflected in the job specification for 5SC's station director: "Wanted: a young, versatile musician, thoroughly acquainted with Scottish musical tastes and concert world: must possess ability to organise musical, educational and instructional programmes."  The successful candidate was Herbert Carruthers, an organist and conductor who had some previous experience with an experimental radio station in Glasgow.
Herbert Carruthers describes one of his first duties in setting-up 5SC
On opening night, civic dignitaries and performers crammed round the single microphone in the small, stuffy attic studio, sharing the cramped space with the station orchestra and a pipe band which spilled out into the adjoining corridor.  On the stroke of 7 o'clock, the skirl of bagpipes flooded the airwaves with the folk tune Hey, Johnnie Cope.  John Reith, the BBC's general manager, then bent to the microphone and announced that 5SC, the Glasgow station of the British Broadcasting Company, was calling.  Broadcasting in Scotland had officially begun.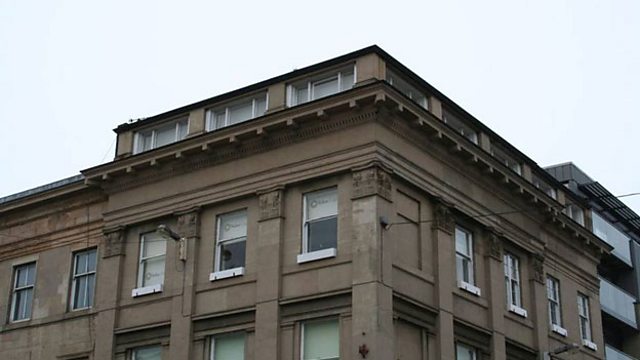 The attic floor of 202 Bath Street as it is today.
The Glasgow Herald described the opening night as "a thrilling and moving moment" and, within five months, it was claimed that upwards of 50,000 people were listening-in to 5SC each evening.
The pioneers of Scottish broadcasting could have been forgiven had they paused to take a breath, but less than a fortnight after launch the station embarked upon its first outside broadcast: three weeks of nightly operas performed by the British National Opera Company, relayed live from Glasgow's Coliseum Theatre.  Again, it was a rather amateurish affair, with just one microphone placed in the footlights and a telephone line connection to the studio, yet still incredibly ambitious for the time.  Little more than a year later, 5SC was regularly relaying live concerts from the opulent Gleneagles Hotel, some 40 miles away in the Perthshire countryside.
Despite all this considerable ambition, it was the policy of the BBC to keep station staffs as low as possible.  5SC employed only four people in programming and administration.  It was not surprising, therefore, that they were required to be multi-skilled and worked considerably long hours.
Mungo Dewar, one of the station assistants at 5SC, outlines the various duties each of the four members of programming staff had to carry out
The working day would begin as early as 8.30am, with the small team working on administrative duties in the office, be it organizing programmes or preparing scripts.  Then, from 5.30pm, they would invariably have to output a whole evening's worth of programmes, beginning with the daily Children's Corner.  As was common practice at all BBC stations, each member of staff was expected to muck-in and perform as one of the programme's 'Aunties' or 'Uncles'.
Children's organiser Kathleen Garscadden describes the spontaneity of Children's Corner on 5SC
Children's Corner made local celebrities of the station staff and a uniformed policeman was often despatched to Bath Street to keep order among the mob of fans waiting outside for autographs.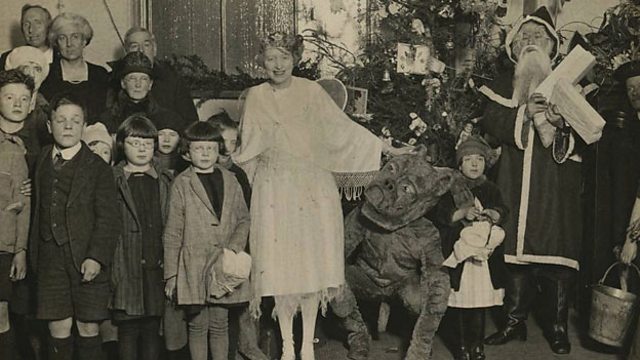 Kathleen Garscadden with a group of children at Canning Street School, Glasgow
5SC's programming expanded to include drama, relays of local church services and broadcasts to local schools.  It was soon joined by sister stations in Aberdeen (2BD), Edinburgh (2EH) and Dundee (2DE) but, by 1929, they had all closed down as the BBC's local policy was replaced by a 'regional' or, in the case of Scotland, a largely 'national' one.  It's a model which the BBC has followed in Scotland right up to the present day.  Local radio was eventually resurrected by the commercial sector from 1973, but its roots go way back to the BBC's pioneering days in the 1920s.
Graham Stewart is a broadcaster and journalist with BBC Scotland.
See Ian Pratt's blog Welsh voices from the past commemorating 90 years of BBC broadcasting from Wales.
Also Robert Seatter's blog, Eighty years of Broadcasting House and our related Broadcasting House slideshow.