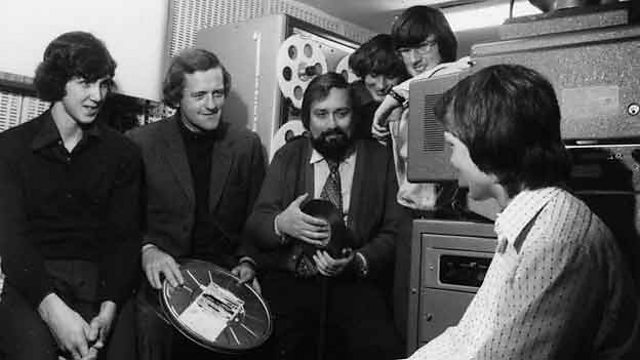 TV director and former head of drama at BBC Wales, John Hefin (second from left).
Editor's note –Ynyr Williams remembers TV director and former head of drama at BBC Wales, John Hefin who died earlier this week. He was one of the creators of the BBC's longest-running TV soap opera Pobol y Cwm.
Monday began splendidly. We leave the office bright eyed and bushy tailed for the MIND Media Awards at the BFI; day is sorted - catch the 12.25 Cardiff/ Paddington, bite to eat, meet at House of Lords for 17.00 and then on to the BFI for 18.30. No worries.
But my day takes a turn for the worst as I walk onto the platform and am told that John Hefin has died.
John founded Pobol y Cwm with the talented Gwenlyn Parry back in 1974 and he was a mentor to many of today's TV practitioners, be they sparks, chippies or producers.
I met him first when I was an actor in 1981, when I performed a short play made for TV with Pete Edwards directing.  John was around, John was always around.
He had this ability to be there, chatting, laughing, holding on to ideas, capturing thoughts and always seeming to be doing nothing at the same time. He had a great talent for that. He also had a great talent to get people to do things for him …"I'm going to Tehran next week to talk to them about soaps. Tell me how you do Pobol nowadays?"  was a question he fired at me last year. He then sat back, relaxed and let me talk for about an hour, write out the complete "How-to-do–a-soap-opera-in-ten-easy-steps", while he just enthused about how we did it today compared to his time. He'd then heap on the praise (he had a talent there as well) :"You're bloody fantastic… you've got such a talent… what would we do without you?"I didn't deserve it, but he certainly did.
Back to the train and I'm thinking about an acceptance speech if we win at MIND awards; who should I thank, who should I not forget to name and then, if we won, should dedicate the award to John? We didn't win but he certainly did. If it wasn't for him and the guys back in the 70s we wouldn't even be on the train.
Strange day in the end. Typically November-ish – started bright, clouded over and pissed down after dark. The day John Hefin died.