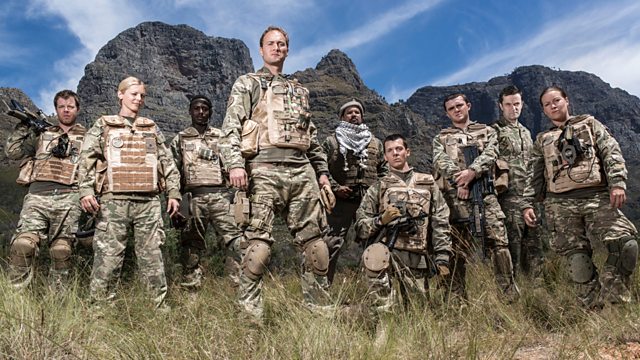 On Tuesday 5 March Bluestone 42 debuts on BBC Three. Much has already been written about the series in the press. The premise of this comedy drama is to explore the humour that soldiers use to cope with the darkest of situations, that and the frequent boredom of being stuck out in the middle of nowhere with nothing to do.
One of the main pieces of inspiration for this series was the clip on YouTube featuring soldiers recreating the famous Peter Kay Amarillo video. It shows that comedy is a hugely important way of dealing with stress and extreme situations. We tackled this in one of our comedies, Taking The Flak, some years ago and of course, there have been many comedies set in the military arena – because in life, especially this kind of life, laughter and tears co-exist. The very best comedy often closes the gap between these two emotions. The last scene of Blackadder Goes Forth is surely the perfect and gut wrenching example of this.
Bluestone 42 includes a wealth of funny stories about how our heroes pass their time, based on the experiences of many of the military people with whom the writers - James Cary and Richard Hurst - have been in discussion. The research has been exhaustive. The team, led by Stephen McCrum and Michelle Farr, all know we need the licence to laugh. And that is authenticity and research. Writing from the head and heart.
This series will not prosper if it's not all about the characters. A dissertation on the rights and wrongs of war should be left to documentary makers. Also the graphic truths. We saw those brilliantly bought to life in BBC Three's award-winning Our War. Even in programmes like these, there is sometimes humour. Humour as a coping strategy, because it's natural and true. However, I believe, having seen Bluestone 42, that because we took great care and used a lot of intelligence, we will, alongside the humour, actually raise issues that others have taken on.
But first and foremost, I hope the series has brought to life funny, engaging and real characters, in an authentic setting and situation. It is, I believe, a warm and inclusive comedy drama, but it does not duck some of the realism. Done right, that is part of comedy's mission. Especially on BBC Three, a place that should challenge and raise debate in all of its genres. These things, if executed without the greatest love and attention, will not engage the audience and risk upset.
Conflict is a big part of the world today. We have grown up through wars in Iraq and Afghanistan. I believe it's natural that comedy searches out things that affect us in our everyday lives. Not only natural, but essential. Down the years, comedy has documented, often effected social and moral change. That sense of being at the centre of things, however uneasy, is why I wanted to do what I do. And the fact that humour is a way of understanding those things.
Of course, I can see why the headline of Bluestone 42 can be looked at negatively. But I hope, because we stuck to our ambitions, we are delivering a comedy drama that has the adventure, truth, risk and excellence of something like The Thick Of It, produced by this department, which although set in the world of politics, is actually all about the behaviour of the characters. We also produced Twenty Twelve  - again about the characters, using the Olympics as the reference point.  
I recall Dad's Army and It Ain't Half Hot Mum - hilarious, but in their day, I bet, they carried some element of risk and upset. Most relevant to our thinking has been the iconic 70s American hit series, M*A*S*H, which again was not about war, but the characters. However, it did not flinch from being real and informed. And because it was done so amazingly, perhaps it did offer an explanation and a perspective on something truly awful. If Bluestone 42 can achieve some degree of that insight through laughter, then we have more than achieved something very special.

The fundamental point is we're fully aware of the delicate nature of this subject area. We have talked to many, many people who live the Bluestone 42 life for real. Every care has been taken in the delivery of the material in order that we don't offend any of the courageous people who serve in the armed forces or their families.
Mark Freeland is UK Controller of Comedy Production.
Bluestone 42 is on BBC Three on Tuesday 5 March at 10pm.