About The BBC Editor Jon Jacob returns to Salford after his initial visit in October, to give us his personal account of the 'Turn Up The Talent' audio drama showcase preparations.
On the fifth floor of Quay House at BBC North in Media City UK, actors, aspiring directors from across the BBC and new writers from the North gather to read through and rehearse short scripts specially written for a drama showcase, hosted at BBC North under the banner of 'Turn Up The Talent'. I get to go along to observe it all and then write about it. Perfect.
It's been a few months since I was last at Media City UK. Things feel a little different this time. The sun is shining. There's a mild breeze. The place feels a little less "new" to me.
I feel less like a cack-handed visitor from London: The lifts are no longer a baffling ordeal; I've become accustomed to the brightly coloured office interiors; and I've got a favourite thing on the canteen menu. BBC North feels like a home from home.
That combination of reassuring familiarity and on-going development echoes the nurturing foundations of Turn up the Talent. Sharon Sephton – Audio Drama Development Producer, Audio Drama North – helps set the scene (and undoubtedly the atmosphere) when we meet the day before rehearsals.
She explains about her passion for audio drama and how she came to work in Audio Drama development. A passion for community drama, first suppressed by the pressures of bringing up a young family, later drove her to reignite her interest in the genre, and study drama to degree level. A job in audio drama at the BBC followed. The fact that she can explain her path to and through the BBC in a few delicious sentences is enough to hook me into finding out more about the work she's doing.
Sharon's enthusiasm for audio drama is infectious. She speaks openly about the work that Turn Up The Talent does for the local (and hyper-local) creative community to the extent that I wish I'd lived in the area and had a chance to participate myself. This particular project provides an opportunity for local writers to try their hand at writing 10 minute dramas. Scripts were vetted for inclusion in the afternoon-long workshop and local jobbing actors looking for further experience and networking opportunities invited along.
Next, a mix of directors are assigned to the various different scripts: some already experienced; others aspiring-types currently working in unrelated BBC 'day jobs' are given the chance to develop their directing skills. The scripts are rehearsed during the afternoon, then 'performed' to a local audience with the resulting showcase by Salford University media students.
Objectivity quickly goes out of the window when Sharon explains all of this to me. I begin to go a little dewy-eyed. Local actors get to indirectly demonstrate their craft to 'the BBC', so too equally enthusiastic and able local writers. Those in other jobs across the BBC get a chance to try their hand and develop their production skills. Everyone gets to meet one another. Everyone gets something palpable out of the process. A world of possibilities might follow. It's what hopelessly romantic writers go weak at the knees for.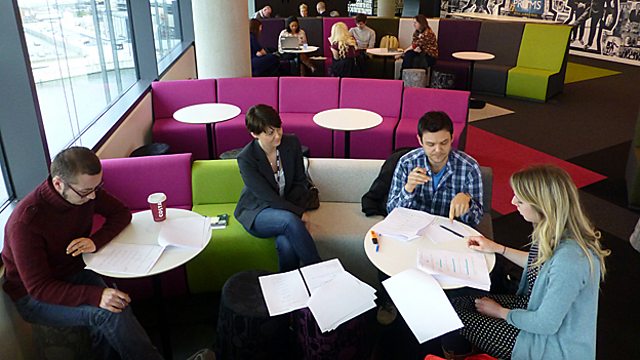 Keith Carter, director Sally Rhodes, Hamish Sturgeon (Jim) and Philipa Dunn (Rosie)
The rehearsals don't disappoint either. I quickly attach myself to one group in the corner of the fifth floor space at the front of Quay House. 'A Mutual Agreement' written by Keith Carter spotlights a couple in the final throes of their tumultuous relationship:  he's packing his bags to move out and racking up a hefty bill keeping the taxi waiting outside, while she's eager to commit the final act on their relationship – agreeing which one of them gets which friends.
I maintain a discreet distance on proceedings. They're rehearsing, I tell myself. They don't need the likes of me hanging around. It's already quite stressful (probably). I'll just smile, nod and keep my note-taking to a minimum. There are moments where I feel like a driving instructor.
It may only be a ten minute drama, but the script remains in hand.
This at first seems like a bizarre strategy to adopt given my invitation until I begin to realise that my unease comes more from witnessing two people (albeit actors) having an argument. One moment I'm shaking hands with both of them and saying "just ignore me – pretend I'm not here" and the next I'm watching two characters arguing about his conviction about James Bond really being gay and her convinced that "if it wasn't for that game we played at your Dad's we wouldn't be doing this now". Their staccato delivery of a highly rhythmic dialogue has me enthralled and slightly embarrassed all at the same time.
Such is the quality of the performance and the plausibility of the dialogue that I'm completely sucked into what is going on. This feels like a very special experience. I can't remember ever being this close to actors doing what actors do. Suddenly that which I take for granted when I listen to Radio 4 for example – listening to a drama – has light thrown on it. What I'm witnessing now is a snapshot of part of what is involved. So much so in fact, that at the end of the script I want the drama to carry on. Just for me.
At the end of five minute read-through both actors look at each other, then the director and writer. "Was that OK? What did you think?" Immediately, it's obvious that no one person takes ultimate control over the end product. Each discussion about the previous read-through and what might be done next time around is a delicate compromise between the person who wrote the story and those who bring the characters to life. Writer, actors and director bring ideas to 'the table' but have to remain flexible so they can respond to what each other is saying. Another read-through is done, this time with a different emphasis on a particular part of the script. Then another discussion, then another read-through. It is a remarkably intimate thing to witness and even though I'm not part of the production, I still – by proximity alone – feel a part of something incredibly special. There is a palpable sense of excitement throughout the rehearsals – in part because I'm watching someone who's day job is normally attending to the diary needs of a member of senior management, successfully try her hand at an entirely different skill: directing.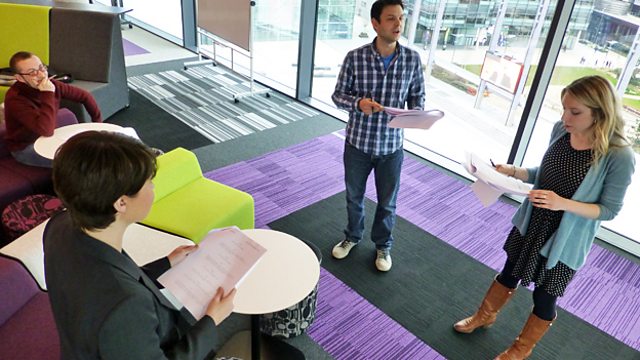 Rehearsing 'A Mutual Agreement' in Quay House, Media City.
The script goes through more read-throughs and more tweaks, before the cast get the chance to do a sound check on the stage in the presentation area on the fifth floor. It's then I have to leave to make my way back to London. "You're not staying to see the performance?" asks the director surprised I'm running away so soon. "The truth is," I explain, "I feel as though I've had my own special performance already."
My loyalty to the one script I've observed in rehearsals all afternoon makes considering any of the other groups efforts something bordering on betrayal. The journey back to London instead focusses on dreaming about dipping my toe in the water and writing a 10 minute script for myself, buoyed up by the excitement I've seen on the faces of those who've already dived in. Even now – recalling the process a few weeks on – the  powerful effects of such an intensive afternoon linger: a safe space for creatives to try out new skills which might just develop into something bigger in the future. A very special thing.
Turn Up The Talent showcased acting and writing talent in the North, run by Audio Drama North in partnership with BBC Writersroom North.
The event was compered by writer and comedian Toby Hadoke and featured six 10 minute plays including:
Order no 58762 by Clair Parker, directed by Michelle Matherson with Brennan Reece and Kimberly Hart-Simpson
Dating for Godot was written by Jim Spiers and was directed by Usman Mullan and saw Smug Roberts and Ed Easton playing the roles of Alan and Colin.
Small Plans by Morgan Sproxton, was directed by Amber Molyneux and featured Sian Weedon, Anna Denise Whelan, Ed Easton and Cesare Taurasi
A Mutual Agreement by Keith Carter was directed by Sally Rhodes and starred Philippa Dunn, Hamish Sturgeon with Stefan Gumbs playing the role of the taxi driver
Single Yellows was written by Ian Winterton, directed by Sophie Williams and featured Cesare Taurasi and Andrew Lindsey
Rusholme Roulette
was written by David Viney, directed by Helen Elizabeth Varley and starred Shaun McGowan, Laura Naylor and Stefan Gumbs