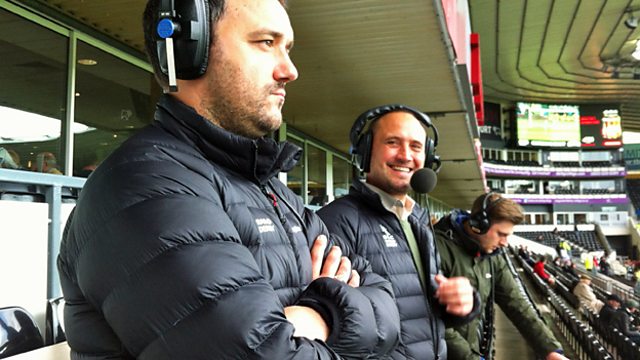 The Radio Derby commentary team, (l-r) Ed Dawes, Craig Ramage and Owen Bradley.
Charles Runcie, Head of Sport for BBC English Regions, celebrates the art and craft of our BBC local radio football commentary.
As Match of the Day celebrates 50 wonderful years and the glistening Premier League starship touches down across the BBC for another season let's not forget another vital component of the BBC's football coverage - our local radio football service. The 39 local stations in England have a strong commitment to local sport from the top level to the grassroots. Each week they provide commentary on around 70 football clubs from Burnley to Barrow via all their available frequencies, including regular splits on FM, AM and DAB.
Stations embrace their coverage with relish, whether in countless phone-ins or magazine programmes, following their team on a great cup run or even to a Wembley final, when the whole of a local station's programme output that day decamps to North West London. The success of Guernsey FC prompted Radio Guernsey to alter their schedules last season in order to do commentary on all their games, proving to be a huge success. Never mind motorway miles, will the fog clear for the plane to take off for their away games?
Usually each station will have its own dedicated commentator, sometimes a staff broadcast journalist but for others a long-serving freelancer. They'll spend the next 9 months travelling across the country in all weathers to some of the game's most inhospitable outposts, bringing coverage of their local teams to listeners not only to their BBC Local Radio station but to exiled fans around the world via their club websites.
They identify with their team to provide informed, passionate commentary to their listeners. They are partisan, as you would expect, but would be horrified if you ever accused them of bias. They would say in no uncertain terms that their reporting of any game is scrupulously fair – and it is - they are simply hoping their local side do well, and reflect that in their commentary.
Their dedication to their own teams is only matched by their resilience, coping with thousands of motorway miles, battling ISDN and Wi-Fi technical gremlins when they get to grounds plus the occasional dodgy press box pie at half time.
Some are quite new to it. Tim Steere made his debut at the start of this season as the York City commentator for Radio York, while Colin Slater has covered every Notts County game for Radio Nottingham for an incredible 46 years and is still as good as ever.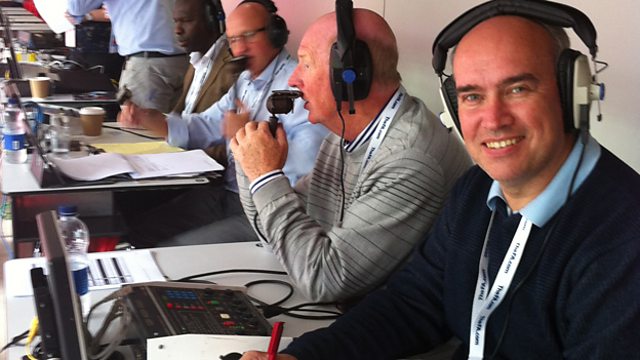 BBC Radio Manchester's commentary team at last Sunday's Community Shield. (l-r) Shaun Goater, Jack Dearden, Fred Eyre, Ian Cheeseman.
Some of them are lucky, like
Ian Cheeseman
. He commentates on every Manchester City game for Radio Manchester, either at the Etihad Stadium or glamour trips to the Champions League. Others have a more exotic lifestyle. Consider
Gordon Sparks
, Plymouth Argyle's commentator for Radio Devon. He must groan when he sees that crucial midweek League 2 fixture at say Hartlepool looming in the depths of a January freeze. He's the station's early breakfast presenter too. Argyle fans love him though, renaming each way end at Argyle matches "The Sir Gordon Sparks Stand". That's fame for you.
Steve Miller is another man dedicated to both his art and his local team. No Kidderminster Harriers match would be complete without his informed, basso profundo commentary for BBC Hereford and Worcester having the rest of the press box running for cover. 
For most commentators each season brings a mixture of narrow wins and disappointing defeats, enlivened by the occasional high point. Ian Stringer, Leicester born and bred and a lifelong Foxes fan, got that thrill at the end of last season when commentating for Radio Leicester as his hometown club reached the promised land of the Premier League. You can almost taste the pride in his voice as that third goal goes in.
Most commentators on local radio remain happy to remain there, providing the soundtrack to their club's fortunes for many a season, but many of the voices you hear on the BBC nationally started in local radio. These include Guy Mowbray, Jonathan Pearce, Simon Brotherton and the newly-appointed BBC football correspondent John Murray, who started in the north east on TFM and BBC Tees in the mid-90s. His illustrious predecessor, Mike Ingham, was at Radio Derby before moving to BBC Radio Sport in the early 80s. I'm sure both would pay homage to those early days as they learned their trade, and might admit to relying on our local radio commentators at grounds helping them with some inside information on "that new left back I've never heard of."
So in an era when social media, Final Score, Five Live, smartphones, Jeff Stelling, www.bbc.co.uk/football and just about every other device invented gives you constant score updates, BBC Local Radio commentary remains a cherished and popular service for fans of clubs of all divisions who want to keep in touch and enjoy their local commentators heroes.
Charles Runcie is Head of Sport, BBC English Regions