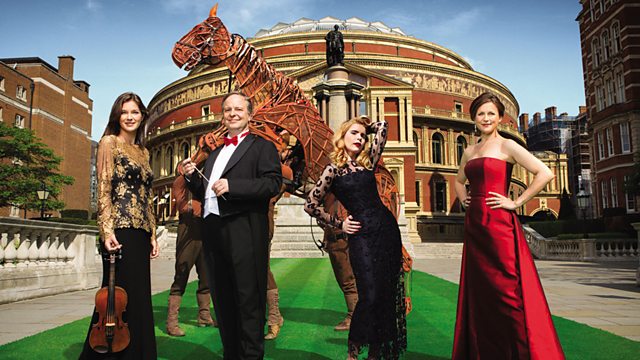 Jon Jacob attended the photo shoot for the 2014 BBC Proms season and spoke to Radio 3 Controller and Proms Director Roger Wright about his time as Director and how he felt about leaving the organisation. He also saw a horse, kind of.
When the BBC Proms gets underway on Friday 18 July, seasoned prommers will greet one another with a "Happy New Year!" before exchanging a knowing smile. Like the "Heave! Ho!" exchanged between arena and gallery prommers when a piano lid is lifted by a stagehand, or the ripple of excited applause when the orchestra leader plays an 'A' on the instrument to tune the band, welcoming one another to the new season is one of many idiosyncratic Proms traditions which ensure a sense of continuity from year to year. Long may such things continue.
There is another. On Proms launch day (this year, Thursday 24 April) the official Proms Guide is made available to the public. This along with the press launch is, to many of us, a welcome springtime milestone (and to others a reminder that time before the season gets underway is fast running out), so the Proms Photo-Shoot is another albeit lesser-known part of the Proms calendar. For those of us who haven't toiled over the administrative challenges of shaping, planning and typesetting the season, the annual shoot – always set against the obvious backdrop of the Royal Albert Hall – is a special affair with a deliciously low-key sense of anticipation about it.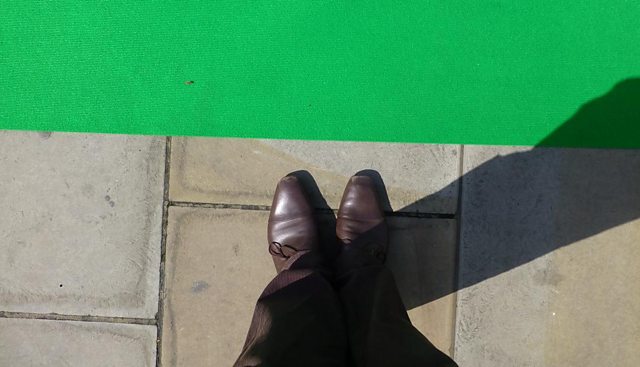 Yesterday, the sight greeting me after I'd strolled up Prince Consort Road in the sunshine subtly broke with the Proms Photo Shoot 'tradition'. A bright green carpet (surely it should have been red, shouldn't it?) stretching all the way back towards the monument in front of the Royal Albert Hall. "Did you mean to choose this colour?" I ask someone important looking with a mobile phone in her hand. "Oh yes," she replies, "all will make sense in a moment."
The star of the show of the shoot isn't – I'm sure she won't mind me saying this – presenter Katie Derham (looking resplendent in a ruby red evening dress), nor violinst Janine Jansen (looking equally glamorous) or conductor BBC Symphony Orchestra Sakari Oramo. No, the real star – the one causing the passers-by to stop passing by and take pictures - is instead a horse. Joey, the horse. The horse from the National Theatre production of War Horse.
"It's not a real horse," I mention to a tourist who is momentarily aghast I felt the need to point the blindingly obvious out to her. I apologise immediately and offer a hastily drawn up defence. It's not difficult: the likeness created by the NT puppeteers – in 'character' from the moment they step out of the nearby props van until they get out of their costume an hour or so later – is compelling. So compelling in fact, that it's not long before I've forgotten about the men inside the costume and started worrying whether the 'horse' is being treated properly given the unusual situation it finds itself in.
Joey the horse features in the 'War Horse Prom', a concert which on paper caught my eye and caused my nose to wrinkle a little. It's one of the questions I plan to put to Proms Director Roger Wright when I interview him later: Is the War Horse Prom stretching the meaning of a 'Prom' just a little too far? My question is deemed pointless when I realise just how absorbing and endearing Joey the horse is. I'm transfixed.
It's a testament to their skill, dexterity and breathtaking attention to detail. But it's also a fitting reminder of many other Proms experiences I've had over the years: the concert series enduring appeal for me has been the way its events take me by surprise and how enriched I feel when they have.
My connection with the Proms is fairly loose. I've skirted around the edges making videos about the season, strolling 'walk and talks' inside, outside and behind the scenes at the Hall and even made a short piece illustrating using my intense dislike of anchovies as a metaphor for "try the music of Stockhausen: because you might just like it after all'.
Despite that, I've never actually worked for the Proms team, nor worked for Radio 3. I think of myself as corduroy clad, cardigan-wearing cling-on or rubbernecker. Consequently, the day seems auspicious when I woke up this morning. First thing, I sense a feeling of urgency about my scheduled interview with Proms Director Roger Wright. This is his last Proms, his last Proms press briefing and his last Proms photo shoot. It's the last time I'll get to interview him. I stare at the wardrobe carefully and choose to mark the occasion with unusually smart clothes for my working day. That said, I didn't bother to shave.
Our video interview covers the main points covered in this year's media pack – orchestras from across the world, concerts commemorating the start of World War One and the Proms' central and ongoing commitment to classical music and new music. I gloss over the fact that the interviewer is struggling to ask even the most straightforward of questions by noting that only Roger's answers will be used. Video done and cameraman sent packing, Roger and I move to the nearby café for a chat over a cup of tea.
It's here I get a chance to test Roger out. At least, in my head I'm testing him out.
As Director he appears to me today as he always has - the complete package: knowledgeable and passionate about his subject, he engages in conversation effortlessly with an infectious charm and a keen sense of humour (some might suggest corny). ("He's such an avuncular looking-chap," says my partner to me when I show him my selfie with Roger at the end of the day.) At the same time Roger lives the BBC's values, nailing the important messages someone of his standing needs to whenever he answers a question - regardless of how frivolous it first appears to be. And of course, he also runs one of the BBC's most treasured of institutions. But given his departure (he's off to Aldeburgh Music where one of the events he'll run is the world-famous Aldeburgh Festival) after 15 years at Radio 3 and seven years running the BBC Proms, would I see the real Roger, assuming the real Roger is any different from the one I've interviewed for the past few years? Would he let his guard down a bit?
He doesn't. Conversation is easy and like all the good managers I've had the benefit of working with in the past, I feel like I'm talking with an adult and on an adult level. Sometimes we underestimate how important a quality that really is.
In conversation Roger combines a unique skill of maintaining an authoritative air whilst at the same time engaging with anyone or everyone he comes into contact with. And that's quite a force to be in the company of. And for people like me who still struggle to articulate a simple interview question devoid of tiresome and unneccessary sub-clauses, his unswerving ability to articulate a clear and thoughtful response in such a way I feel as though I've been let in on a secret, is as valuable as it is appreciated. Even now. Seven years on.
Such individuals leave a lasting impression on the people they meet. Either that, or he's just used to dealing with me.