One of the biggest challenges in my role as Commissioning Editor is ensuring that Radio 1's outreach activity is as ambitious as every other aspect of what we do.
In the build-up to our biggest ever live music moment last year, BBC Radio 1's Hackney Weekend, we also staged our biggest ever social action initiative.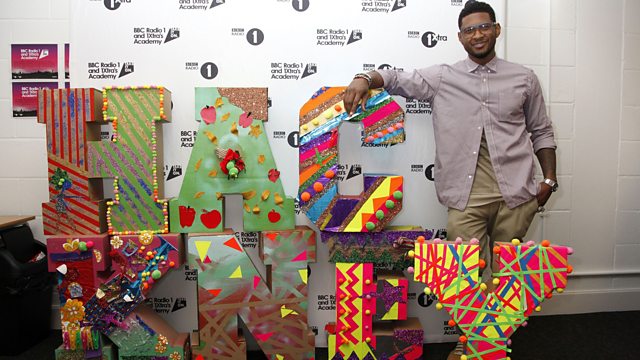 Usher at BBC Radio 1's Hackney Weekend 2012
Last June, we put on the first ever BBC Radio 1 Academy, in the centre of Hackney. It was a three week programme of inspirational Q&As and hands-on masterclasses - and across the three weeks we had more than 5,000 young attendees through the doors. It was all part of the build-up to Radio 1's Hackney Weekend - which in turn was part of the London 2012 Festival.
The young people who came along, primarily from Hackney and the surrounding boroughs, heard from inspirational figures who had already "made it" - the likes of Usher, Noel Clarke, Plan B, Adam Deacon, Deborah Meaden and Paloma Faith. But even more powerfully, we attracted a whole host of figures who were on their journey to making it. In many ways these figures were more approachable, more inspirational and more useful to the young people attending the sessions. We coined the phrase "near peers" - those people who have got a couple of steps on the ladder to achieving their dreams, but are not yet so successful that their position feels unattainable.
This year we are taking our flagship live music event to Derry~ Londonderry - to coincide with the UK City of Culture 2013. And, in what I am hoping now becomes an annual tradition, we are bringing BBC Radio 1's Academy back to provide local engagement in the area - as an integral part of the build-up to BBC Radio 1's Big Weekend.
This is very much a partnership with BBC Learning, who are setting up all of the local facilitators and sessions which are taking place. During our early planning sessions with the Learning team, we agreed on cutting it down to seven days from last year's 21 day marathon. However despite the reduced time frame, we are still putting on almost the same amount of sessions and attracting the same number of people through the door. It's set to be quite a week!
It is vital that Radio 1 continues to reflect all aspects of our audience's lives. We are there to talk about the music, the gigs, the online memes, the best tweet they've seen all day... But it is equally important that we are there for the more serious bits too. So at a time when youth unemployment levels mean it is harder than ever for our audience to achieve their dreams, we should do what we can to at least open up the conversation. Our ambition is to offer inspiration and practical advice not only to those who are lucky enough to attend, but also to Radio 1's wider audience.
That is why we will be broadcasting eight live shows across the seven days of Radio 1's Academy; posting videos, links and clips across Radio 1 online and the Academy's Facebook pages; and ensuring that social action programming isn't relegated to a niche slot away from our daytime shows.
Piers Bradford is BBC Radio 1 and 1Xtra Commissioning Editor.
BBC Radio 1's Academy will be based in the Nerve Centre, Derry~Londonderry and will run from 11th - 17th May 2013.
For more details visit - http://www.bbc.co.uk/radio1/academy