Craig Robinson leads the Afghanistan research team based in Kabul and London for BBC Media Action, the BBC's international development charity which uses media to improve health and help people understand their rights in developing countries. 
For the past 19 years a radio soap opera has been quietly changing people's lives in Afghanistan. Called New Home, New Life, it provides not only entertaining drama to the 4.5 million listeners who tune in each week but also the vital information that people need to improve their own lives. 
So as well as your usual storylines of love and family conflict, the soap's three episodes a week tackle subjects like mine awareness, conflict resolution and health issues, including taboo topics such as how HIV is transmitted and can be prevented.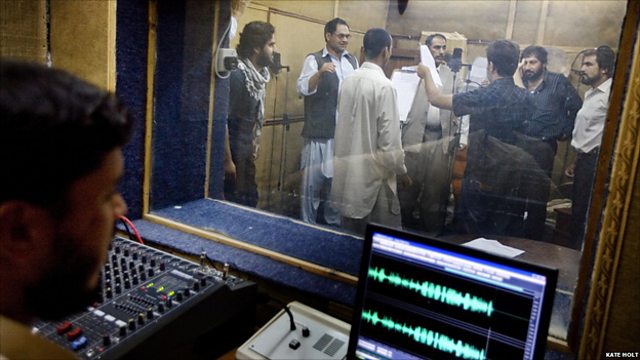 A recording of New Home, New Life
The result is hugely popular; the show remains a household name and because of its realistic and relevant storylines is remembered as one of the few things Afghans looked forward to in the Taliban period. Initially set up by BBC Media Action, the programme is now made by an independent Afghan production company. 
Last year we conducted research in six provinces in Afghanistan and learned first-hand the impact of the programme on people's lives.
A man in the eastern province of Nangarhar, on the mountainous border between Afghanistan and Pakistan, told us, "I was not interested in going to school, but one day I was listening to New Home, New Life and in a scene, a letter had come to the village. No one could read the letter and the man was walking around to find someone. It really gave me the idea to go to school. So the next day I went and registered."
Even more inspiringly, a number of women we interviewed credited their own education to New Home, New Life. A woman from Nangarhar told us, "The programme helped our father understand girls' education and he allowed his daughters to go to school."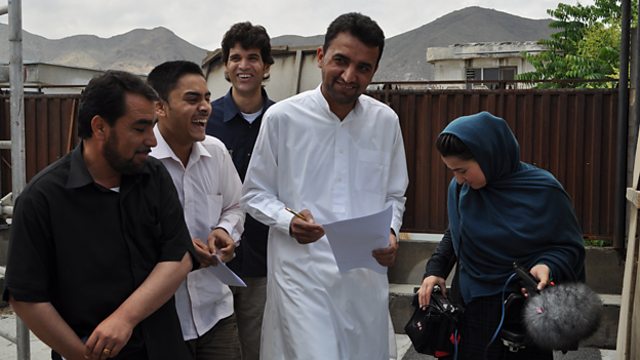 Some of the cast & crew of New Home, New Life
New Home, New Life isn't the only programme that BBC Media Action is supporting in Afghanistan. In December last year, politicians and other leading figures were brought face to face for the first time with people from across the country in a series of debates broadcast on TV and radio through the state broadcaster RTA and the BBC World Service.
The show is called Open Jirga – a jirga is a traditional decision-making assembly – and has provided a place for Afghans to question their leaders on issues that have ranged from security after the withdrawal of ISAF military troops in 2014 to facilities in Afghanistan's hospitals.  
One particularly memorable episode saw the studio audience faced with a surprise guest: Afghan President Hamid Karzai. Because of security concerns, his identity was only revealed just before the show started to the 70 men and women who had travelled to Kabul from all corners of the country.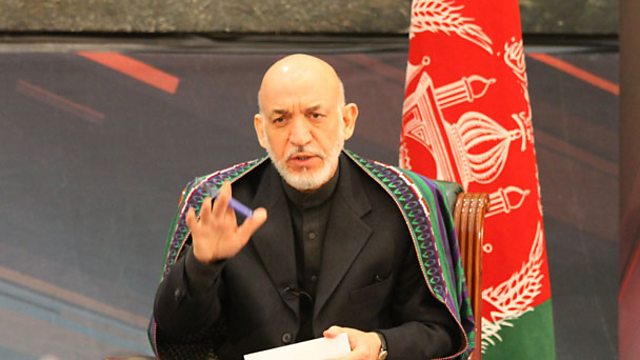 President Karzai
And they took full advantage of the opportunity, questioning the president on corruption, his government's record over the past decade and peace with the Taliban. The results of just this one show have been hugely encouraging.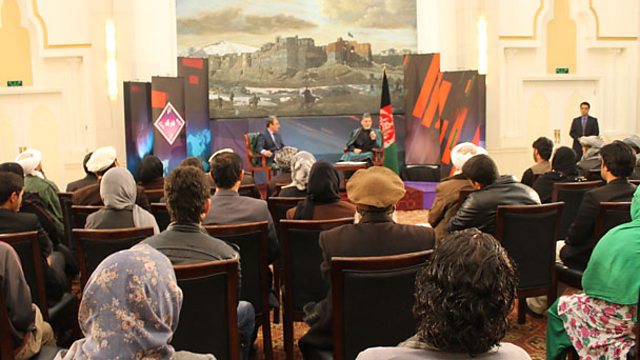 Open Jirga with President Karzai
One person in the studio audience that night was 32-year-old Asadullah, who, during Afghanistan's long-running conflict, lost both his legs when he was 12 and has struggled to find work to support his wife and two children.  So eloquent and passionate was he in articulating the concerns of his community and the disabled in Afghanistan, that the president has made him his advisor on disability issues. Karzai also told Asadullah that he would employ a person with a disability in each government ministry to work as advisors. And when Asadullah returned home to Nangarhar, elders in his district approached him to say they would support him if he stood as a member of parliament in future elections.
Such inspiring stories are the reason why I – and my Afghan colleagues in Kabul – do what we do. We strive to listen to the voices of Afghanistan so we can not only evaluate the impact of our work but make programmes about the issues that matter most to Afghans themselves.  And maybe, just maybe, we can help to make things a little better in a country that has suffered so greatly in the last 30 years. 
Craig Robinson is BBC Media Action's Research Manager for Afghanistan.