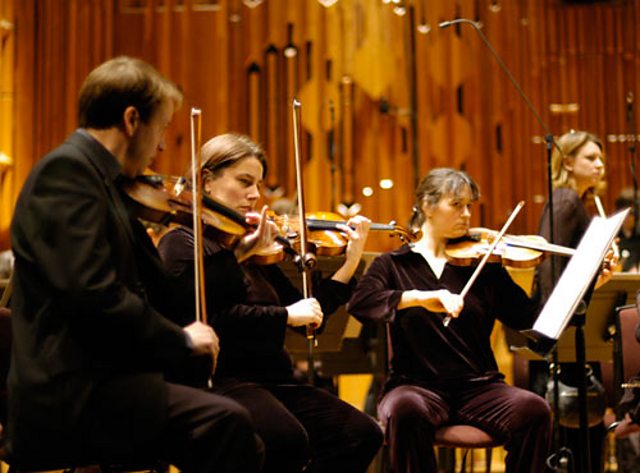 http://www.bbc.co.uk/blogs/aboutthebbc/violins_at_barbican_credit_lara_platman.jpg
As I sit here in Maida Vale's Studio 1 watching the load-in of what looks like the national supply of percussion instruments, I wonder what my predecessor might have been thinking 80 years ago today in the lead up to the very first concert by the newly-created BBC Symphony Orchestra. The Orchestra had been formed from the finest players in the land (and beyond) to bring a range of quality orchestral performance to the widest possible audience as part of the fledgling BBC's commitment to inform, educate and entertain. Created in a time of economic difficulty when the BBC wanted to enrich people's lives through its public service ethos, on 22 October 1930 the BBC Symphony Orchestra embarked on that mission to great acclaim and changed the landscape of British orchestral life for ever.

The opportunity to celebrate the BBC Symphony Orchestra's 80th birthday gives us a chance to reflect on that original mission and how central it still is to what the orchestra does today. If bold programming alone were enough to demonstrate our distinctiveness, then we've thrown down the gauntlet this time. On Friday we open with the very first piece the orchestra performed, the overture to Wagner's opera The Flying Dutchman. We close with Stravinsky's massive ballet score The Rite of Spring (which also changed the course of musical history and caused a riot in doing so), which many people will have first heard as part of Walt Disney's animated classic Fantasia (remember the scary bit with the dinosaurs, the earthquake and the volcanoes?)
Now - I have a terrific management team here; second to none. They can handle just about anything and, like the players, they are usually up for a 'challenge'. Indeed the concert will be as much a showcase of their work as it will of the Orchestra's. So when we co-commissioned Stephen McNeff to write a concerto for the Orchestra and percussionists Owen Gunnell and Oliver Cox (collectively known as O Duo) and then co-commissioned a brand-new concerto by Finnish composer Kaija Saariaho for her compatriot, the astonishing virtuoso clarinettist Kari Kriikku, they barely blanched.

Maybe when we invited the distinguished American director Peter Sellars to stage the work, with lighting, movement for soloist and orchestra and decided to show short archive films of the orchestra in action with each of its twelve chief conductors going back to Adrian Boult, the team's collective brow furrowed for a moment. But they're all downstairs rehearsing it now; the stage management team are smiling and conductor David Robertson is in control. I think it'll be an event to remember.

That's why I love this job and this Orchestra; there isn't another one like it anywhere and there probably never was. They have the right attitude; they play magnificently and are backed by a first class team. If a drink or two is enjoyed after the concert on Friday it will be richly deserved and, when I hear a composer sigh with pleasure and remark 'only the BBC could do such a programme', I think we've got it right still.

Paul Hughes is General Manager of the BBC Symphony Orchestra

The BBC Symphony Orchestra's 80th birthday celebrations are taking place today at the Barbican in London and the concert is broadcast on BBC Radio 3 on 27 October at 7pm.
Visit the BBC Symphony website for more about the celebrations

The photograph of Paul Hughes was taken by Tony Gamble and the violins at the Barbican photograph was taken by Lara Platman.