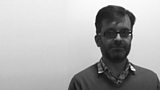 Jon Jacob
Editor, About the BBC Blog
Blog posts in total 247
Posts
About the BBC Editor Jon Jacob says goodbye.

Children's presenter Brian Cant has died at the age of 83. He was best known for presenting BBC's Play School for 21 years from 1964, and Play Away from 1971 to 1984, but also featured in TV dramas in the 1960s and the popular storytelling programme Jackanory in the mid-eighties.

About the BBC Editor Jon Jacob likes detail, and he likes telling people the detail. Thirty-odd years after watching The Ronnies as a kid, he's worked out why. It's down to Ronnie Corbett.

Earlier today news was announced of the death of former Blue Peter presenter John Noakes. He was 83.

Jim Al Khalili returns to BBC Four tonight with a 90 minute feature-length documentary exploring some of the facts about gravity the rest of us might take for granted.

On Sunday 12 February eight well-known senior citizens journey to India to experience retirement in another country. A few weeks ago, I met them all of the new cast with a group of other journalists at a special press launch promoting the forthcoming series.

A selection of pictures from the BBC archive tracking the career of actor John Hurt whose death was announced last week. f

On Sunday (15 January 2016) Antiques Roadshow has a special Holocaust Memorial episode. About the BBC Editor Jon Jacob spoke to Producer Julia Frost to find out more.

Jon Jacob looks back at some children's TV Christmas extravaganza's and considers how they, like the Strictly Come Dancing, are the perfect start to the festive celebrations than perhaps we realise.

Jon Jacob praises the unsung hero of Christmas music who started his BBC career in 1926 as a piano accompanist and finished as BBC Director of Music.

BBC World Service's three month virtual reality development project combines real-life testimonies in a virtual reality setting. Jon Jacob investigates.

Jon Jacob kicks off a new series of blog posts for the festive season with a reflection on his start to the season: BBC Radio 3's Choral Evensong.

Sheryl Garratt is one of a handful of contributors who appears in the 80s edition of the BBC Music documentary series My Generation. We spoke to Sheryl about her experience of the 80s, the music she loves and why it was important to her. My Generation is on Saturday 26 November on BBC Two at 10....

This week the David Attenborough's landmark documentary series Planet Earth II debuts on BBC One. To coincide with the series, the BBC Natural History Unit has worked with BBC Outreach giving 15 students the chance to make their own short online documentary based at Wild Place Project in Bristol.

Drs Chris and Xand return to CBBC for a special series of Operation Ouch: Hospital Takeover

Progress update on the site of the new BBC Wales HQ in Cardiff.

A memorial service was held yesterday (Tuesday 4 October) at All Souls Church, Langham Place, London to celebrate the life of eminent historian and leading educationist Lord Asa Briggs.

A look through some early ballet productions that formed the early days of the BBC Television Service.

Old BBC globes conjured up into a hologram. It's enough to make you go weak at the knees.
Previous

1

…