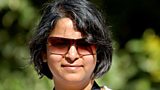 Priyanka Dutt
Project Director for Shaping Demand and Practices, with over 15 years' experience, Priyanka Dutt is a senior communication expert who focuses on social and behavioural change communication. With a background in producing and directing factual television, Priyanka is now the Project Director for the Shaping Demand and Practices project in Bihar. She has been with the BBC Media Action for over 8 years, and has worked on factual television, advertising, radio, mid media, outreach and mobile outputs, primarily for health projects.
Blog post in total 1
Posts
Project director for BBC Media Action Priyanka Dutt describes an exciting mobile phone initiative saving lives in India.