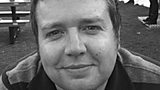 Craig Robinson
BBC Media Action's Research Manager for Afghanistan, Craig has been a researcher for 12 years, working with local and central UK government, as well as with the UK's police. He currently leads BBC Media Action's Afghanistan research team, with members based in both London and Kabul.
Blog post in total 1
Posts
BBC Media Action's Craig Robinson reveals some of the inspiring work being undertaken in Afghanistan.