Editor's Notes: The 606 Report to The FA Commission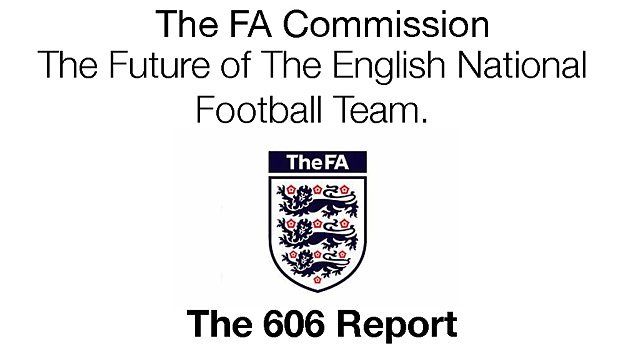 The FA Commission was announced last week
and with more names expected to join this week 606 felt the eleventh man on the commission should be the fans. So we used
Sunday's show
to create our own report for the FA, saving them months of meetings and discussion.
Here are the recommendations made by the 606 listeners to improve the number of English players playing in the Premier League and, in turn, improve the form of the England National Side.
Katie: There should be proper investment and practical support for Grass Roots. The money in football should be spread evenly so more of it filters down into grass roots.
 
John: Just let kids play football. Don't over-coach players. If all players want to be Messi in training, let them be Messi!
 
Warren: Every child must train with a ball. Don't rush young kids into competitive football.  Parents and coaches should work more closely together.
 
Malcolm: Improve the quality of coaches everywhere, especially at Grass Roots. Encourage dribbling (something Chris Waddle was saying on Friday's 606 show), running at players and playing without fear!
 
Paul: Don't reduce the number of foreign players in the Premier League. Keep them and let English players learn from them until we have enough young quality coming through.
Mike: There needs to be a minimum quota of English / British players in a match-day squad, people think we already have one but that is not the case
Daniel: Change the current loan system. Top clubs should be forced to sell or loan abroad into more competitive league so our young players learn different skills.
Aidan: Make sure our best players get the time they need to recover after injury. If they have to pull out of an England game, there should be a rule that their club cannot play them for a month after that game. The Premier League should also be reduced to 16 teams. We believe that was the original stated direction the Premier League was going to take.
 
Simon: The FA should pay us to do the Level 1 coaching badge instead of us paying the FA. This would encourage hundreds more coaches to do their badges.
Brett: if there are cheaper coaching courses, why don't we know about them? The FA should shout about those courses more so people feel they are accessible and not too expensive.
The twelfth man is always valuable and the report is winging it's way to Greg Dyke as we speak.