Tour de France: A broken pelvis and the difficult 3rd Stage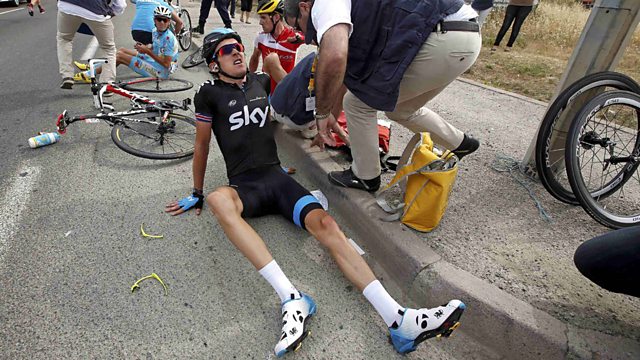 By 5 live cycling summariser Graham Jones:
For me the 3rd day in any stage race has always been one to throw up a few surprises, and there's no other race in the world more likely to hold up that tradition than le Tour.
I think today's stage – 145kms from Ajaccio to Calvi – could prove even trickier than other recent editions of this great spectacle.
It's a particularly technical stage, and everyone in the commentary booths, from all nations, has been looking forward to this stage the most out of all of three on Corsica.
There isn't an inch of flat road on the whole route. It twists and turns constantly; there is not a moment's respite. Everybody will want to be at the front to keep out of danger, or to at least reduce the risk of a crash.
It is not just the technicality that is difficult. Many riders will be feeling the first two days of racing in their legs, and many have deep cuts and bruises after a horrendous crash on the first day that took out many in the Peleton. It's thought that Geraint Thomas from Sky is riding with a fractured pelvis! Getting out of bed would be hard enough.
For Geraint getting through today will be a real test. Just sitting on the saddle is going to put pressure on his pelvis, on a day when there is going to be enough pain in his legs to deal with. A flat stage would have helped, but on these roads he will constantly be up and down out of the saddle, putting more pressure on his injuries. He will do well to hang on.
Looking forward to tomorrow, if riders think they might be able to hide in the peloton then they'd better think again. Stage 4, the first day on mainland France - Nice to be precise – involves The Team Time Trial: a full-on sprint of a stage where each team sets off as a group trying to post the fastest time.
Nobody will win the Tour today, but it might be put out of reach of many by the end of Stage 3. 
Coverage of the Tour de France continues from 2.30pm on Monday 1 July on 5 live Sports Extra. Download the BeSpoke podcast for daily analysis from commentator Simon Brotherton and the team.