Parents and staff behaving badly at youth football games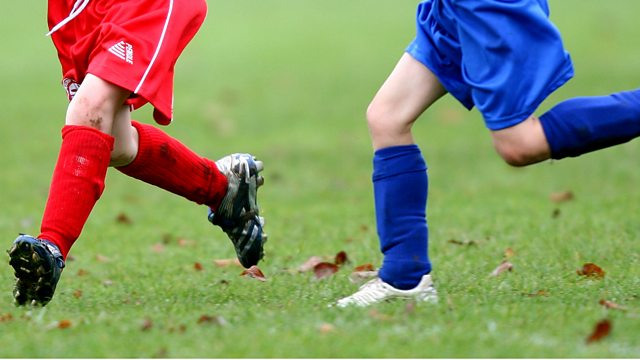 By 5 live Investigates reporter Emma Forde
In many cases it's down to dads and mums harmlessly living their dreams through their kids playing football – shouting support from the side of the pitch in the hope that one day, they might actually become the next Giggs, Gerrard or Lampard.
But what happens when that support from the touchline boils over into something far more aggressive? What happens when it crosses the line – when people get offended, or even hurt.
5 live Investigates asked the Football Association (FA) to compile figures on the number of parents and team staff behaving badly at youth games all over the country. Almost 4,000 misconduct offences have been committed by adults at youth level football between July 2012 and November 2013. The figures were collated from matches played in all 50 county associations in England involving under-18s teams during a 15 month period.
Now the FA is about to launch new 'awareness courses' for club officials – and in some cases spectators  - who have been found guilty of a misconduct charge. Dermot Collins, the FA's Respect Manager, says it's a big priority.
 "I know of a game last year where it was stopped for five minutes while two parents were separated on the sidelines and the players and the referee just stood there watching while the rest of the parents separated them. That was an under 13's game," says Mike Bacon, a youth team coach in Suffolk.
Manchester County Football Association is now starting a zero tolerance approach to the problem and will start publishing online the names of clubs and teams which have been charged for failing to control spectators.
"We are going to name and shame the teams and the age groups which have poor spectators and which have had cases proven," says Colin Bridgford, Chief Executive Officer of Manchester FA.
"It's got to be more hard-hitting. I think some parents are sick and tired of the same parent who is coming to the game giving abuse from the sidelines."
One referee, Clive Steward, 67, from Swansea suffered a broken nose and needed 19 stitches after being assaulted by a parent in 2009. He says the situation is as bad as ever. And it's not just parents who are out of control.
"In a game about three weeks ago it was a junior game, which was abandoned with only three minutes left. I gave an obvious penalty, they take the penalty, they score, and then all hell let loose. They were having a go at the opposing players. The manager was telling his players get stuck in to them, kick them, it was sort of like a kettle beginning to boil." Hear the rest of Mr Steward's story: