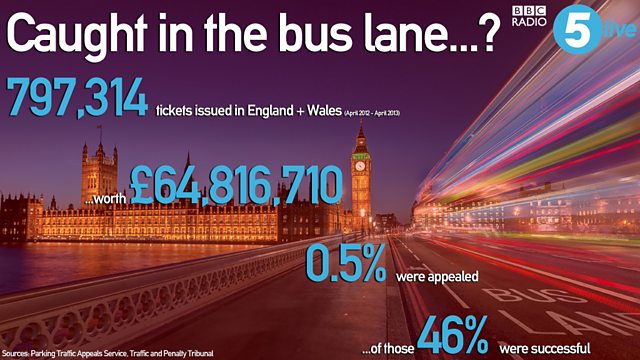 Penalty charges for motorists driving in bus lanes earned councils in England up to £64,816,710 last year.
5 live Investigates has discovered that local authorities are disregarding the decisions of independent adjudicators and refusing to change or improve signs and road markings.
Fewer than one per cent of people appeal, but of those who do, many who claim that warnings signs weren't clear have been successful.
Last year Hammersmith and Fulham Council issued penalty notices worth £1 million pounds to 8,200 motorists, who went into a bus lane on Shepherds Bush Road.
The council insists the bus lane is "clearly marked and fully compliant" but Eddie Williams is one of five motorists who won an appeal at Shepherds Bush Road when he claimed the signage was inadequate.
A motorist says Hammersmith and Fulham Council were collecting bus lane fines wrongly.
The adjudicator's decisions are only binding in the individual cases and Hammersmith and Fulham Council is under no obligation to act on their recommendations. The council insists there is no issue on that road and says all of its bus lanes "are clearly marked and are fully compliant".
AA spokesperson Paul Watters said it was "quite shocking that local authorities are not accepting adjudicator's findings. To think that an authority will continue dishing out tickets at such a location is quite astounding".
In a statement the Local Government Association, which represents councils, said: "The fact that over 99 per cent of bus lane fines are not appealed clearly shows that the overwhelming majority of people who are ticketed accept they have broken the rules.
"On the rare occasion it can be conclusively proven that a council has inadequate signage then they should act to correct the error."
Hear the full report on 5 live Investigates on Sunday 2nd February at 11am.