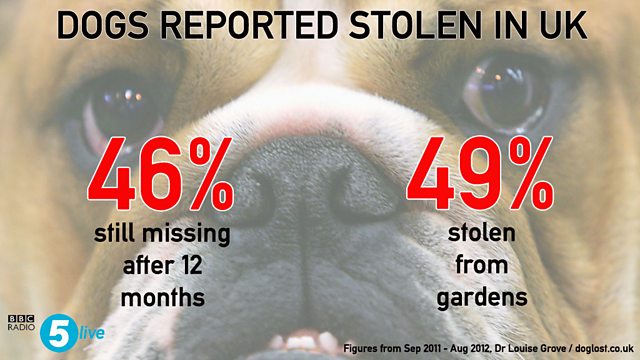 457 dogs were reported as stolen to the website DogLost, of which 46% were not reunited within 12 months, 5 live Investigates has found. Overall 7,262 dogs were reported to website as missing over the same 12 month period.
Dr Louise Grove, a criminologist at Loughborough University analysed the data the website collated over a year, from September 2011 to August 2012.
DogLost, set up in 2003 by Jayne Hayes, and ran by volunteers, helps to reunite dog owners with their lost dogs. Which they say has assisted 55,000 owners and helped reunite 35,000 dogs.
Dr Louise Grove found that 49% of dogs were stolen from the garden, with the next most common location of theft being from the home (13%). Other commonly reported locations included kennels, vehicles, farms, and outside shops.
Further findings include that 47% of stolen dogs were small or toy, in contrast to 14% described as large or giant. Half of stolen dogs were described as puppy or young adults.
Blazej's two Chihuahua puppies were stolen from his car by thieves, who smashed the window, when he was in the supermarket.
Hear the full report on 5 live Investigates on BBC Radio 5 live on Sunday, December 22 at 11am.